NERVOSA RELEASE OFFICIAL VIDEO FOR "KILL THE SILENCE"!
11. May 2018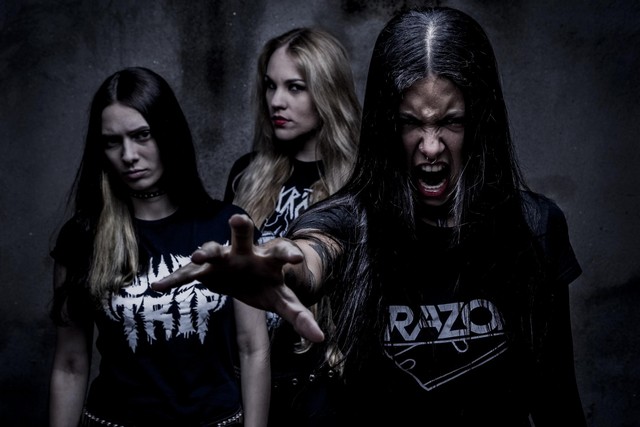 Brazilian thrash commando unit NERVOSA is synonymous with raw aggression and untamed power!
"Downfall Of Mankind"  is the upcoming masterpiece by this outstanding combo which will be released on June 1st via Napalm Records.
Today a new song sees the light of day: Please get ready to "Kill The Silence"!
Guitarist Prika comments on the new song and video:
"A perfect scenery to compose lyrics that encourage overcoming. It talks about things that hurt you and that you're not alone. This new video symbolizes a new phase in the band with which I identify myself 100%!
"I like the idea of using fire in the video, because i think the symbology has everything to do with the message in the song. Fire represents renewal and mainly purification, and using it in the video really gives me the idea of triumph, overcoming and moving on!" adds Fernanda.Watch "Kill The Silence"
For their third record the trio joined forces with producer Martin Furia who has worked with artists including the likes of Destruction, Flotsam & Jetsam and Evil Invaders.  Genre legends such as João Gordo (Ratos de Porão), Rodrigo Oliveira (Korzus) and Michael Gilbert (Flotsam & Jetsam) are featured on the new album as well!

Links:
https://www.facebook.com/femalethrash
https://www.nervosaofficial.com
Source of Information: Napalm Records Promotion Team
DEE SNIDER SIGNS WITH NAPALM RECORDS WORLDWIDE !
7. May 2018
We are thrilled to announce that legendary TWISTED SISTER frontman DEE SNIDER inked a deal with NAPALM RECORDS for his upcoming solo album! This opus is entitled FOR THE LOVE OF METAL and will deliver what its name promises: pure world class metal!
Dee Snider doesn't need any introduction anymore, right? Influential hard rock legend, reality TV star, Broadway alumni, horror movie director, radio host and as you all know – he is a thoroughbred heavy metal enthusiast.
FOR THE LOVE OF METAL is produced by Hatebreed vocalist Jamey Jasta and features contributions from Howard Jones (ex-Killswitch Engage), Mark Morton (Lamb Of God), Alissa White-Gluz (Arch Enemy), Joel Grind and Nick Bellmore (Toxic Holocaust) and Charlie Bellmore (Kingdom Of Sorrow). So prepare for a unique masterpiece!
This brand new DEE SNIDER album will be out this summer.
DEE SNIDER on the signing:
"I am beyond excited to be working with one of the world's leading labels for heavy music, it's a perfect home for this album! I believe there's something for every hard rock and metal fan on this record and I cannot wait to unleash it on the world July 27th!"
Thomas Caser, Managing Director of NAPALM RECORDS comments:
"We are absolutely delighted to announce this signing today. It's an honor to work with such an iconic artist such as Dee who lives and breathes METAL! This album is nothing but pure metal and adrenaline!"
More album details coming soon!
Links:

https://www.facebook.com/facedeesnider/
http://napalmrecords.com
Source of Information Napalm Records Promotion Team, foto: www.wikipedia.org
VERANO´S DOGS – New Single KEEPER OF HADES
7. May 2018
The record "Summoning The Hounds" is about the subjects related with the symbol of the dog, a sum of experiences that bound his ancestor the wolf to the collective thought in a darker point of view, from the Greek mythology and the hell's guardian Cerberus to Anubi, the Egyptian protector of the reign of the dead, going through "The Hound of the Baskervilles" by Arthur Conan Doyle and the first Cthulhu chapters by Howard Phillips Lovecraft. It's a journey across the most real and macabre discomfort of human mind.
 VERANO´S DOGS  – Keeper Of Hades
Genre: Death/grind
Format: single
Release Date: May 4th 2018
Links:
https://veranosdogs-map.bandcamp.com/
https://www.facebook.com/pg/veranosdogs
https://www.metalage.sk
https://www.metalageproductions.bandcamp.com
https://www.facebook.com/metalageproductions
Source of Information: Erik Nadudvari
POSTCARDS FROM ARKHAM – new videoclip
10. May 2018
Czech post rockers Postcards From Arkham published the second single Owls Not What They Seem from their last album MANTA. It was inspirated by David Lynch´s films.
Album: https://postcardsfromarkham.bandcamp.com/
Links:
www.postcardsfromarkham.wz.cz
www.youtub.com/user/thefrodys
www.myspace.com/postcardsfromarkham
www.bandzone.cz/postcardsfromarkham
Source of Information: Postcards From Arkham