Nervosa – ukážka z chystaného albumu
11.5.2018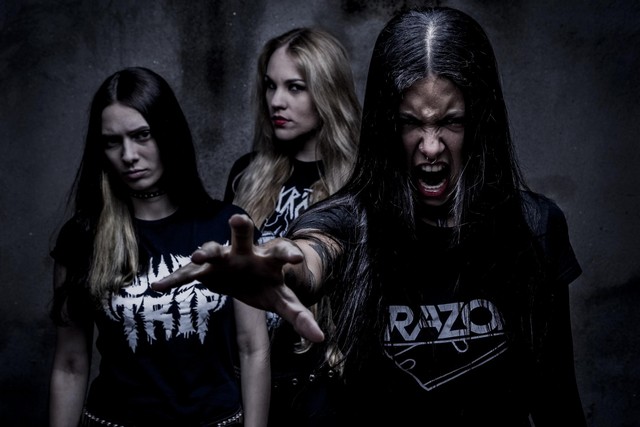 Brazílske thrash metalové trio Nervosa je synonymum surovej agresie a divokej sily
Downfall Of Mankind, chystaný album tohto ženského zoskupenia, uzrie svetlo sveta 1. júna. Dnes zverejnili nový videoklip k skladbe Kill The Silence, ktorá sa taktiež na ňom objaví
Linky:
https://www.facebook.com/femalethrash
https://www.nervosaofficial.com
Zdroj: Napalm Records Promotion Team
Dee Sinder – zmluva s Napalm Records
7.5.2018
Legendárny frontman americkej glam metalovej legendy Twisted Sister – Dee Sinder podpísal zmluvu s vydavateľstvom Napalm Records. To vydá jeho chystaný album For The Love Of Metal.Produkciu ma na starosti spevák Hatebreed Jamey Jasta a na jeho nahrávaní sa zúčastnili aj Howard Jones (ex-Killswitch Engage), Mark Morton (Lamb Of God), Alissa White-Gluz (Arch Enemy), Joel Grind and Nick Bellmore (Toxic Holocaust) and Charlie Bellmore (Kingdom Of Sorrow).
Vydanie je plánované toto leto.
Čoskoro očakávajte viac info
Linky:
http://www.deesnider.com/
https://www.facebook.com/facedeesnider/
http://napalmrecords.com
Zdroj: Napalm Records Promotion Team, foto: www.wikipedia.org
VERANO´S DOGS – nové video
7.5.2018
Talianski grinderi Verano's Dogs vydali nové single video KEEPER OF HADES, druhú skladbu z nového albumu Summoning The Hounds. Ten bol vydaný 4. mája.
Linky:
https://veranosdogs-map.bandcamp.com/
https://www.facebook.com/pg/veranosdogs
https://www.metalage.sk
https://www.metalageproductions.bandcamp.com
https://www.facebook.com/metalageproductions
Zdroj: Erik Nadudvari
POSTCARDS FROM ARKHAM s novým videoklipem vyráží na tour
10.5.2018
Postcards From Arkham zveřejňují druhý singl, který se nachází na Břitvu nominované desce MANTA, s názvem Owls Not What They Seem. Skladba je, stejně jako videoklip, inspirována dílem režiséra Davida Lynche. Můžete proto nalézt odkazy například na legendární Twin Peaks. Kapela právě vyráží na Manta & Dissonance tour a navštíví kromě českých klubů i několik zahraničních míst.
Deska: https://postcardsfromarkham.bandcamp.com/
Koncerty:
11.5.|Krnov| Kofola (CZ) + SSOGE
12.5.|Praha| Fatal (CZ)13.5.|Budějovice| Velbloud (CZ)
14.5.|Brno| Melodka (CZ)15.5.|Bratislava| Randal (SK)
16.5.|Ružomberok| Nové Korzo (SK)
17.5.|Bielsko Biala| Rudeboy (PL)
18.5.|Wroclaw| Liverpool (PL)
19.5.|Krakow| Apoteka Pub (PL)
16.6.|Červený Kostelec| Czech Death Fest (CZ) + ROTTING CHRIST, DECAPITATED …
18.8.|Warsaw| Prog In Park (PL) + ANATHEMA, SONS OF APOLLO, IHSAHN, LEPROUS
25.8.|Tišnov| Folk Metal Fest (CZ)
Linky:
www.postcardsfromarkham.wz.cz
www.youtub.com/user/thefrodys
www.myspace.com/postcardsfromarkham
www.bandzone.cz/postcardsfromarkham
Tlačová správa