Ted Nugent – upcoming album
5. October 2018
Legendary vocalist and guitarist Ted Nugent will release new album The Music Made Me do It on 9. November. People, which cooperated with them are bassist Greg Smith, drummer Jason Hartless  and "Motown soulsister" Alyssa Simmons (vocalist).
It will be features 10 new tracks, and his live performance at Freedom Hill in Sterling Heights, Michigan.
CD tracklist:
The Music Made Me Do It
Where Ya Gonna Run To Get Away From Yourself
Cocked, Locked & Ready To Rock
Bigfundirtygroovenoize
I Love Ya Too Much Baby
Backstrap Fever
I Just Wanna Go Huntin'
Fred Bear
Sunrize
Sunrize Fender (Fender Bass VI Solo)
DVD (Live At Freedom Hill, Sterling Heights MI)
Star Spangled Banner
Baby Please Don't Go
Free-For-All
Gonzo
Paralyzed
Wang Dang Sweet Poon Tang
Good Friends
(Blues Jam, affectionately named "Blues On The Grill")
I Need You Bad
Hey Baby
I Still Believe
Fred Bear
Motor City Madhouse
Cat Scratch Fever
Stranglehold
Don't Tread On Me
Great White Buffalo
Youtube teaser:

Links:

https://www.facebook.com/tednugent/
Source of Information: http://www.blabbermouth.net/
LEGION OF THE DAMNED – Releases Video For The Widow's Breed, New Album Slaves Of The Shadow Realm Out January 4th
5. October 2018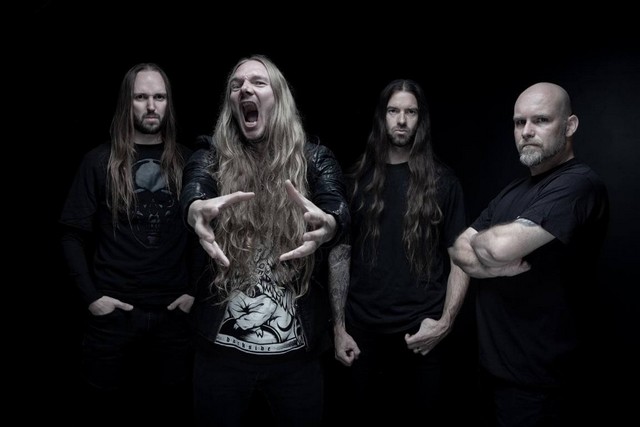 Photo: Tim Tronckoe
NECKBREAKER SUPREMACY: LEGION OF THE DAMNED IS BACK!
If there is a band that'll break your neck from the sheer force of their music, it must be LEGION OF THE DAMNED! Now the Dutch thrash / death / black outfit returns with a first song after a hiatus of five years – watch the lyric video for the furious "The Widow's Breed" right
Twan van Geel (guitar) states:
"Well here it is folks, my personal fave of the new album! 'The Widows Breed' just has that audial darkness to it that makes you envision the horror inside your head making you thirsty for blood and wants you to scare the living sh*t out of everyone else! Horrifying speed metal straight from the boiling cauldron of a Palo Mayombe Nganga spell. Some horror is real, indulge and enjoy the thrill…"
On January 4th 2019 the quartet will release their new album Slaves of the Shadow Realm via Napalm Records. This monster resembles a colossal, smooth and blackened monolith. Five years after the much-praised Ravenous Plague, the shredding legion returns with producer Andy Classen and presents an album that merges the unadulterated fury of the early LOTD years with the sophistication of a veteran band.
Vocalist Maurice Swinkels on the new record:
"With our 7th opus, entitled Slaves of the Shadow Realm, we tried to take it a little further as where Ravenous Plague ended in terms of melody, but we definitely maintain the heavy songwriting and rawness that LEGION OF THE DAMNED is known for. Simplicity is the key with LEGION OF THE DAMNED and less is more. With Slaves of the Shadow Realm we go full speed ahead with heaviness, but we took it a bit farther by bringing in melody and atmosphere. I think this is Legion's best album to date: It crushes, it is fast, it has atmosphere and it is raw! In terms of lyrics, this is our darkest album, written by Tony "Skullcrusher" Manero, who was also responsible for the lyrics and concepts of the albums Malevolent Rapture, Cult of the Dead, Feel the Blade, Ravenous Plague, Sons of the Jackal and Descent into Chaos. We are really excited to be back after four years and hope that the true Legion fan digs this album – I am 100% certain that they will love it! THIS IS LEGION OF THE DAMNED – without the bells and whistles – the wait is over and we are back!"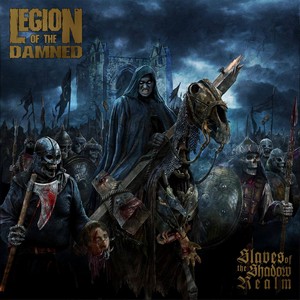 Links:
http://www.legionofthedamned.net
http://www.facebook.com/LOTDOfficial
http://www.instagram.com/legion_of_the_damned_official
http://www.napalmrecords.com
Source of Information: Napalm Records Promotion Team
Metal Church – upcoming album
4. October 2018

Metal Church will release new album Damned If You Do on 7. December via Rat Pak Records. This it will be available also in Europe via Nuclear Blast.
Links:
http://www.metalchurchofficial.com/
https://www.facebook.com/OfficialMetalChurch/?fref=ts
Source of Information: http://www.blabbermouth.net/
LOIMANN PREMIERE FIRST SINGLE FROM UPCOMING ALBUM!
4. October 2018
Italian Post Doom metallers LOIMANN just recently unveiled the hotly anticipated details about their upcoming third studio album 'A Voluntary Lack of Wisdom', which is set to be released on November 9th 2018 with Argonauta Records. Now the band has unleashed a first single for the track 'I Own The Right To Tear Me Apart', a crushing metal beast with big harmonies to be stuck in your head! Get your first appetizer from LOIMANN'S brand new record and stream 'I Own The Right To Tear Me Apart' right
Says the band: "We're proud of our new album, and totally satisfied the way it came out. We had no doubts at all in choosing a song for the first single promotion. 'I Own The Right To Tear Me Apart' is a fierce hymn (probably the faster song from A Voluntary Lack of Wisdom) that decrees with pride and conviction our total estrangement to many realities of this planet that make us sick."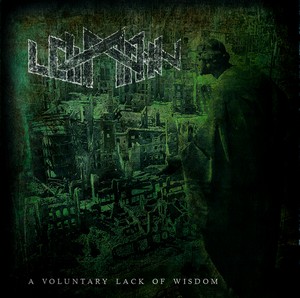 Formed in 2001 under the major influences of desert rock bands alike Kyuss, Fu Manchu or Monster Magnet, LOIMANN's sound evolved over the years for a more doom and heavy psych approach. Recorded at O.F.F. Studios in Torino during the summer of 2017 with Paul Beauchamp and Salvo Arico (Marmore/Khoy), the band's new work partially changes the direction compared to the previous records, with a more direct and easy listening sound while never losing their heaviness.
"The Songs are shorter, more "in your face" (no keyboards at all this time) and with less complex songwriting" the band explains. "On the other side we think we managed to obtain a more extreme result, with more growls and screams, concerning vocal parts and blackened post-core breaks coming out from doom/sludge riffs and atmospheres. The lyrics are centered on how human race is slowly approaching its extinction thanks to wars, pollution and thanks to how many human beings are becoming sort of involute individuals, thanks to the predominance internet has in their lives." LOIMANN continues: "We've heard and seen a lot about Argonauta Records during these past years, and we thought they could be an ideal new starting point for us. Then we met Gero and we immediately understood we are on the same level regarding many themes and musical tastes".
Tracklist:
INTRO – SLAUGHTERHOUSE n°5
I OWN THE RIGHT TO TEAR ME APART
FOR THOSE ABOUT TO SINK
LIVING IN FEAR OF DEATH, DYING IN FEAR OF LIFE
MASS REDEEMER
MORAL DISMEMBERMENT
V.I.T.R.I.O.L. (Vacuity. Ignites. Tremendous. Riot. Inside. Our. Lives.)
THEY LIVE
OUTRO – No Prayer for the Living
Linky:
http://www.facebook.com/loimann
http://www.argonautarecords.com
Zdroj: ALL NOIR