U.D.O. – new bassist, new guitarist
5. October 2018
U.D.O. left next members. Guitarist Bill Hudson was replaced by Dee Damers. New bassist is Tilen Hudrap.
,,We are extremely proud and happy to finally be able to introduce you to our two new Band Members!
Dee Dammers on guitar and Tilen Hudrap on bass. Both are very talented Musicians and we are really excited to have them in U.D.O.!
We hope that you will enjoy the new line up, and that it will be around for a very long time.
The new line up will start rehearsals for the upcoming U.D.O. tour of Russia very shortly. We will, as always, keep you updated on our progress via social media.
And of course, our very best wishes to Fitty, who has been much, much more than just the Band's Bass Player for all these years." – band anounced on their facebook page.

Links:
http://www.udo-online.com/
https://www.facebook.com/udoonline/
Source of Information: https://www.facebook.com/udoonline/
Greenleaf – Incredible Music Video For Good Ol' Goat, new album Hear The Rivers out November 9th
4. October 2018
Mighty Swedish Stoner force GREENLEAF just released their amazing and amusing music video for "Good Ol`Goat". Watch the video right:
The band on their epic movie:
"We wanted to do something funny and entertaining and Peder Bergstand came up with this idea. It's a very fitting video since it's packed with dad jokes and some of us recently became fathers. Enjoy the bass!"
On November 9th, Hear The Rivers comes into world via Napalm Records.
This album turns out to be quite the mesmerizing bag of tricks that seizes the Swedish Stoner sound and enriches it with so many wonderful things, like the just released unforgettable riff-o-rama "Good Ol`Goat" or the slow soulfeeder "We Are The Pawns". An absolute gem of an album that is best kept in the family – which is why former GREENLEAF – and Dozer drummer Karl Daniel Lidén (Craft, Bloodbath, Crippled Black Phoenix amongst others) produced it.
GREENLEAF summarize this record in the following way:
"Hear The Rivers is our full length number 7. Lucky number 7? Well, we like to think so! All the songs give us huge smiles on our faces and we are extremely proud of what we have done! As always we try to take our listeners on a trip with our music, make them wanna bang their heads, dance, smile and cry (of happiness of course). This is easily the biggest sounding record we have ever done and we hope people will enjoy it as much as we do!"
Links:
https://www.facebook.com/greenleafrocks/
Source of Information: Napalm Records Promotion Team
Sabaton – upcoming album
1. October 2018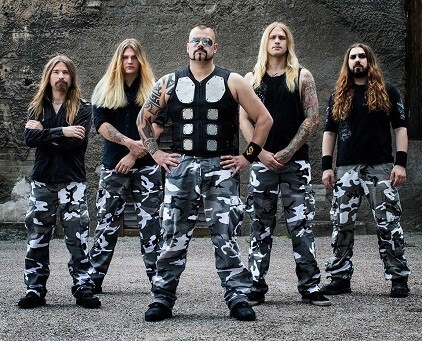 Joakim Brodén told, that Sabaton will plan new album next year.
,,Obviously, we're gonna start making that album — well, we already started, actually, songwriting; songwriting never stops for us," he told Greece's "TV War" in a new interview (see video below). "But, of course, next year there will be an album. We're not gonna get old and start taking eight years between albums."– anounced for  Greece's "TV War
Links:
http://www.sabaton.net/
https://www.facebook.com/sabaton/?fref=ts
Source of Information: https://www.facebook.com/sabaton/?fref=ts, photo: https://www.metal-archives.com
RICH DAVIS New Album "Not Dead Yet" (EPK)
1. October 2018
Crushing Notes Entertainment is proud to announce guitarist/songwriter/artist RICH DAVIS' debut solo release "Not Dead Yet". The debut from the "One Man Wrecking Crew" RICH DAVIS is a very unique release, which features not only a CD, but also an accompanying DVD. The new release consists of fourteen songs (13 remastered), as well as nine music videos. "Not Dead Yet" is a blistering assault of shredding guitar work and guttural vocals from tracks like 'Re-Animated', 'Tyrants Of Armageddon', and 'Mantra'.
RICH DAVIS, "One Man Wrecking Crew", has been in the metal music business since the late 1980's. He started his career with the progressive power metal band MYSTIC FORCE who released their first full length album "Eternal Quest" in 1993 and most recently was a part of the technical progressive metal outfit SHIFT.
Over the last few years RICH DAVIS decided to get back to his passion, playing and writing music. He proceeded to put together a DVD entitled "The Awakening" in 2017 to distribute as a promotional tool to record labels around the world. In his searching endeavors RICH DAVIS hooked up with Crushing Notes Entertainment. The two parties agreed to release digital singles, accompanied by music videos starting in 2018, which would culminate into the full fledged DVD/CD package entitled "Not Dead Yet", due October 1st, 2018.
Links:
http://www.richdavismusic.com/
https://www.facebook.com/Rich-Davis-536822169861647
Press release