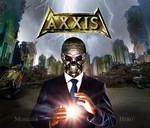 Nemci Axxis v poslednom čase hýria aktivitou. Od roku 2014, kedy vyšlo druhé pokračovanie kultového albumu Kingdom of the Night nazbierali mnoho nápadov. Minulý rok vyšiel album Re Retrolution a hneď tento rok vydali ďalší Monster Hero.
MH hudobne pokračuje tam, kde posledný skončil. Muzika sa nesie skôr v modernom hard rockovom duchu (titulná pieseň Monster Hero), občas však siahnu aj po metalovejších tónoch a rytmoch (Glory of the Brave). A dokonca tu nájdeme aj epickú speed/power skladbu – The Tragedy of Mr. Smith. Nie je síce dlhá, ako je v prípade pod. piesní zvykom – no má veľký potenciál zaujať. Z rockovejších kúskov zaujme hlavne originálna Living as Outlaws a skvelá hymna, ako stvorená na koncerty – Rock Is My Religion. Celkovo treba povedať, že všetky skladby na CD sú kvalitne – žiadna pomyselná vata sa medzi nimi nenachádza.
Preto je konečný verdikt jasný: Monster Hero je skvelý album. Pekne zachytáva vývoj kapely a určite poteší aj nových, aj starých fandov.
Lineup:
Bernhard Weiß – spev, gitary
Stefan "Stürmer" Weber – gitary
Rob Schomaker – basa
Harry Öllers – klávesy
Dirk Brand – bicie
Tracklist:
Monster Hero
Living as Outlaws
Rock Is My Religion
Love Is Gonna Get You Killed
Glory of the Brave
Make Me Fight
Gonna Be Tough
Firebird
We Are Seven
Give Me Good Times
All I Want Is Rock
The Tragedy of Mr. Smith
Rok vydania: 2018
Vydavateľstvo: Phonotraxx Publishing
Youtube ukážka:

Linky:
https://www.axxis.de/
https://www.facebook.com/axxis/
Hodnotenie: 5,5/6