Jinjer – new EP
11. January 2019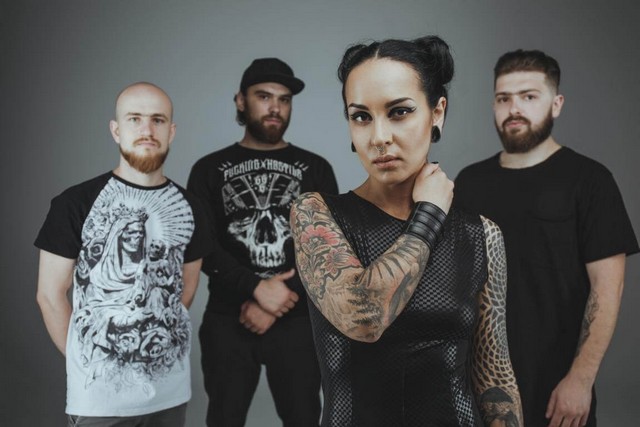 Most successfull Ukraine band Jinjer released long awaited EP Micro. Also they started new tour with bands like Amorphis, Soilwork, Nailed to Obscurity.
Tracklist:
Ape
Dreadful Moments
Teacher, Teacher!
Perennial
Micro
Videoukážky:
Links:
http://www.facebook.com/JinjerOfficial
http://jinjer-metalband.com/
Source of Information: Napalm Records Promotion Team, photo: Veronika Gusieva
New band of former drummer of Bullet for my Valentine 
9. January 2019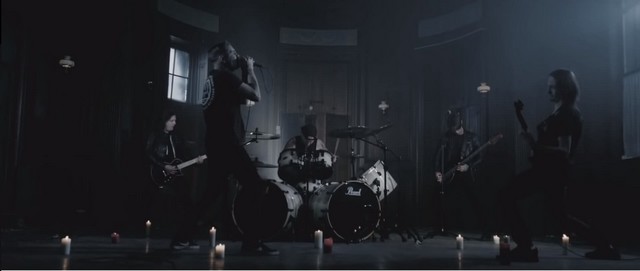 Michael "Moose" Thomas, former drummer of Bullet For my Valentin, created new international band Kill The Lights. His playmates are:singer James Clark (THROW THE FIGHT), guitarists Jordan Whelan (STILL REMAINS) and Travis Montgomery (THREAT SIGNAL), and bassist Davey Richmond (GLAMOUR OF THE KILL).
,,When I parted company with the old band, musically I was just sitting around doing fuck-all and realized I had worked too hard and come too far to turn around," continues Moose. ,,I thought I'd get in touch with Jordan and sent him a text asking, 'Got any riffs or what?!' Before I knew it, he had sent me 30 or 40 songs. I was like, 'Erm, okay!' I couldn't believe it." – he announced
Together with producer/mixer Colin Richardson (SLIPKNOT, TRIVIUM, MACHINE HEAD) started recording process of their debut album.
Source of Information: http://www.blabbermouth.net/
Rosy Vista – upcoming album
7. January 2019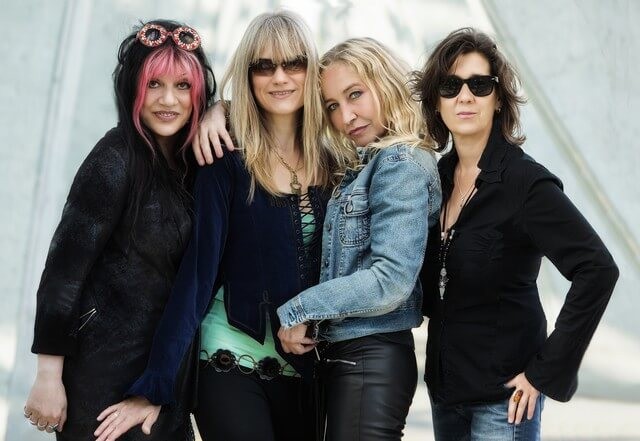 Germany's first female hard rock act Rosy Vista was around for five years between 1984 and 1989. During this time, the group from Hanover, helmed by guitarist Anca Graterol, released one professionally produced EP and two singles.
In addition, the band performed a multitude of spectacular concerts alongside legends such as Uriah Heep, Joe Cocker, Manfred Mann´s Earth Band and Mötley Crüe, among others. So the only career dream left unfulfilled for the five band members was a proper album.
This obvious gap will be closed on 8 February 2019 at last, because Rosy Vista are back together again and will present their debut album Unbelievable almost precisely 35 after the group's foundation.
An unbelievable story in the true sense of the programmatic album title!
"We'd been thinking about it for a number of years, but good ideas always take a while to mature, that's why it took a little longer," confesses band founder Graterol, who has two more original band members by her side, namely Andrea Schwarz (vocals) and Marina Hlubek (drums). The latest addition to the Rosy Vista fold is bassist Angela Mann. Unbelievable will be available on Steamhammer/SPV on Digipak CD, vinyl LP and for digital download.
2002 already saw an initial attempt to revive Rosy Vista, but it took almost six more years before the band members' intentions were translated into a concrete concept with a clear target.
"It's the same as with that first great love that you can't forget for the rest of your life," Anca describes her emotions on the subject of Rosy Vista, adding: "After we'd happened to bump into each other at a concert in 2008 we realised that we still get on really well, so we decided that we wanted to start working on a full album as soon as possible. After all, that's the one thing that was still missing in our career."
So here it is at last: Unbelievable consists of twelve songs (eleven originals plus one cover), six of them brand-new compositions penned by all four musicians together, plus five tracks from their 1985 EP, all of them updated and rerecorded, as well as a cover version of the Steppenwolf classic 'Born To Be Wild'.
Graterol: "We all agreed that the musical identity of the first Rosy Vista line-up should be continued and not be watered down by pseudo-contemporary trends. This kind of rock music is timeless anyway and isn't subject to any trends or fashions. Of course we're much better today in technical terms, and thanks to modern studio technology the sound on Unbelievable is state-of-the-art. We had a lot of fun with everything you hear on this album, which is why it sounds totally authentic."
Graterol is referring to the grooving opener 'Crazy', 'Master Of Control' which culminates in an anthemnic chorus, the wonderfully lascivious 'Too Much Feeling', 'Changin' My Mind', which was co-composed by Barbara Schenker, and the self-ironic attitude of the cool rock number 'Poor Rosy' that's more than likely to be a future Rosy Vista classic.
Mind you, the re-recordings of their popular EP tracks 'Sadistic Lover', 'Tables Are Turned', 'Sound Of Your Love', 'Until I'm Satisfied' and 'Rockin' Through The Night' in a new sonic guise also sound thoroughly impressive.
Despite the consistently outstanding quality of all songs, two numbers deserve to be specifically mentioned: 'Hopatina' is the rock version of a song that Anca Graterol wrote for her first band Catena at an early age.
The track is inspired by a Turkish bellydance number and was a major hit in her native country Romania in the 1970s, featuring in the top 5 of the charts for a number of weeks. Remains – last but not least – only the question why Rosy Vista decided on 'Born To Be Wild' as the final track on Unbelievable.
"We used to play this song in the Eighties at major festivals and it brings back lots of fantastic memories." Another highlight: the cover artwork was designed by Circus Roncalli's Bernhard Paul & Steffen Maier ("just like Lennon & McCartney").
So mission accomplished! True to the motto "Good things come to those who wait", the four Rosy Vista musicians have not only made their life's dream come true with Unbelievable but will also delight their many fans, which will no doubt culminate in loud applause at their official release party at the Hanover Musikzentrum on 9 February 2019.
Tracklist:
Crazy
Sadistic Lover
Master Of Control
Too Much Feeling
Tables Are Turned
Until I'm Satisfied
Hopatina
Poor Rosy
Sound Of Your Love
Rockin' Through The Night
Changin' My Mind
Born To Be Wild
Links:
https://www.facebook.com/rosyvista/
Source of Information: Steamhammer / SPV
SAMAEL – Reveal Music Video For "Samael" !
9. January 2019
Swiss black metal pioneers SAMAEL are back with a brand new video! "Samael" is one of the most known songs off their latest album Hegemony (2017).
The band on the video:
"The video was shot last summer in Poland and Switzerland. It was filmed and edited by Sergey Ulyanov already responsable for the "Rite of Renewal" video. We tried to restitute the energy of our live performance from which our crowd is a big part. Some of the shots were actually sent by fans and integrated in the final video. It's all about you, enjoy!"
Links:
https://www.facebook.com/OfficialSamael
https://www.samael.info/
https://twitter.com/samaelofficial
https://www.youtube.com/user/samaeltv
Source of Information: Napalm Records Promotion Team