MAJESTY – Unveil Album Details Release New Song & Lyric Video "Burn The Bridges" New Album LEGENDS Out June 28th Pre-Order Starts Now
19. April 2019
German heavy metal icons lead you into a post-apocalyptic wasteland!
MAJESTY used the two years since their latest album Rebels well: Next to relentless touring, the five piece got busy by pouring all its creativity into new and exciting material. Legends is the ninth MAJESTY studio album and leads all defenders of steel into a post-apocalyptic wasteland where mankind fights for a brighter future. This is the next level of German Heavy Metal!
Mastermind Tarek "MS" Maghary on the new record:
"Burn the Bridges" tells a little story about rebels escaping to an island where they can live free. But the song can also be applied to your every day life because it is about leaving all the bullshit behind and do whatever you want to do. We can´t wait to play this massive singalong anthem live on stage and hear you guys scream a lot of "burns" towards us!"
Watch the lyric video of the first single "Burn The Bridges" right:
Links:
http://www.majesty-metal.de/
https://www.facebook.com/majestymetal/
https://twitter.com/majestymetal/
https://www.instagram.com/majesty/
http://www.napalmrecords.com/
Source of Information: Napalm Records Promotion Team, photo: http://www.metal-archives.com/
BLOODY HAMMERS – Release Official Video For "Now The Screaming Starts" New Album The Summoning Out On June 28th!
19. April 2019
Inspired by the 1973 horror flick "Now The Screaming Starts" the Transylvania County based duo BLOODY HAMMERS release the first official video of their upcoming album The Summoning. The video transports the sinister and dark feeling that BLOODY HAMMERS create as no other band in 2019.
Anders Manga on the video and the song:
"When I was thinking about my approach for the "Now the Screaming Starts" video, I just happened to be watching some classic movie trailers. The trailer for 'The Night Evelyn Came Out of the Grave' and some other classic Giallo slashers got me inspired to go for that high contrast, color washed look. I think I accomplished it and we're really stoked on the vibe of it now.
The song was originally inspired by the Amicus Productions film, "And Now the Screaming Starts!" from the early 70s but it eventually took on its own narrative about a narcissistic killer who's being haunted by his past victims. It all comes together in the video… BUT.. please Don't Watch It Alone!!! …or at least have a nurse present. Up the Hammers!"
Watch "Now The Screaming Starts"
Links:
http://www.bloodyhammers.com/
https://www.facebook.com/BloodyHammers
https://bloodyhammers.bandcamp.com/
Source of Information: Napalm Records Promotion Team
DESTRUCTION – re-sign to Nuclear Blast Records!
17. April 2019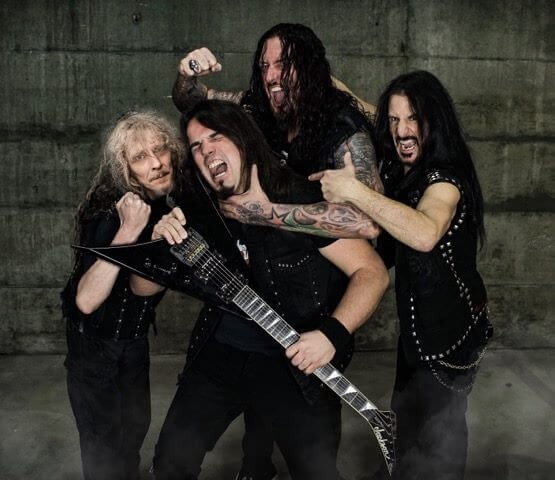 Nuclear Blast Records is proud to announce that the German thrash-legends DESTRUCTION have signed a new record deal with the label.
Founded in 1982, DESTRUCTION soared to the top of the national thrash metal movement, with albums like »Infernal Overkill« and »Eternal Devastation« tucked away in their impressive heavy metal arsenal. Even the band's later work such as or »The Antichrist« are glorious moments in thrash, highlighting why DESTRUCTION are part of the "Big Teutonic 4"…and still touring the world with great success.
After the latest successful Nuclear Blast releases "Day of Reckoning" (2011), "Spiritual Genocide" (2012), "Under Attack" (2016) and the newly recorded Best-Of "Thrash Anthems II", the band have decided to sign a new deal with the label so that the formidable pairing can continue to produce even more greatness.
Mastermind Schmier states: "Somehow this came by surprise and I know that sounds weird but we were so focused and excited about finishing the new album, that the paperwork did not really matter to us at that time! When we did realize that our contract with the label is due, it took us only some minutes to negotiate a new deal!
We are a part of the NUCLEAR BLAST family now since more than 15 years, we feel at home here, we trust each other in this monkey business and also many people that work for the label we call our friends.
So this re-signing is something that came very easy and natural. Working with the best label in METAL is still an honor cause they supported us thru the good and the bad times!
DESTRUCTION 2019 are stronger than ever, the new line up is killing & we will have more news about the upcoming record very soon – please stay tuned dear metalheads!"
Nuclear Blast Head-Of-A&R Andy Siry adds: "We are really happy and proud, that the almighty DESTRUCTION re-sign with Nuclear Blast. It is a honour for us to work with these guys. The whole band became very good friends over the years. So we are looking forward to release the upcoming new thrash metal classic – stay tuned!"
More info about the upcoming new studio album will be released next week. Stay tuned!
Links:
http://www.destruction.de/
https://www.facebook.com/destruction/
Source of Information: Nuclear Blast
Wheels Of Fire: details of "Begin Again" unveiled
17. April 2019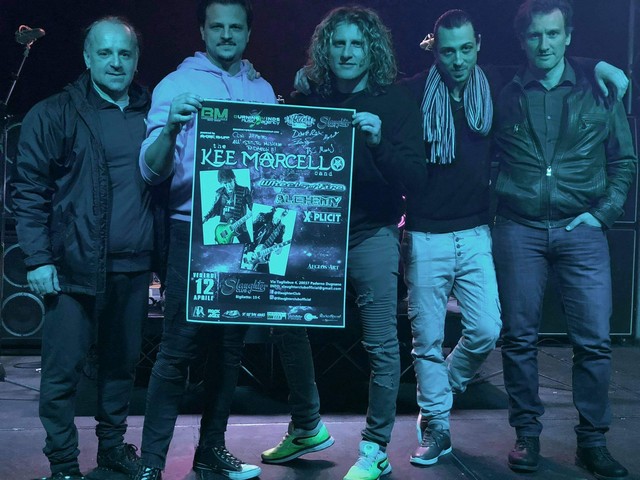 Art Of Melody Music & Burning Minds Music Group are excited to announce all the details of "Begin Again", new official studio album by Italian melodic hard-rockers, Wheels Of Fire. After two successful releases, that received great feedback from fans and critics all around the world (the debut album "Hollywood Rocks" reached #42 on the charts of renowned Japanese magazine, Burrn!), Wheels Of Fire are now back on the scene with what is going to be their strongest release so far, showcasing the noteworthy skills of a band at the top of its form. The new album includes experienced contributors, Pierpaolo "Zorro" Monti (Raintimes, Shining Line, Charming Grace) and Gianluca Firmo (Room Experience, Firmo), and offers an excellent mix of perfectly-balanced elements between the arena melodies unleashed in "Hollywood Rocks", and the prominent guitar work of "Up For Anything", featuring a bombastic and up-to-date sound thanks to the great mix and mastering work by Roberto Priori (Danger Zone, Raintimes, I.F.O.R., Alchemy).
Frontman Davide "Dave Rox" Barbieri quotes: "Seven years have passed since the release of our second studio album, "Up For Anything". Seven long years where we never stopped writing new music, rehearsing together, playing live and believing in this band. This meant for us evolving both as artists and human beings, and this is something that inspired us to moving forward and creating this third official chapter. "Begin Again" represents a promising new beginning in our artistic career, that has been developed staying loyal to the sound and the style we all love: the great melodic rock music. I'm very proud of this work, and I can't really wait to share it to all the fans and friends around the world".
"Begin Again" is scheduled for release on June 7, 2019 via Art Of Melody Music / Burning Minds Music Group. A special personalized edition has been created by Outward Styles in a very limited quantity of 50 copies, and is available exclusively on the label's online shop, Rock Temple. CD graphics have been designed by Aeglos Art (Airbound, Raintimes, Michael Kratz, Alchemy, Firmo), while the CD booklet features introductory liner notes written by Marco Aimasso (Metal.it). The release will be celebrated with an exclusive live event on June 8, 2019 @ Dedolor Music Headquarter (Rovellasca – CO / ITALY), during the second awaited edition of the "Rock Temple Festival".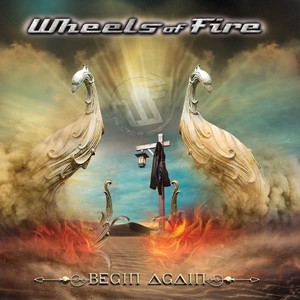 Tracklist:
Scratch That Bitch
Lift Me Up
Tonight Belongs To You
Done For The Day
For You
Keep Me Close
Heart Of Stone
You'll Never Be Lonely Again
Another Step In The Dark
Call My Name
Can't Stand It
Wheels Of Fire (European Bonus Track)
Links:
www.facebook.com/wheelsoffireband/
www.wheels-of-fire.com/
www.instagram.com/wheels_of_fire_official/
www.facebook.com/artofmelodymusic/
www.burningmindsgroup.com/art-of-melody-music/
www.instagram.com/burning_minds_music_group/
Source of Information: Atomic Stuff Promotion