V dňoch 10. až 12. mája sa v obci Belá nad Cirochou (okres Snina) uskutočnil už 4. ročník Máčanky, najväčšej offroadovej akcie na východe.
Ako býva zvykom pre návštevníkov bol pripravený bohatý program ako ukážky regionálneho umenia a remesiel, súťaže terénnych automobilov, gastro súťaže vo varení miestnej špeciality  – máčanky a podobne.
Keďže momentálne prebiehajú majstrovstva v hokeji, tak v tretí deň – v sobotu si návštevníci mohli vychutnať spoločné sledovanie hokeja. Súčasťou podujatia bola aj charitatívna zbierka pre OZ Slniečko, organizáciu na podporu detskej chirurgie.
Nechýbalo ani množstvo stánkov s občerstvením (obzvlášť chválim široký výber rôznych pív) a hudobný program. V ňom síce dominovali interpreti ako Dj EKG, MC Erik, Majself, no tento rok mala väčší priestor aj rocková (a pop rocková) muzika.
Prvý deň vystúpila aj akusticko-rocková kapela Nová Dimenzia, revival známej českej stálice Kabát (Kabát Rock Therapy Revival) a spomínanému MC Erikovi vyhriala pódium slovenská stálica Hex.
Program pre rockerov
Rockuchtivé publikum si prišlo na svoje hlavne druhý deň. Po dlhom predlhom čase na ďaleký východ dorazila aj slovenská folk/rocková stálica Arzén z Terchovej. Vlani im vyšiel nový album Teraz nám vyhráva a tento rok intenzívne koncertujú so známou českou formáciou Čechomor (s ňou nahrali aj duet – skladbu Dievčatko).
Vďaka charakteru celej akcie ich muziku mohli spoznať aj tí, ktorí jej bežne neholdujú.
Obával som sa trochu o zvuk, no pán zvukár to zvládol celkom OK. V setliste nehýbali  piesne zo spomínaného aktuálneho CD (Páslo dievča pávy, Pálené, Dievčatko…), ale došlo aj na staršie kúsky (Nos mi červenie, Hora Hora, alebo hit Lipová lyžka).
Spestrením boli husľové party, o ktoré sa postaral spevák Jaro.  Na koncertoch dlhý čas husle nepoužívali, no od roku 2018 sa k ním vrátili. Okrem spevu a hry stíhal ľudí zabávať aj vtipnými hláškami. Publiku síce zo začiatku trvalo kým sa ,,chytilo", ku koncu to však bolo lepšie.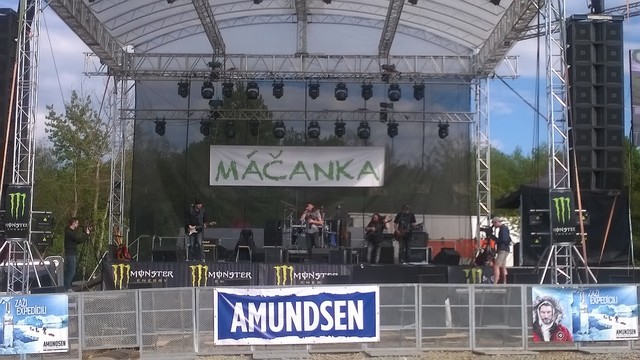 Po nich nasledovalo vystúpenie čoraz populárnejších new age/pop rockerov King Shaolin. Dané zoskupenie je známe hlavne veľkou porciou originality. Na pódium prišli všetci v bielom. Po úvodnom intre Get in Shape nasledovala pieseň Burn Inside (z rovnomenného EPčka z 2016).
Ďalej zazneli songy ako Nobody said, Stamped a nechýbali ani známe single Money in my Soul, Nobody Said... Okrem hrania dávali dôraz aj na pódiovú show. Aj v tomto prípade trochu trvalo, kým im ľudia prišli na chuť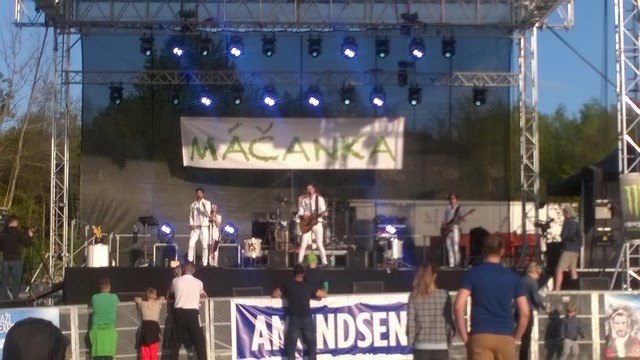 Na záver by som chcel oceniť nápad organizátorov – plnohodnotná rocková muzika (nie len revivaly 🙂 ) na podobné podujatia jednoducho patrí.  Snáď do budúcnosti v tom budú pokračovať.