Vždy sa hovorí, že tretí album je pre kapelu zásadný. Trenčania Volume po tom minuloročnom počine Pravá Tvár začali veľmi intenzívne koncertovať po Slovensku a čoraz častejšie vyrážajú aj k naším západným susedom.
Vlani prvýkrát zahrali aj na východe a tento rok vďaka Sandonorico music production prišli na východ druhýkrát. S menším rozdielom – kým predtým hrali v Prešove, tentokrát dorazili do najväčšieho rock/metalového klubu na východe – Košického Collossea. Spolu s nimi si zahrala banda Under Cover. Táto košická formácia momentálne hráva skladby legendárnych gitaristov ako sú Satriani, Steve Vai a podobne.
Tí začali krátko po 18:00 a celý koncert bol premiérou ich novej zostavy. Set odštartovali introm zo Star Wars Imperial March, nasledované sólom Eruption od Eddieho Van Halena. Potom nasledovali kúsky ako Friends, Summer song, Cryin', With Jupiter in mind (Satriani);  For the Love of God, K'm pee du wee, Jibboom, Die to live (Steve Vai).
Som síce veľkým odporcom cover a tribute bandov. U.C. sa jednotlivých piesni chopili so cťou (možno začnem oboch umelcov vo väčšej miere počúvať). Samozrejmosťou bola ta správna svetelná show – čiže veľmi príjemné vystúpenie.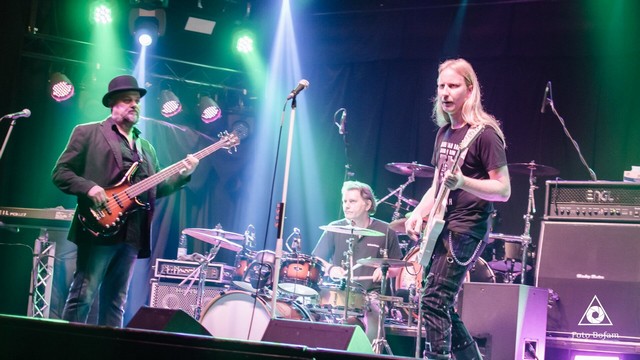 Chlapci z Trenčína taktiež prišli do KE v novej zostave, resp. s klávesakom Maťom Stískalom. Prvou piesňou bola Závislý z posledného spomínaného albumu. V originály je to síce duet (s Hanou Peckovou), ale Majo to zvládol v pohode odspievať sám.
Bolo vidno, že je to jednoducho úžasný frontman – z hľadiska spevu, gitarovej hry a nechýbali mu ani vtipné hlášky. Vlastne celá kapela išla na 1000 percent. Veľké pódium im veľmi svedčalo.
Ľuďom trochu trvalo kým sa chytili, no po poslednej Neviem čo chcem si vypýtali prídavok – pieseň Bojovník. Ináč len tak mimochodom: Jedného z návštevníkov tejto akcie by som chcel upozorniť na jednu vec – pýtať od kapely, ktorá príde prezentovať svoju tvorbu covery je poriadne od veci 😉
V setliste nechýbali songy ako Hriech, Sen, Na Dosah a samozrejme aj najnovší singel Všetko raz prebolí.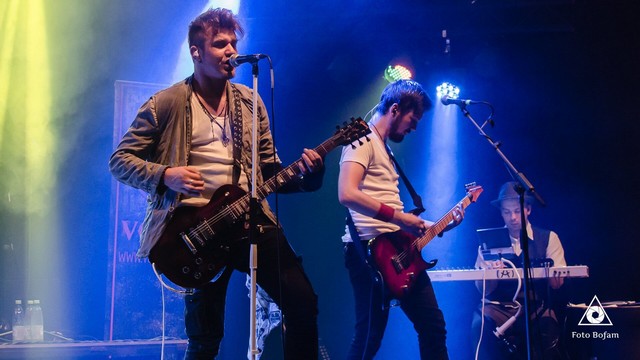 Usporiadateľom ďakujem za krásny, kvalitne zorganizovaný večer plný kvalitnej rockovej muziky. Na Slovensku máme mnoho dobrých kapiel a je potrebné aby ich spoznávali aj v mestách, kde nikdy predtým nehrali. Snáď sa Volume čím skôr na východ vrátia.
A poďakovanie patrí aj https://www.facebook.com/bofam.sk/ za foto 🙂