Lion's Share – new single
4. June 2019
Swedish heavy metal band LION'S SHARE has made a new song available on streaming services and digital service providers today, June 4th.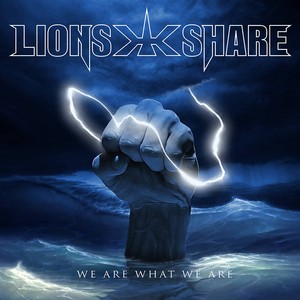 LION'S SHARE singer Nils Patrik Johansson says: "We have always been grateful for all the support and love we've received from our loyal fans and friends through the years. To give something special back we wrote the song "We Are What We Are". This is our way to celebrate everyone in the heavy metal family.  Cheers to you all!"
In late 2018 LION'S SHARE released a new five track EP, plus its complete catalog – remastered with new artwork on streaming services and digital service providers for the first time. The LION'S SHARE catalog features appearances by members and ex-members of KISS, Megadeth, King Diamond, HammerFall, Symphony X, Chimaira, Therion, YngwieMalmsteen, Candlemass, etc.  Mixers include top engineers such as Jens Bogren (Arch Enemy, Opeth, Symphony X, Amon Amarth) – NiklasFlyckt (one-time Grammy award winner and four-time nominee) and Ronny Lahti (Roxette, Europe, Glenn Hughes etc).
"Once again we had the pleasure of working with our old LION'S SHAREbrothers Andy Loos (bass) and Kay Backlund (keyboards) on "We Are What We Are". Around 25 new songs are written for the next LION'S SHARE album and we're in the middle of the recordings. We hope to have a new album out in 2020 – supported by live shows." says LION'S SHARE guitarist Lars Chriss.
Lyric video for "We Are What We Are" – https://youtu.be/uo5_L5_nNQQ
Lyric video for "Chain Child" – https://youtu.be/FzAYAS2SJyU
Lyric video for "Another Desire" – https://youtu.be/zFA3xmndP18
Lyric video for "The Lion's Trial" – https://youtu.be/2j9dfc69WDI
Lyric video for "Sins Of A Father" – https://youtu.be/Xp1mtvDyjFM
Complete remastered back catalog:
We Are What We Are: https://orcd.co/j2d4akj
Chain Child: https://orcd.co/7ybn1aa
EP: https://orcd.co/laolywm
Dark Hours: https://orcd.co/39vbzba
Emotional Coma: https://orcd.co/3jwbo8j
Entrance: https://orcd.co/pb5jx8n
Fall From Grace: https://orcd.co/57xkp5z
Two: https://orcd.co/jrmympv
Lion's Share: https://orcd.co/m5yl5ez
Links:
http://www.lionsshare.org/
https://lionsshare.bandcamp.com/
https://open.spotify.com/artist/4yIytMmJ2tx30YdMAMkDSo/
http://www.facebook.com/lionsshareband/
http://www.youtube.com/lionsshare/
https://www.instagram.com/lions_share_band/
Source of Information: Noterious Music, foto: https://www.metal-archives.com/
UK Thrashers ACID REIGN sign with Dissonance Productions
3. June 2019
It's been a while but they're back with arguably their finest album to date. Acid Reign will release their third full length on Dissonance this September.
Vocalist Howard Smith had this to say: "For our first album in 29 years it was vitally important that we find the right home and I feel we have. From the very first contact it was obvious that the Dissonance team not only had an overwhelming enthusiasm for what we have recorded but the intelligence and infrastructure to deliver. Many involved are the same people I dealt with when curating The Apple Core Archives in 2014 which was a hassle free experience, so we are going to release a four disc retrospective Acid Reign Anthology package after the new album comes out cos I found some more old stuff and our two singles need a CD home. Who knows you may even see some vinyl reissues too! We cannot wait to unleash this beast and hit the road in support of it, once it's out it will be two years since we started writing and a year since we recorded it. No one is as keen as us for you all to hear the results. Over the next few months we'll be drip feeding you all information, we have so many plans for really cool things that we think you are all going to love. Stay tuned."
Label head honcho Steve Beatty: "It's great they are back with a new album and I am pleased they are on the Label, it's another great addition to the roster and I'm excited about the new album. As long as they don't cover anymore Blondie songs I'm a happy camper!"
In 1991 Acid Reign left an ailing UK thrash scene with a final show at the London Marquee. They toured with the likes of Nuclear Assault, Dark Angel, Exodus, Flotsam & Jetsam, Death Angel, and Candlemass. During this time they put out two full length albums namely The Fear and Obnoxious following on from their Mini Album debut in 1988, Moshkinstein. A final compilation "The Worst Of Acid Reign" was released and their brief but highly productive career came to an end. Since returning from a 24-year absence the band featuring original vocalist Howard H Smith, Pete Dee (Bass), Paul Chanter (Guitar), Marc Jackson (Drums) &Cooky (Guitar) have been busy. On the back of two new songs Plan Of The Damned (2015) and The Man Who Became Himself (2017) they hit the road both at home and throughout Europe for numerous tours and festival appearances. Including the now legendary record-breaking Headline slot of the Sophie Stage at Bloodstock 2016. During this time, they have earned themselves a fearsome live reputation famous for its high energy, mass stage diving and violent pits. Reeling off old school classics from their back catalogue they have become a must-see act that has seen the band sign with K2 live agency (Metallica, Slayer, Anthrax). With a new album already recorded their time to reign has come again.
Links:
http://acidreign.co.uk/
https://facebook.com/acid.reign.thrash/
https://twitter.com/AcidReignUKAC/
https://instagram.com/acidreignukac/
https://www.dissonanceproductions.co.uk/
https://www.facebook.com/DissonanceProductionsUK/
Source of Information: Bart Gabriel
Empire – return to scene, new videoclip
4. June 2019

Czech hard rockers Empire anounced return to scene and also they published new videoclip for song Čas.
Links:
http://www.empireband.cz
https://www.facebook.com/Empire-Hard-Rock-440660362715542/
Source of Information: https://www.facebook.com/Empire-Hard-Rock-440660362715542/
Luisville Story – new videoclip
4. June 2019
Slovak electro rockers Luisville Story published new videoclip for song Navždy.
Facebook: https://www.facebook.com/LuisvilleStoryLVS/
Instagram: https://www.instagram.com/luisville_story/
Bandzone: https://bandzone.cz/lvs/
Source of Information: https://www.facebook.com/LuisvilleStoryLVS/