CARNIFEX – new album "World War X" + single & music video feat. Alissa White-Gluz
7. June 2019
San Diego, California-based metal outfit CARNIFEX are proud to announce their 7th studio album, »World War X«, will be released on August 2nd via Nuclear Blast. Today, the band releases the first single, 'No Light Shall Save Us' [feat. Alissa White-Gluz | ARCH ENEMY], with a music video directed by Scott Hansen (POSSESSED, MOTIONLESS IN WHITE, DEICIDE, PRONG).
Tracklist:
World War X
Visions of the End
This Infernal Darkness
Eyes of the Executioner
No Light Shall Save Us
All Roads Lead to Hell
Brushed by the Wings of Demons
Hail Hellfire
By Shadows Thine Held
Watch the video for 'No Light Shall Save Us' [feat. Alissa White-Gluz]
CARNIFEX's frontman Scott Ian Lewis comments, "Collaborating with Alissa on 'No Light Shall Save Us' was a joy from the start.Alissa was able to elevate the song with a dynamic that's completely new for CARNIFEX. There is a melody and depth on 'No Light Shall Save Us' unlike any previous CARNIFEX song. It's the perfect start to your journey through »World War X«."
"With 'No Light Shall Save Us' I think CARNIFEX and I have been able to create a really special piece," comments Alissa White-Gluz. "The video shoot was an incredible experience and from the second I read the lyrics and heard Scott's vision for the song I knew I could really build on it and express myself. I'm excited to share this with the world!"
Links:
http://carnifexmetal.com
https://www.facebook.com/CarnifexMetal/
Source of Information: Nuclear Blast, foto: https://www.metal-archives.com/
THE AGONIST Return With Brand New Album + Reveal First Details And Video! Orphans drops September 20th on Rodeostar Records!
7. June 2019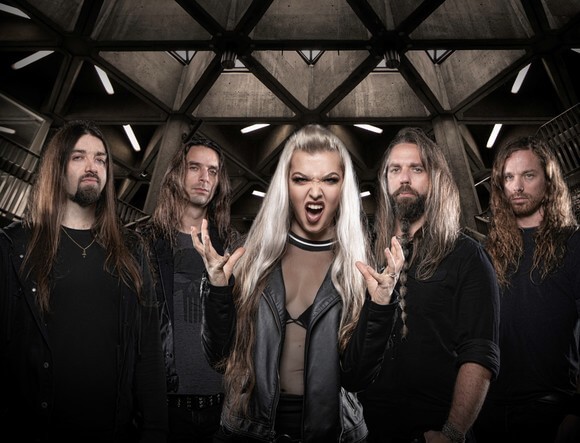 More extreme, more melodic, more exciting and simply larger than life: The Agonist are back!
Following their critically acclaimed album Five, released in 2016, the extreme metal juggernaut from Montreal, Canada, has released a first single and announced the first and hotly anticipated details of their brand new record, due out September 20th 2019 on Rodeostar Records.
Says vocalist Vicky Psarakis:
"When I heard the first instrumentals for "Orphans" I was a bit shocked and confused. The music was really dark and heavier than anything we've done in previous albums and I wasn't quite sure how I'd be able to match that emotion. But then you know all it took was writing one full song to get the ball rolling and 2-3 months later everything was done!
With every new album, we love to experiment and dip our toes into new territory, but there's also a lot of elements here that are reminiscent of the earlier days. You can expect a lot of hard hitting, fast-paced madness and many many blast beats! Vocally, there's a wide range of styles, some of which I tried out for the first time, and the lyrics are mostly inspired from horror stories and real-life tragedies. Events that I felt a lot of people can relate to.
"Orphans" is my third album with The Agonist and I can't wait to show the world what we created! We're excited to finally share the first taste with all of you… Get ready for In Vertigo!"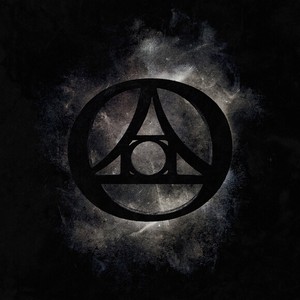 Tracklist:
In Vertigo
As One We Survive
The Gift of Silence
Blood as My Guide
Mr. Cold
Dust to Dust
A Devil Made Me Do It
The Killing I
Orphans
Burn it All Down
Listen to opening track and first single "In Vertigo" and watch the video
Links:
https://www.facebook.com/TheAgonistOfficial
Source of Information: ALL NOIR/ Mona Miluski
GOTTHARD – currently working on new album!
4. June 2019
For us it might sound like a well-earned break for the Swiss rock heroes – but for GOTTHARD themselves that simply doesn't exist. At the end of the day their focus is always rock'n'roll and new songs. In other words: GOTTHARD are back in the studio!
The release of the upcoming full-length album is set for early 2020 and the band will also embark on an extensive headline tour through Europe in support of it.
But considering it's still a little while until the upcoming album will see the light of day, you can get your fill of GOTTHARD as they perform selected festival and club shows throughout 2019.
Whilst Hena is out of action looking after his newly born second child, he will be replaced on the road for this year's shows by a good friend and worthy replacement, HELLOWEEN drummer Dani Löble.
Links
https://www.gotthard.com/
https://www.facebook.com/Gotthard/
Source of Information: Nuclear Blast
Bullet – upcoming live album
3. June 2019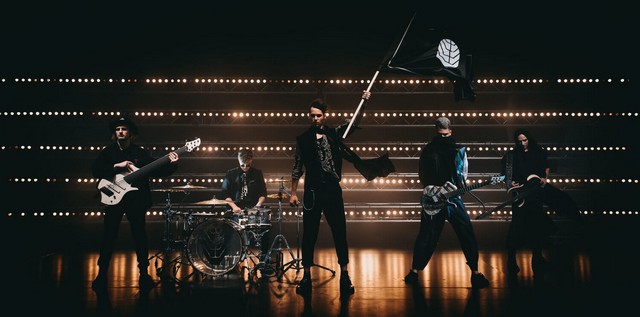 Unique selling points are easy to find when it comes to Swedish act Bullet. The most remarkable feature of the five-piece surrounding vocalist Hell Hofer and guitarist Hampus Klang is obvious: Bullet combine classic and contemporary heavy metal arrangements with the true values of their genre and a passion that is hard to find elsewhere.
"There aren't many bands these days that have what should be obvious: a wall of Marshalls, long hair, an old tour bus, and who play 100% live without using backing tracks or stuff like that," explains Hampus Klang, together with Hofer not only one of the group's creative minds but, also one of its founder members.
And what better way to present the one and only true rock'n'roll philosophy than a live album? 
Because when it comes to that decisive spark which never fails to turn metal fans into Bullet enthusiasts, all that Klang, Hofer, Alexander Lyrbo (guitar), Gustav Hector (bass) and Gustav Hjortsjö (drums) need to do is enter the stage and really let rip. That's when the band ignites that inferno which has wrecked countless clubs, halls and festival stages – musically speaking, of course.
To document how the band's wild shows sound – recorded for posterity –, their first live release will be out soon under the succinct title Live.
The reasons for this straightforward moniker are obvious: Bullet don't require spectacular marketing concepts, they impress with their sheer talent. Bullet Live will be available on Steamhammer/SPV from 5 July 2019 as a 2-CD Digipak, double vinyl album, and for digital download.
"For so many years people have asked us to do a live album, and now after six full-length studio releases we felt the time was right," Hampus Klang explains why Bullet Live is released now, adding: "The main part was recorded in Germany. It's a mixture of three gigs from our 2017 Storm Of Blades tour and the Dust To Gold tour in 2018. Both were filled with headbanging maniacs who thirsted for heavy metal and a good time. We also used recording devices in the crowd to capture the true heavy metal experience of a live Bullet show."
The album was recorded by Bullet's live technician Dennis Åhman and Arne Lakenmacher (Annihilator, Doro, Axel Rudi Pell). It was mixed by Mankan Sedenberg (Crucified Barbara, The Flower Kings) at the Pama Studios in Torsås, Sweden, and mastered by Maxe Axelsson (Karmakanic, among others).
Anybody who's heard their studio albums is familiar with the breakneck pace and energy of their songs
On Bullet Live, these strengths are fuelled by additional adrenalin and have been condensed into a best-of mix of their most memorable moments. The result is a double album featuring 18 Bullet songs that leave nothing to be desired. Klang: "Bullet Live consists of 18 original numbers, no covers. It´s a mix of all our previous tracks since the first minialbum in 2003. These are our live favourites from the many years on the road, including five songs from our most recent album Dust To Gold, which really satisfied both us and the fans."
Are there any significant differences between the studio recordings and the new stage versions of the songs from the musicians' point of view?
"We've played many of the songs countless times, which has given the material new life and new energy. Because we've toured so much, we have developed great communication skills on stage. This allows us to experiment with band presentations and awesome jam sessions. When we play live on a big stage, the raw energy makes the sound heavier and wilder. So yes, the songs are faster, harder and longer!" Anybody who needs proof to corroborate Klang's claims only needs to listen to Bullet Live or see for themselves from May 2019!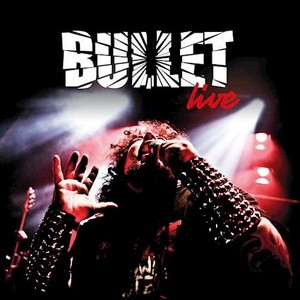 CD1
Uprising
Storm Of Blades
Riding High
Turn It Up Loud
Dusk Til Dawn
Dust To Gold
Rambling Man
Bang Your Head
Hammer Down
CD2
Speed And Attack
Ain't Enough
Rolling Home
Heading For The Top
Stay Wild
Fuel The Fire
Highway Love
The Rebels Return
Bite The Bullet
Links:
https://www.facebook.com/bulletband/
Source of Information: Steamhammer / SPV