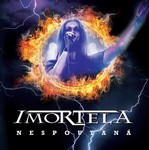 Luděk Struhař, súčasný spevák Motorband, stihol toto leto veľa veci. S kapelou odspieval množstvo festivalov. Na jednom z nich (Masters of Rock) pokrstil nové CD Nespoutaná českej kapely Imortela z Otrokovic. Táto formácia funguje od roku 2005 a spomínané CD je ich tretí full album.  A aký je jeho obsah?
Čo to naznačia obľúbené bandy jednotlivých muzikantov (Stratovarius, Sonata Arctica, Nightwish…). Teda zjednodušene povedané melodicky metal. V začiatkoch mali veľký priestor klávesy. Tie nedávno boli vymenené za druhú gitaru. Tvrdší výraz sa podpísal aj na tejto nahrávke. Klávesové nástroje sa úplne nevytratili, ale tvrdé gitary jednoznačne dominujú. Skladby sa nesú väčšinou v strednom tepe, do mnohých sú citlivo zakomponované aj dvojkopakové rytmy. No typická speed metalová skladba (na štýl staršej tvorby Sonaty Arcticy) je tu len jedná a to  Musíš to dát na druhom mieste. Do budúcnosti by však mohli viac využívať rytmické zvraty ako v trojke – Rebelka.
Nebude chýbať ani jedna vydarená balada – 6-tka Naplno žit. Speváčka Kateřina Bartoňová jemne pripomína Kimberly Goss zo Sinergy. V piesňach ju často dopĺňa aj Pavel Stuchlík svojím doprovodným vokálom. Obaja svoju robotu odvádzajú výborne.
CD Nespoutaná síce nepatrí medzi albumy, ktoré sa zapíšu zlatým písmom do histórie českého metal/rocku. Svoje miesto na scéne však určite má. Do uší a myslí vyznávačov melodických odnoží kovovej muziky sa určite dostane.
Menšia poznámka pod čiarou: Luděk Struhař okrem krstu aj hosťoval na tomto CD.
Lineup:
Kateřina Bartoňová – spev
Marek Bartoň – gitara
Pavel Stuchlík – gitara, spev
Petr Kostolanský – bicie
Hostia:
Luděk Struhař – spev (6)
Petr Nejezchleba – spev (6)
Adam Titz – klávesy
Tracklist:
Svár
Musíš to dát
Rebelka
Síla
Bouře
Naplno žít
Bonusy:
Svár (radio version)
Dávné prokletí
You Make Me Fe
Rok vydania: 2019
Vydavateľstvo: Samovydanie
Youtube ukážka:

Linky:
https://www.facebook.com/imortela.cz/
https://bandzone.cz/imortela1/
Hodnotenie: 5/6