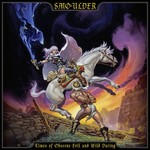 Smoulder sú úplne nová Kanadská heavy metalová kapela z Ontaria. Ich debut vychádza po šiestich rokoch existencie a jednom deme, ktoré malo v undergrounde veľký úspech.
Skupina si vybrala žáner, ktorý síce asi nikdy nepatril medzi žánre s veľkým komerčným dopadom, ale o to má zas vernejších fanúškov, ktorý hlavne v dnešnej dobe internetu dokáž ponúknuť kapele veľkú podporu. Hovorím o old school epickom doom/heavy metale. Hudobne naozaj akoby som počúval priekopníkov žánru Cirith Ungol. No keď začne fantastický spev krásky Sarah Ann, tak sa celý dojem hodne zmení. 
Veľmi vydarený zvuk album dostane do vašich uší. CD začína klávesovým ambientom ako z konca sedemdesiatych rokov, ale potom už hrmia gitary, ktoré znejú úžasne hlboko a mohutne. Výborný riff strieda riff a chytľavé refrény si nemáte problém zapamätať. Pri druhej The Sword Woman ma hneď od začiatku mrazí a nádherná gitara vedie skladbu k epickému finále. Rýchla vypalovačka Bastard Steel mi hodne pripomenula starý Hammerfall a refrén tu doslova zabíja. Hlavne v záverečnej skladbe Black God Kiss sa mi vynára spomienka na Cirith Ungol a podľa mňa to tak aj bolo myslené. Skvelý obal albumu len doplňuje náladu a ja som rád, že sa opäť objavila formácia, ktorá vie čo povedať k žánru.
Kapely čo sa venujú  old school epickému doom/heavy metalu nemajú a ani nikdy nemali na ružiach ustlané. Sú odkázané na úzko žánrové médiá a málokedy sa im dostane podpory inde. Je to dané asi tým, že ich hudba znie zastaralo pre bežného poslucháča. Lenže skutočný znalec scény by došiel na to, že ich hudba znie bezveko. Ako som raz čítal: Už prvý epic doom/heavy album od kapely Legend v roku 1979 znel ťažkopádne a zastaralo. Takže ja by som naozaj skôr použil výraz bezveko.
Smoulder sú príjemná ukážka ako to má znieť v súčastnosti, aby ste tento žáner mohli vnímať aj keď nie ste skalní fanúškovia. Ja verím, že nám ešte veľa dobrého ukážu.
Lineup:
Sarah Ann – spev
C. Wolf – gitary
S. Vincent – gitary
A. Blake – basa
K. Hester – bicie
Tracklist:
Ilian of Garathorm
The Sword Woman
Bastard Steel
Voyage of the Sunchaser
Shadowy Sisterhood
Black God's Kiss
Rok vydania: 2019
Vydavateľstvo: Cruz del Sur Music
Youtube ukážka:

Linky:
https://www.facebook.com/SmoulderDoom/
smoulder.bandcamp.com
Hodnotenie: 5/6