We Came as Romans – release two new songs 'Carry The Weight' & 'From The First Note'
27. September 2019
Brotherhood lasts forever. No matter what happens, those bonds endure in memories and moments. WE CAME AS ROMANS hold a similar link between them. After nearly 15 years together, countless sold out shows, critical acclaim, and over 250 million streams, the Michigan quintet—Joshua Moore [guitar], Dave Stephens [vocals], Lou Cotton [guitar],Andy Glass [bass], and David Puckett [drums]—weathered their darkest time and emerge stronger in the name of a fallen brother and member: Kyle Pavone.
Today, the band has released two brand new songs — 'Carry the Weight' and 'From the First Note'. These are the first tracks that the band has released since Pavone's tragic passing in August 2018.
Carry The Weight: https://youtu.be/WO2WNcVQtXs
From The First Note: https://youtu.be/X9MzpakAbmU
"When Kyle passed away, it changed everything for us personally and, as a byproduct, everything for the band," says Moore. "An earth-shattering event puts a lot of things in perspective. We've spent so much time together. We've been doing this since we were kids. The one thing that won't change is the way Kyle affected my life. Before we were bandmates, we were essentially brothers. In order to be genuine to our fans and ourselves, we had to write about what we dealt with losing him. At the same time, this isn't just a bunch of songs soaking in depression. We want to celebrate what we built."
'"Carry the Weight' is about dealing with the immense grief and sadness throughout navigating the loss of Kyle," the band explains. "It's a very honest song, and we're very open about how it felt continuing to play shows without him on stage with us. It's about the darkest part of our grieving process, and the only way we see ourselves moving forward — through the memory, the 'light,' that Kyle shone on our band."
About 'From the First Note', the band says, "It shows the other side of the loss of Kyle, remembering him and all the moments we shared, what we've created together, and how he will always be a part of us. That we can find his light in every aspect of the band, and feel thankful that we got to have that time of our lives with him. It's a song about celebrating our accomplishments together, reliving the moments from our youngest days as a band, and knowing that he's with us as we move forward."
Links:
https://www.facebook.com/wecameasromans/
Source of Information: NUCLEAR BLAST Markus Jakob
Cyhra – announce new album "No Halos In Hell", present music video for 'Out Of My Life' 
27. September 2019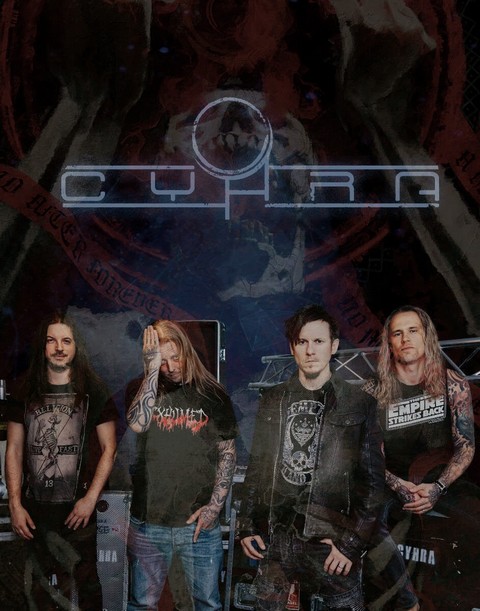 Boosted by the success of their 2017 debut, »Letters To Myself«, modern melodic metal highflyers CYHRA are using that momentum and pushing forward with a new album – the sophomore »No Halos In Hell« will see the light of day on November 15th via Nuclear Blast.
Founded by vocalist Jake E (ex-AMARANTHE) and guitarist Jesper Strömblad (ex-IN FLAMES), CYHRA has gone from being reminiscent of the duo's former bands to having a unique identity. In fact, »No Halos In Hell« is one of those rare albums that defies being neatly placed in a genre box; coming out heavy and dynamic, the record is loaded with melodic vocal hooks that stay nailed to the brain for days, achieving maximum impact throughout. Fusing a relentless energy and heaviness the best way possible was CYHRA's main focus this time out.
The addition of guitarist Euge Valovirta (ex-SHINING) as a full member has raised the creative process to a level where, according to Jake E, "Everyone is playing to the point of what is best for the song."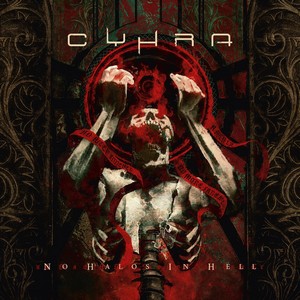 Tracklist:
Out Of My Life
No Halos In Hell
Battle From Within
I Am The One
Bye Bye Forever
Dreams Gone Wrong
Lost In Time
Kings Tonight
I Had Your Back
Blood Brothers
Hit Me
Man Of Eternal Rain
Now, the day has finally come for the band to unleash a music video for their first single and lead-off track 'Out Of My Life'. Prepare for trouble and check out the new clip, directed by Swedish mastermind Patric Ullaeus, here:
Produced by Jacob Hansen and co-produced by the band's very own Jake E, the album is filled with 12 live-oriented songs, ensuring maximum catchiness. The full tracklist reads as follows:
Lineup:
Jake E – vocals
Jesper Strömblad – guitars
Euge Valovirta – guitars
Alex Landenburg – drums
Links:
https://www.cyhra.com/
https://www.facebook.com/cyhraofficial/
https://www.nuclearblast.de/cyhra/
Source of Information: NUCLEAR BLAST Anne Swallow, Foto: Linda Florin
DELAIN Releases New Single & Music Video "Burning Bridges"
27. September 2019
Following up on their critically acclaimed EP, Hunter's Moon, released via Napalm Records earlier this year, DELAIN have stunned fans around the world once again with their brand new single, "Burning Bridges". Accompanied by an emotive new video, the song highlights the spectacular vocal talents of Dutch vocalist Charlotte Wessels, and once again, the undeniable atmospheric range of DELAIN's music solidified by their potent previous releases.
Juxtaposing multiple genres and musical landscapes, "Burning Bridges" not only confirms the fascinating duality of DELAIN's concept, but also allows Wessels to unleash her hard rock-tinged charisma in melodic chorus – the central point of the diverse song structure. Combined with the music video's breathtaking aesthetics, "Burning Bridges" is in line to become a signature track amidst DELAIN's catalog – combining gripping guitar solos, cinematic instrumentals, and outstanding vocal performances.
After creating suspense with the previous release of two video teasers, DELAIN unfolds the entire story in their new music video.
The band states: "We are proud to present "Burning Bridges", the first track off our sixth full studio album. With its energy and bombast the track marries some of our favorite musical elements, and introduces a real life choir as a new color on our palate. We hope you enjoy the track, along with its video, shot in beautiful Snowdonia."
Links:
https://www.facebook.com/delainmusic
https://www.delain.nl
Source of Information: Napalm Records Promotion Team
NORTH OF SOUTH join forces with vocalist ANNA MURPHY (Cellar Darling, ex Eluveitie) in their brand NEW SINGLE "We Refused to Hear Them (It's Our Song)"
27. September 2019
Swiss singer Anna Murphy shares vocal duties with Chechu Nos in a tune that shows the most Metal side of North of South's upcoming EP "The Dogma and The Outsider", due for release this autumn via WormHoleDeath.
Considered as one of the most exciting surprises of the European Progressive Metal scene in recent years, North of South strike again with a new track, "We Refused to Hear Them" (It's Our Song)".
This new single emphasizes the collective soul of Chechu Nos' individual project featuring one of the most impressive voices of the metal scene: Anna Murphy, worldwide acclaimed for her past work in Eluveitie and her current band, Cellar Darling.
Chechu Nos stated:
"North of South is a many-sided entity. And now it was time to 'step on the gas'. In any case, together with its uptempo vibe, "We Refused to Hear Them (It's Our Song)" reunites many of the recognizable elements in my music, like melodic heavy guitars, a colorful mix of clean and scream vocals, some piano presence, dynamic rhythm changes and a deliberate focus on Fusion Metal. Additionally, Anna's performance is simply flawless and magical".
Links:
https://www.facebook.com/sonnbandofficial
https://www.youtube.com/channel/UCT6VFC9XosEf8JL6j_0ahUQ
Source of Information: WormHoleDeath Records