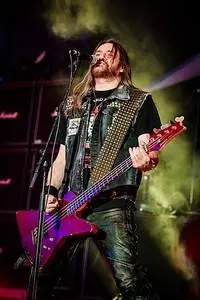 Upcoming full album of German thrash metalheads Sodom will be released in near future, but band has released next EP – Out Of The Frontline Trench. Do you wanna know more about its creation of it, upcoming concerts or somenthing about upcoming full album? You can read interview with Tom Angelriper:
Hi,  Sodom release new EP album Out Of The Frontline Trench one year after another EP Partisan. Is it some kind of gift for fans, that you release two EPs consecutively?
Tom Angelripper: Hi, We just want to demonstrate that we are still active and very busy in our songwriting process. This EP, and the Partisan is also something special for the Sodom's collector scene. I am very satisfied with the result. This EP will also describe the direction for the upcoming material.
There are a lot of bands out there who talk about "back to the roots", but we did it. The EP reflects exactly the sound we all love so much. Especially the production is very rough and inexorable.
What was process of creation of it?
Tom Angelripper: Very old-school way. Rehearsing 2 or 3 times a week. We always started with a jam session, putting all ideas together. Sometimes I came up with some new lyrics.
On EP album we can find song Genesis 19 from new full album with interesting lyrics. Could you tell us something more about it, inspiration etc.?
Tom Angelripper: That is a bible story about the destruction of Sodom & Gomorrah (book Genesis). Its very interesting to read and a huge inspiration for me. You have to know, I don't believe in god and I believe that a natural calamity destroyed these places. But the original bible story is something spectacular for a Sodom song…
EP also contains 2 new songs – Down On Your Knees and self-titled tune, which are about World War I. It is interesting story behind inspiration….
Tom Angelripper: They are all about world war one. Last year I got some photos and letters of my grandfather, handed down by my aunt. So, all the recollections, my grandfather told me about his fighting and living in trenches in WW1 came back.
So I start researching,  looking documentaries and reading books about that. But, please don't misunderstand me, war was always a big theme for all the Sodom lyrics the last three decades and always will be.
You have also re-recorded Agent Orange and Bombenhagel in current line-up. I thouht, that you have now a lot of energy and great vibes in this line-up. Are you now totally satisfied with your line-up?
Tom Angelripper: You are right; this version is the heaviest and fastest we ever recorded. This song is an all-time part in our setlist. In this year we have the 30 years anniversary of our album Agent Orange.
In my opinion this new record version is very similar to the original one. We decided to put these two songs on the EP as a bonus for the fans. Keep in mind, that a 3 track EP is the same price like a 5 track
Could you tell something more about new full album?
Tom Angelripper: At the time we are rehearsing new songs and ideas, but we want to work it out without any time-pressure, so we didn`t discuss about a release date with the record company.
But, if everything will be prepared we try to release in the end of 2020. I realize that the upcoming album could be the most important in my career. I want to make sure, that everything will be fixed perfect and satisfying to the listeners.
You have also planned some concerts for upcoming months. Is it possible that you will also visit Slovakia next year?
Tom Angelripper: Why not? If there are some promoters around who wants to get us over, we go! We know that we have a strong fanbase over there. Hope we`ll get it done next year
We have talked together year ago. Do you think, that world get worse place during the year?
Tom Angelripper: I think so, too. The world will change to the worst. Here will be no more security for all of us. Everything seems running out of control, the. Democratic politicians lose more and more power. Radical groups will prevail. I am not scared about myself but I am scared about the next generations. How will the world look like in 30 or 40 years?
We have peace for a long-time in Europe. Do you think, that people nowadays don´t know price of it, and consider war as something imagine?
Tom Angelripper: This piece is treacherous, it's just an armistice, the calm before the big storm!
This would be probably hard question but… Do you think that we are losing our freedom and democracy in Europe?
Tom Angelripper: Yes, I think so. But I hope we will change to better ways
You are member of legend band, which change metal music and has enormous impact on many others band. How will you describe metal scene these days, and in the past, when you have begun?
Tom Angelripper: We just did the music as a kind of revolution against the parents, teachers and establishment and also against Posers and Poppers, who hate our musical direction.
Metal fans were a minority, because music like "Deutsche Welle" and "New Wave" was very popular in the beginning of the 80th. I was in a school class with 30 pupils and I was the only one who listened to metal. That was strange, but we respected each other.
I think the whole metal scene changed for worse, because it's getting more confusing in these times. This music is established and will ever be. I still miss the good old times….but when we got our first record deal, the times changed.
After Agent Orange went so successful, I could quit my job in the coalmine and I was able to get more established in the metal scene and could made my life just with music. That was a dream that come true.
So, that was the last question. Thank you so much for your answers, and you can share now message with fans.
Tom Angelripper: Thanx for for your loyal support all over the decades. You keep the band going on. And hope to see you soon on the road.
Your friend TOM
Youtube teaser:

Links:
http://www.sodomized.info/
https://www.facebook.com/sodomized/