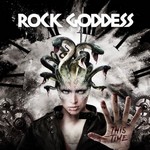 Minulý rok bol skutočne bohatý na vydarené albumy legiend N.W.O.B.H.M. A je to len dobré. Mládež metalu by mala vedieť, kde sú korene žánru.
Rock Goddess boli ďalšia z dievčenských kapiel heavy metalu a ich tri albumy zo začiatku osemdesiatych rokov boli výnimočné. Narozdiel od megapopulárnych Girlschool však R.G. neboli až tak prístupné. Ich muzika bola tvrdšia a kombinácia úžasného agresívneho hlasu Jody Turner s až Abbaovským zborom znela vždy na prvú signálnu trochu divne. Ale to nemenilo nič na tom, že kapela hrala vysokánsku kvalitu a zažili naozaj veľkú slávu, ktorú prerušili až tehotenstvá. Baby to majú v tomto odvetví naozaj ťažké.
Rock Goddess ohlásili návrat v pôvodnej zostave v roku 2013 a od vtedy je to už ich druhý počin. Novinka je zvukovo skutočne nevyvážená a poloamatérska. Jody a spol mali chuť na analógový zvuk, ale nájsť také štúdio za cenu, ktorá by nebola likvidačná je podľa jej slov skoro nemožné. Prvé čo vás udrie do uší je na začiatok hneď krásny zbor a potom nasleduje famózne heavy metalové riffovanie a sme doma. Heavy metal stredného tempa na mlátenie hlavou od začiatku do konca. Jody sa nesnaží spievať až tak ostro, ale to nemení nič na jej kvalitách. Druhá v poradí Obsession je rozhodne najtvrdšia a moja najobľúbenejšia. Zaujímavá nálada a nastúpenie dvojkopu do popového refrénu mi navodzuje zimomriavky. Ďalší vrchol Two Wrongs je ako vystrihnutá od Accept.
Na tomto albume sa dá vytknúť strášne málo. Nádherný obal je skvelá krabička a je len škoda, že sa pôvodná zostava opäť rozpadla hneď po nahraní a basgitaristka Tracey Lamb sa rozhodla vrátiť sa do Girlschool.
Tieto dievčatá však pokračujú a úspešne koncertujú. Jody sa vyjadrila, že na jar by chceli začať nahrávať nový album, tak dúfam. Rock Goddess sa nevrátili až v takej sile ako som dúfal, ale rozhodne nerobia hanbu svojmu menu.
Lineup:
Jody Turner – spev, gitary
Tracey Lamb – basa
Julie Turner – bicie, doprovodné vokály
Tracklist:
Are You Ready?
Obsession
Two Wrongs Don't Make a Right
Calling to Space
Flying to See You
Why Do We Never Learn?
This Time
It's My Turn
Drive Me Away
Rok vydania: 2019
Vydavateľstvo:Bite You to Death Records
Youtube ukážka:

Linky:
https://www.facebook.com/Rockgoddessrocks/
https://www.youtube.com/channel/UCy85kAGbB_y-vFWTUxU9Q-A/
https://rockgoddess.bandcamp.com/
Hodnotenie: 4,5/6