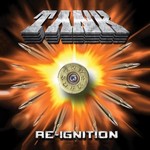 Načo priatelia načo? Situácia okolo tejto kapely je skutočne neprehľadná a jasne dokazuje ako ide aj metalistom v prvom rade len o peniaze. Tank boli heavy metalová legenda N.W.O.B.H.M. ktorú založil basgitarista a spevák slávnej punk rock/gothic rock/horror punk hviezdy sedemdesiatych rokov, The Damned, Algy Ward. Kapela dosiahla veľké úspechy so svojim Motorhead/Judas Priest heavy metalom a prakticky nezmenila smer a kopala zadky s prestávkami až do roku 2007. Potom Algy nemohol pokračovať zo zdravotných dôvodov. Akú úlohu v tom mala závislosť nechajme radšej bokom.
Algy sa rozhodol pokračovať len štúdiovo, ale páni Tucker a Evans, ktorý hrali s Tank až od tretej a štvrtej platne sa rozhodli pokračovať pod rovnakým logom a zrazu sme tu mali kapely dve. A keďže Tucker a Evans angažovali ako speváka hviezdného a hlasovo publiku prístupnejšieho Doogieho Whitea (ex – Rainbow, ex – Yngwie Malmsteen), tak dobrá zmluva a priazeň fanúšikov melodického hard rocku čakala za dverami. Fanúškom motorkárskeho metalu ostali pôvodný Tank. Takže rovnaký názov a rovnaké logo a na koncertoch hity z albumov čo nik na pódiu nenahral. Revival. Nehovorím, že tie albumy potom sú zlé. No ničím výnimočné v dnešnej dobe, keď tak znie pomerne dosť melodicko metalových kapiel.
Momentálne vychádza album s nanovo nahratými hitmi z prvých štyroch albumov pôvodných Tank. Opäť ma desí to pomyslenie na prachy a zúfalosť s akou ich ľudia chcú zarábať. Nastala zmena na poste speváka. Doogieho nahradil môj miláčik David Reedman z Pink Cream 69. Na post bubeníka sa posadil ex- Sodomácky Bobby Schottkowski. Nedá sa tomu uprieť, že to má lepší zvuk ako klasiky, že je to milión krát lepšie zaspievané, ale načo? Pre mňa nepočúvateľné. Každá jedná z tých vecí je obrovský hit v už jednej ére a teraz z toho vznikol len album čo je len dôvod ísť na turné a zarobiť na nájom. Fanúškovia siahnu stejne po klasikách.
Zbytočné a nepoctivé. To tejto verzii kapely dalo už pre mňa definitívny výkričník za slovom podvod!
Lineup:
David Readman – spev
Mick Tucker – gitary
Cliff Evans – gitary
Randy van der Elsen – basa
Bobby Schottkowski – bicie
Tracklist:
Walking Barefoot over Glass
Power of the Hunter
Just like Something from Hell
(He Fell in Love with a) Stormtrooper
This Means War
Shellshock
W.M.L.A.
Honour and Blood
Blood, Guts and Beer
Echoes of a Distant Battle
The War Drags Ever On
Rok vydania: 2019
Vydavateľstvo: Cleopatra Records
Youtube ukážka:

Linky:
http://www.tankofficial.com/
https://www.facebook.com/pages/Tank/90444813508
https://www.youtube.com/user/SOUNDHOUSEVIDEO
Hodnotenie: 1/6