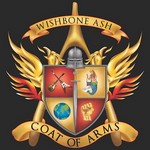 Keď sa povie classic rock/metal, mnoho z vás si určite pripomenie legendárne skupiny 70-tych rokov, ako sú AC/DC, Black Sabbath, Led Zeppelin, Deep Purple, Judas Priest, Iron Maiden, Motörhead a mnohé ďalšie. Mnohé z nich pre známe dôvody už skončili… No nájdeme aj tie, ktoré zostali, stále hrajú svoje najznámejšie hity a dokonca, aj tvoria nové skladby. Okrem toho, že sa zapísali veľkými písmenami do rockovej histórie, tak sú akousi podporou mladším interpretom. Medzi takéto zoskupenie patrí aj Wishbone Ash, ktoré čoskoro vydá nový album Coat Of Arms.
Kronika rocku pozná mnoho prípadov, kedy sa kapely nedožijú ani svojho druhého albumu a nieto, aby prežili niekoľko desaťročí. Wishbone Ash sú ale presným opakom. Už 51 rokov nielenže hrajú svoje najpopulárnejšie hity, ale stále nás zásobujú aj novou muzikou. Zrodili sa na prelome najdôležitejšieho obdobia pre metal, čiže v 70-tych rokoch. Za vznikom stoja basgitarista Martin Turner a bubeník Steve Upton. Skupina však potrebovala gitaristu a hráča na klávesové nástroje. Po náročných konkurzoch sa členmi stali Andy Powell a Ted Turner. Rovnomenný debut vydali v roku 1970 a o rok neskôr vznikol jeho nasledovník Pilgrimage. Treba však pripomenúť  aj album, ktorý ich preslávil a vďaka ktorému získali medzinárodné uznanie, a priazeň na koncertoch po celom svete – Argus. V pôvodnej zostave vyšli ešte dve platne. Postupné zmeny v osadenstve, avšak nemohli zlomiť tvorivosť a postupne vydávali ďalšie albumy. Platňa, o ktorej bude reč je v poradí dvadsiata.
Na Coat of Arms nechýba charakteristická dvojhra na gitarách a nádherné texty piesní, ktoré vás donútia zamyslieť sa nad slovami. Zaručene si zamilujete premakané gitarové sóla, ktoré sú zmesou mnohých prvkov. Pri umelcoch z tejto bandy nemôžete pochybovať o ich umení a geniálnych nápadoch na spestrenie hudby. C.o.A. sa čiastočne drží "old school" tvorby, niektorými piesňami pripomína už zmienený Argus. Na druhej strane využíva aj tvrdšie postupy. Hlas Andyho Powella, posledného pôvodného člena, vás vráti do legendárnych 70-tych rokov. K piesňam sa nedá povedať asi nič iné, ako len "musíte si to vypočuť."
Kapelu Wishbone Ash som bohužiaľ nepoznal, ale po vypočutí ich ranných albumov som ostal ohromený. Zamiloval som si prenádherné sóla, ako aj melodickosť piesní. Nesmierne sa teším na 28. februára a dúfam, že sa mi podarí stať vlastníkom LP Coat of Arms. Nech sa majstrom umelcom darí a želám im úspech, a veľa slávy.
Pokiaľ nepoznáte tvorbu týchto pánov, tak po vypočutí Coat of Arms po nej zaručene zatúžite.
Lineup:
Andy Powell – gitara, spev
Bob Skeat – basová gitara, vokály
Muddy Manninen – gitara, vokály
Joe Crabtree – bicie nástroje
Tracklist:
We Stand As One
Coat Of Arms
Empty Man
Floreana
Drive
It's Only You I See
Too Cool For AC
Back In The Day
Deja Vu
When The Love Is Shared
Personal Halloween
LP Bonus track:
Latitude (instrumental bonus track)
Rok vydania: 2020
Vydavateľstvo: SPV/Steamhammer
Youtube ukážka:

Linky:
https://www.wishboneash.com/
https://www.facebook.com/wishbone.ash.official/
Hodnotenie: 5,5/6