Megadeth – chystaný album
9.4.2020
Basgitarista David Ellefson povedal pre kanadský The Metal Voice, že kapela prerušila prípravy na nasledovníkovi albumu Dystopia (2016).
,,Pracujeme na ňom. Skladby sú napísané a pripravené na nahratie. Chystali sme sa nahrávať koncom marca. Nakoniec sme to museli zrušiť.  Zrušili sme Hell & Heaven Fest v Mexico City, po ktorom sme mali isť strihať skladby. No keďže všetko padá musíme aj my chrániť svoje zdravie" – povedal.
Linky:
https://www.megadeth.com/
https://www.facebook.com/Megadeth/
Zdroj: Blabbermouth, Foto: Annalisa Russo Photography
Axxis – nové EP
9.4.2020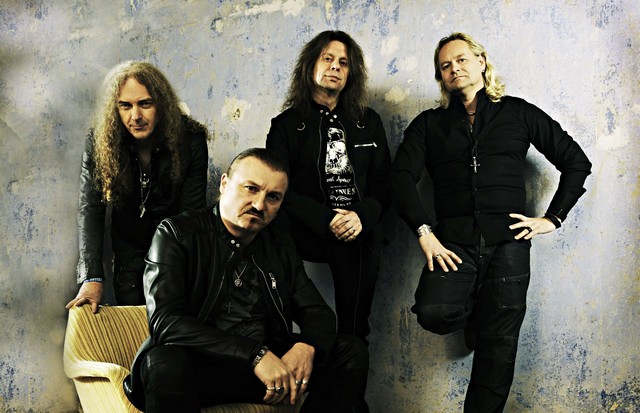 Kapely reagujú na súčasnú situáciu ohľadom koronakrízy rôznym spôsobom. Nemeckí power/hard rockeri Axxis digitálne vydali tento deň nové EP Virus of a Modern Time. Nájdete na ňom 7 skladieb, ktoré pochádzajú z projektu Prometheus Brain Project z roku 2006. Kvôli aktuálnej situácii sa Axxis a vydavateľstvo Phonotraxx rozhodli vydať dané songy ako EP.
Tracklist:
Virus of a modern time
Babylon
Boats of hope
Last Eagle
Mother Money
War Games
Virus of a modern time
Ukážka:

Linky:
https://www.axxis.de/
https://www.facebook.com/axxis/
Zdroj: Phonotraxx Publishing
Cryptex – chystaný album
8.4.2020
https://www.cryptexmusic.com/
https://www.facebook.com/cryptex.band/
Zdroj: SPV
Eciton – nový videoklip
8.4.2020
Dánski death metalisti Ection zverejnili videoklip k skladbe Estimated Effort, ktorá pochádza z ich albumu Suspension of Disbelief. Ten vyšiel 6. marca 2020.
Linky:
https://www.facebook.com/Eciton-103811846339979
Zdroj: Wormholedeath Records