Members of AHAB and IN MOURNING reveal brand new band project SVÄRD!
30. April 2020

It's been a longtime, common dream and a lot had been going on since then behind the scenes, when members of AHAB and IN MOURNING got together in 2017 to start a new band project.
Tim Nedergård and Björn Pettersson (both in IN MOURNING, SWE) teamed up with their former bandmate Pierre Stam, when drummer Cornelius Althammer of German doomsters AHAB, who has been connected to the Swedish guys in a 10 years friendship, joined this new and heavy music adventure that is SVÄRD.
After extensive jam sessions in Sweden, the collective recorded a first EP and have just signed a worldwide deal with Italy's powerhouse label Argonauta Records!
"Svärd are super happy to hereby inform the wörld that from now on, those handsome Italian stallions at Argonauta Records will be swinging the swords alongside with us!" the band comments.
Argonauta Records owner, Gero Lucisano, adds:
"During these crap months of lockdown, I've been lucky enough to intercept a bunch of demo songs from a band I was not aware of. They totally blew me away. It is that type of Heavy Metal that really kicks hard and rocks as hell! Turned out the line-up had a sort of pedigree formed by members of AHAB and IN MOURNING. So, also thanks to our promoter Mona of ALL NOIR, who is also working with AHAB for many years, everything was quite easy to make all parties happy and super enthusiast to start out together."
Titled The Rift, SVÄRD's debut contains 5 heavy as hell, stomping metal tracks combined with psychedelic elements. Set for a digital release on July 3rd 2020 with Vinyl formats to follow, The Rift was mixed and mastered by noone less than Jonas Kjellgren (Sabaton, Hypocrisy, In Mourning, October Tide, Amorphis, and many more ). Today, SVÄRD have shared a first teaser, taken from their studio sessions of The Rift.
The Rift is slated for a release on July 3rd in digital formats, while a Vinyl edition will follow via Argonauta Records as well. SVÄRD are currently working on a full-length album, which will see the light of day in the not so distant future.
Tracklist:
Hallowed Grounds
A Rift in the Green
Palaeocene Flames
The Burning Asylum
The Portal
Links:
http://www.facebook.com/svardsweden
http://www.argonautarecords.com
Source of Information: All Noir – Mona Miluski
Nautic Funeral Doom Heavyweights AHAB Announce First Live Album, Live Prey Out June 26, 2020 via Napalm Records Pre-Order Coming Soon!
30. April 2020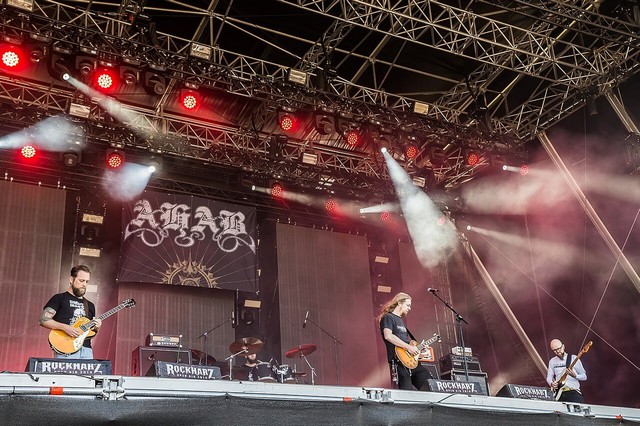 A fine selection of live tracks, taken from the pathbreaking
Nautic Funeral Doom epos The Call of the Wretched Sea!
Ever since the band's founding in late 2004, AHAB have been exploring the deep dark sea, while becoming the true masters of solemn melancholy. The nautic doom heavyweights now announce their first intense live album, Live Prey – recorded at Death Row Fest 2017 in Jena, Germany – to be released on June 26, 2020 via Napalm Records.
For Live Prey, AHAB chose the finest selection of live tracks – originally released on their pathbreaking 2006 album, The Call of the Wretched Sea! Gracefully nestled in between slow-motion grooves, rampant riffs, and haunting melodies, and accented by the angelic but guttural vocals of Daniel Droste, the listener will experience an apocalyptic live sound as if they are standing in the front row at the band's unforgettable show. Live Prey will be available as a limited black and white, as well as a special black and white swirl edition Gatefold LP.
Featuring five extreme doom anthems such as "Below the Sun", the majestic beast "Old Thunder", or the almost 17-minute long magnum opus "The Hunt", Live Prey is the ultimate live record by the undisputed sailors of slow heaviness! An indispensable must-have album that belongs in every well-sorted Doom and especially AHAB record collection.
Drummer Cornelius Althammer states:
"We are pretty proud to present our first live album: These songs were written a long time ago, even before we became a proper band. Over the years and with a bunch of new live experiences, the songs have evolved and we were finally given the chance to capture them in a way they deserve. The days you have seen us perform them live, the way the songs have developed – you were able to witness the process on how we became AHAB."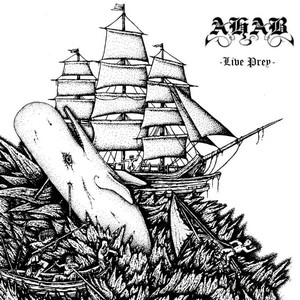 Tracklist:
Below The Sun
The Pacific
Old Thunder
Ahab's Oath
The Hunt
Links:
https://www.ahab.bigcartel.com/
https://www.facebook.com/AhabDoom/
Source of Information: Napalm Records, Photo: S. Bollmann, Wikimedia
JINJER Releases LEGO Fan Remake of "Perennial" Video
27. April 2020
Staying indoors for long periods of time does have its silver linings – for instance, more time for artistic inspiration! JINJER fan Mychailo Halinin turned boredom and isolation into creativity and remade the seminal music video for "Perennial" from their 2019 EP Micro – with LEGO.
Today, the band releases the video through the official channels.
Commented bass player Eugene Abdukhanov: "Who has not played with LEGO as a kid? Who has not secretly dreamed of starring in their own LEGO MOVIE!? What a wonderful gift and pleasure this was to watch and now to release Perennial LEGO to the world … these are indeed very strange days but thank you Mychailo for making our day a little bit more bright and positive!"
Devastating riffs, aggressive vocals, powerful melodies and astonishingly deep lyrics are what make their new album, Macro, JINJER's most advanced and undeniable album yet – taking the listener on a journey of trauma, power struggle and greed with a progressive groove metal backdrop.
Links:
http://www.facebook.com/JinjerOfficial
http://jinjer-metalband.com/
Source of Information: Napalm Records
CHUGGER 's Album "Of Man And Machine – new album
24. April 2020
Chugger's album "Of Man And Machine" is out today on all major digital stores and streaming services. The physical release date is TBA.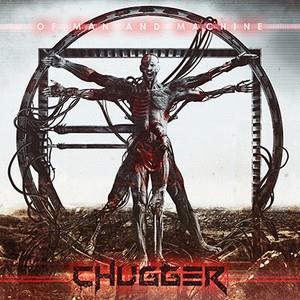 Tracklist:
Turning Point
Pigs to Slaughter
Flatline
The Algorithm
Beg, Burn, Fear
Polaris
The Icarian Fall
Hollow Lies
The Demons in Me
Teaser:

Links:
https://www.chugger.se
https://www.facebook.com/chuggerband
Source of Information: Wormholedeath Records