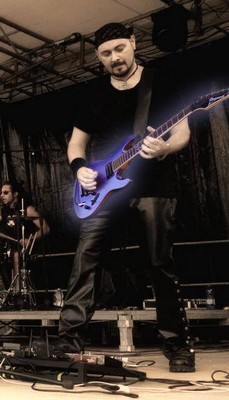 Talianske kapely začinajú objavovať Slovensko. Okrem Madvice sa na koncertovanie v našej krajine chystajú aj power metaloví Great Master z Benátok. Začali fungovať v roku 1993 a posledný – štvrtý album Skull and Bones – Tales from Over the Seas vydali minulý rok. Nie len o tom porozprával gitarista Jahn:
Zdravím Jahn. Kapela Great Master čoskoro vystúpi na niektorých akciách na Slovensku. Ste pripravení?
Jahn Carlini: Veľký pozdrav všetkým priateľom zo Slovenska. Je pre mňa potešením sa s tebou porozprávať. Tešíme sa na vystúpenie vo vašej krajine. A áno! Samozrejme sme pripravení.
Môžeš už povedať konkrétne mestá a dátumy?
Jahn Carlini: Na dátumoch a miestach ešte pracuje naša agentúra. No, podrobnosti oznámime čoskoro.
Posledný album Skull and Bones – Tales from Over the Seas ste vydali minulý rok. Vedel by si povedať pár slov o ňom?
Jahn Carlini: Skull and Bones je koncepčný album. Jeho témou je história pirátstva. Zameriava sa na udalosti, ktoré sa udiali o 20 rokov skôr ako tie, ktoré boli v knihe Roberta Louisa Stevensona – Ostrov pokladov.
V celom príbehu nájdete všetky postavy, ktoré oplyvnili fantáziu každého z nás: kapitán Flint, Blackbeart, Long John Silver a v neposlednom rade aj samotný poklad… Taktiež aj bitky, naháňačky a piesne spievané korzármi opitými grogom!
Ako ho hodnotíš s odstupom času?
Jahn Carlini: Tento album vidíme, ako znovuzrodenie kapely a nový začiatok! To vďaka novej a veľmi pevnej zostave kapely, priateľstvu, a úcte medzi všetkými členmi. Neprejde deň bez rozhovoru, chatu, plánovania a žartovania.
Nová práca nás spojila, skonsolidovali sa naše tvorivé procesy a veľa sme sa jeden od druhého naučili. Do roka zožneme úspechy toho, čo bolo vytvorené na albume Skull and Bones, ktorý je najvyspelejší, najambicióznejší a najlepšie sprodukovaný album v histórii našej kapely.
Máte už zložené aj nejaké nové skladby?
Jahn Carlini: Pracujeme na pirátskych piesňach týkajúcich sa Skull and Bones. Bude to malá skupina upravených skladieb, ktoré budú súčasťou mini CD. Ešte makáme na 10" vinyle s Black Death 2020…
Jeho súčasťou bude aj nová pieseň. Bude to ukážka nového štýlu Great Master. A áno, robíme aj na nápadoch na nový album. Kedže zostava je stabilnejšia ako kedykoľvek predým, prečo čakať roky, kým vyjde nový album?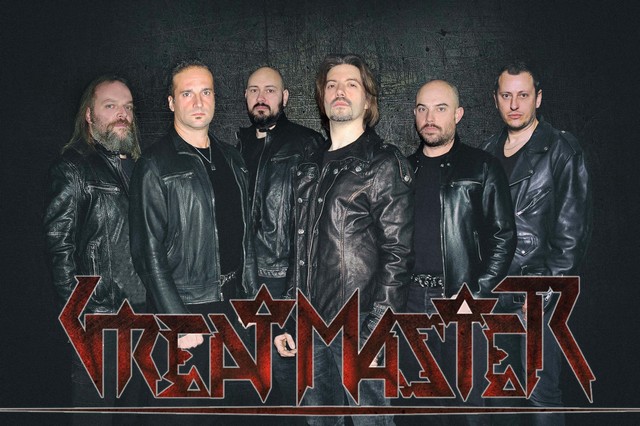 Vedel by si povedať niečo o vašich hudobných začiatkoch?
Jahn Carlini: Ovplyvnili nás kapely ako Iron Maiden, Manowar a Warlord, a taktiež aj nemecký power metal. Náš celkový sound sa vždy vyznačoval skvelými gitarovými riffmi a krásnymi melódiami.
Ako hodnotíš celkovo taliansku hudobnú scénu?
Jahn Carlini: Talianska metalová scéna stále žije a je plná fantastických kapiel. Problém je, že náš žáner je dosť podceňovaný  talianskym hudobným trhom, ktorý sa zameriava hlavne na pop v talianskom jazyku…
Ten pozostáva z chytľavých komerčných piesní, ktoré žijú asi mesiac a potom na nich zabudnete. Napriek tomu v Taliansku veľa ľudí oceňuje metal zo zahraničia, ale aj vnútroštátny.
Ok, tak ti ďakujem za rozhovor, tešíme sa na koncerty a na záver poprosím o odkaz pre čitateľov.
Srdečne ďakujem všetkým slovenským čitateľom a priateľom za pozornosť! Stále počúvajte najkrajší žáner na svete – metal. Čoskoro sa uvidíme na pódiu. Dúfajme.
Youtube ukážka:
Linky:
http://www.great-master.com/
https://www.facebook.com/greatmasterband
https://greatmasterband.bandcamp.com/
https://www.youtube.com/c/GreatMaster/