Madvice a Great Master nie sú jediné talianske kapely, ktoré sa chystajú vystupovať na Slovensku. Medzi ne patrí aj epic/heavy/melodic death zoskupenie Valar Morgulis. Sformovali sa v roku 2017, pochádzajú z Milána a ako názov napovedá majú radi Game of Thrones. Krátko po svojom vzniku vydali debutové EP The Origins, o dva roky nato prvý full album Fields of Ashes. O svojich pocitoch pred vystupovaním na Slovensku, o histórii kapely a o ďalších veciach porozprávala speváčka Isobelle:
Zdravím Isobelle. Valar Morghulis čoskoro vystúpia na Slovensku. Aké stu tvoje pocity?
Isobelle: Zdravím všetkých. Cítim sa nadšene a hrdo rovnako ako zvyšok kapely. Je to dôležitý krok pre nás a pre našu hudbu. Dúfame, že sa budete baviť. 😉
Je možné už povedať nejaké podrobnosti o dátumoch a miestach?
Isobelle: Jedine, čo zatiaľ môžem povedať je: ,,OMG musím pripraviť svoj pas čím skôr". 😀
Pred rokom ste vydali debut Fields of Ashes. Skús ho trochu popísať?
Isobelle: Pracovali sme na ňom 4 roky. Deradfort bola prvá pieseň, ktorú sme vytvorili. Inšpirovaná bola Game of Thrones, presnejšie Ramesym Boltonom – pravdepodobne jedným z najväčších ,,darebákov" celej ságy.
Každá skladba je iná. Dotýkame sa rôznych tém a rôznych historických postáv. Napr. pieseň Darvulia hovorí o Alžbete Báthoryovej a Queen of Hades sa venuje gréckej mytológii. Jeho zvuk je temný, silný a drsný s nádychom melanchólie. Piesne obsahujú zvuk bitiek, krvi a smrti. Každého z nás inšpiroval iný žáner. Valeria black metal, Lorenza death, Lucu heavy, Roba inšpirovali mnohé odnože metalu a mňa epic a death metal.
Máte už aj nejaké nové songy?
Isobelle: Samozrejme. Bohužiaľ – všetky naše letné koncerty boli zrušené kvôli Covid-19. Nenechali sme sa odradiť. Preto sme začali robiť na novom projekte s novými piesňami. 😉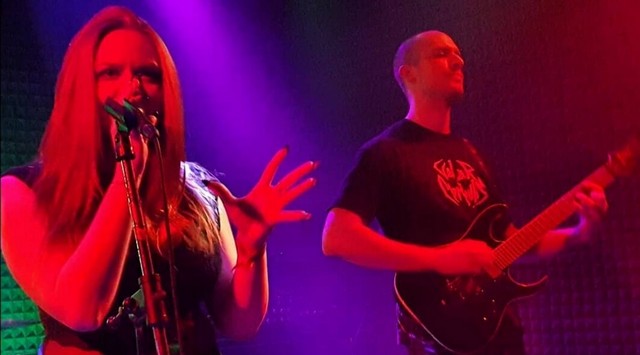 Ako vyzerá bežný život členov Valar Morghulis – záľuby, záujmy povolania.
Isobelle: Všetci si podobní, ale každý je iní. Chlapci pracujú a ja som jediný ,,študent" v kapele. Každý z nás ma iné záujmy a záľuby – niekto chodí do telocvične, niekto chodí bojovať so svetelnými mečmi, niekto číta a nikto veľa pije… ale my sme sa stretli, aby sme hrali hudbu. V zime v noci, keď je v Miláne veľmi chladno, zídeme sa na kúzelnom mieste Callde Sayonara (naša obľúbená krčma), aby sme zdieľali kúzelný lektvar s názvom Grolla (čo je v podstate alkoholická štipľavá káva). Zahrieva naše srdcia a robí nás veľmi šťastnými… Veľmi šťastnými v opitosti 😀
Porozprávaj niečo o svojich hudobných začiatkoch.
Isobelle: Keď som mala 14, začala som chodiť na hodiny spevu, ale o tri roky som sa rozhodla pokračovať sama, pretože môj učiteľ  ma nechcel naučiť growlovať, screamingovať a operný spev. Keď som stretla ostatných chlapcov, bola som veľmi vystrašená – pretože som nikdy nespievala v metalovej kapele. Ale časom moja plachosť a obavy zmizli. Na svojom hlase som veľa pracovala, pretože som sa chcela naučiť veľa techník, aby som mohla spievať s Valar Morghulis.
OK, tak to bola posledná otázka. Veľmi pekne ďakujem za rozhovor a poprosím ťa o nejaký ten odkaz pre čitateľov.
Isobelle: Nemáš začo. Milí metalheads, chcem povedať jednu dôležitú vec – ak máte radi metal, neprestávajte podporovať undegroundové metal kapely. Sme budúcnosť, ste budúcnosť – len spolu dokážeme udržať metalovú muziku naživo. Podporte svojich hudobníkov, spoznávajte nové metalové kapely a podporujte ich. Podporujte a budete podporovaní. Choďte na metalové koncerty, pite a opite sa so svojimi priateľmi dobrým pivom a užívajte si.
Youtube ukážka:
Linky:
https://www.facebook.com/valarmorghulisepicmetal/
https://valarmorghulis.bandcamp.com/
https://www.youtube.com/channel/UCCXJJzj3awXPScQqpaZBzkg
Za spoluprácu na článku patri poďakovanie Jurajovi Ondrejmiškovi 🙂