CARCASS TO RELEASE NEW EP, "DESPICABLE," ON OCT 30TH
21. August 2020
English metal legends CARCASS will return this fall with their first collection of new music, "Despicable," in 7 years. The forthcoming EP features 3 brand new tracks, including "The Living Dead At The Manchester Morgue" that was released today, as well as the previously revealed song "Under The Scalpel Blade." The EP is scheduled for release on October 30th from Nuclear Blast and will be available digitally, on CD and limited edition cassette and vinyl.
Tracklist:
The Living Dead at the Manchester Morgue
The Long and Winding Bier Road
Under the Scalpel Blade (album version)
Slaughtered in Soho
The lords of death and grind's new EP "Despicable" offers fans a taste of the brutality that awaits on the band's heavily anticipated 7th studio album coming in 2021.
"Well the Covid situation has put the release of the new CARCASS album on the back burner for the time being. Given that we said there'd be new music in August we thought it would be cool to have a stop gap release and let you hear some of the tracks that never quite made the cut. Don't say we never give you anything. Enjoy." – Jeff Walker
True metal originators, CARCASS have released several classic albums over the years and changed the trajectory of extreme metal with each consecutive release. Whether it was inventing gore-grind ("Reek of Putrefaction" & "Symphonies of Sickness") or creating the template for melodic death metal ("Heartwork"), CARCASS has always made records by which bars were set and rules were broken. After a 10 year hiatus (1996-2006), the band mounted a comeback, resurrecting their blistering death-laden riffs and eventually released their 6th album, "Surgical Steel" (2013) and supported the record over the years with continuous touring, including Download, Hellfest, Deathfest, Decibel's Metal & Beer Festival, tours with Testament, Slayer, Napalm Death, Obituary and Voivod to name a few.
Now, seven years after their last record the band returns to the extreme metal throne with a new EP, "Despicable," out in Oct 2020, which serves as a precursor to their next full-length's impending destruction.
Links:
https://www.facebook.com/OfficialCarcass/
https://www.instagram.com/carcassband
https://twitter.com/CarcassBand
https://www.youtube.com/user/Carcass
Source of Information: NUCLEAR BLAST Leoni Dowidat
Diamante: coming back after six years with the single "Road, My Life"
19. August 2020
"Road, My Life" is the brand new studio single by Italian rock band, Diamante.
The song represents their first official release in English, performed by the new singer Matteo Metelli, who joined the line-up three years ago. Matteo perfectly integrated with his fellow bandmates thanks to a long list of live performances, where Diamante proposed shows focused on 70's hard rock covers. Six years after their latest full-length album, "Ad Vitam Reditus", the Brescia-based group felt the need to create again something original. Penned in collaboration with Oscar Burato and Letizia Maestrello from Monday Shock, "Road, My Life" hinges on a new beginning: leaving everything behind, trying to treasure our own mistakes, and hoping that the next opportunity will mark a turning point. The sound is rich, colorful, and deeper than before, but still influenced by their 70's-infused background.
The single, available on all digital platforms, was produced by Oscar Burato at Sonic Bang Studio in Isorella (Brescia, Italy); the video was shot by Moviedel Productions.
Links:
https://www.diamanteband.com/
https://www.facebook.com/diamanterock/
https://www.instagram.com/diamantehardrockband/
https://www.youtube.com/channel/UCO-SUm80JB_F-KyeAEk2Hlg/
https://twitter.com/diamante_band/
https://www.burningmindsgroup.com/atomic-stuff/
Source of Information: Atomic Stuff Promotion
DRACONIAN Unveils Third Single and Lyric Video for "The Sacrificial Flame" From Upcoming Album, Under A Godless Veil
18. August 2020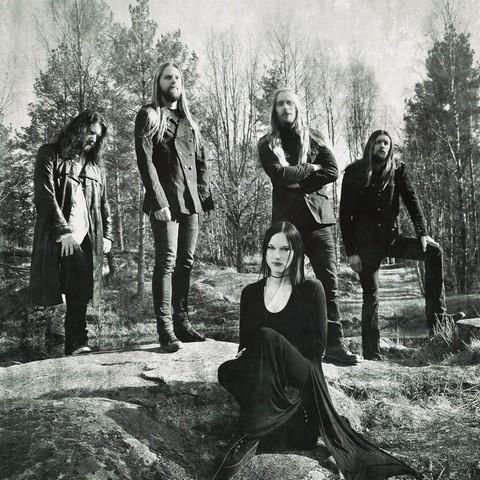 "Oh life, oh barren wasteland
A wandering callous dream
We are rising and transcending
these dreamless gods, never-ending"
Today, DRACONIAN, the sovereigns of beautiful melancholic Gothic Doom Metal and far-reaching lyrics, release the third single, "The Sacrificial Flame", off their upcoming album, Under A Godless Veil, out October 30, 2020 via Napalm Records.
The second epos on DRACONIAN's new collection of hymns draws the listener deep into endless landscapes consisting of doomy guitars and heavy growls. The angelic voice of Singer Heike Langhans accompanies the opus like a nightingale flying through dark woods, haunting the last lines of shimmering light somewhere at the end of the horizon. Along with an artful conceptualized lyric video, "The Sacrificial Flame" guarantees a complete immersion into the band's essence, making it hard to emerge from this vortex of emotions in the end as it's quite more tempting to just stay there forever.
Heike Langhans on "The Sacrificial Flame":
"This is definitely one of the heaviest songs on the album and reminds me of all the old-school riffs and moody atmospheres that got me into Doom Metal in the first place. A dark and confrontational anthem that stirs me inside and silently demands answers from all that is Archonic in this world. Also one of my favorite vocal performances by Anders on the album."
Tracklist:
Sorrow of Sophia
The Sacrificial Flame
Lustrous Heart
Sleepwalkers
Moon Over Sabaoth
Burial Fields
The Sethian
Claw Marks On The Throne
Night Visitor
Ascend Into Darkness
A haunting doom spirit covers the world
underneath a melancholic, Godless Veil.
Under a Godless Veil delivers a captivating mélange of dreary doom and contrasting vocals and is the second offering featuring stunning singer Heike Langhans. The first notes of the opener will immediately draw the listener into a void of interweaving beauty, coalescing with paralyzing depression that leaves nothing but the desire of total immersion in the whole record. Under a Godless Veil carries the legacy of gothic doom metal à la My Dying Bride into a new decade of the genre.DRACONIAN states:
"To DRACONIAN, Under a Godless Veil is by far the most diverse album we have created. Inspired by some of the music closest to Johan's heart; everything from traditional Doom to scaled-down, Gothic rock-inspired pieces and more. Some will perhaps describe the songs as more refined and meditative. Some ambient elements have been added to the mix without overshadowing the traditional characteristics that are DRACONIAN.Resonating with the compositions, Anders's lyrical direction is ambiguous and a progression of the first two-three albums, yet more subtle while embracing the Gnostic philosophy more directly. One could say Under a Godless Veil is an act of contemplation; About living and dying and remembering who we are in a strange, abrasive world far from home."
Previous singles:
Sorrow Of Sophia: https://youtu.be/eaqVQ2gvxYE
Lustrous Heart: https://youtu.be/2ssWn4TeRHU
Links:
http://draconianofficial.com/
https://www.facebook.com/draconianofficial/
https://www.instagram.com/draconianhorde/
Source of Information: Napalm Records Press News, Photo: Eleni Liverakou Eriksson, Artwork: Natalia Drepina
Raven – upcoming album
17. August 2020
It's often small things that can give powerful impetus to a musician's creativity. In the case of USA-based metal trio Raven, featuring the English brothers John (bass, vocals) and Mark (guitar) Gallagher, it was the unanimously positive reactions to their 2015 release ExtermiNation, and of course the arrival of drummer Mike Heller (he joined the fold in summer 2017 to replace Joe Hasselvander, who had left the band due to health issues) which resulted in an awesome new album.
"Our initial goal was just to raise the bar once more. We did a good job on ExtermiNation and decided we just wanted more of everything next time," John Gallagher grins. "however things changed once we got Mike on board. Attitude and tempos got revved up a lot! Mike is a ball of energy. He has a good ear and is a big fan of the early albums, especially the crazy feel. He's kicked us into a higher gear where we feel that we can play anything and everything we write with no restrictions." Gallagher's explanations ring with pure, unadulterated musical enthusiasm and passion, so curtain up for Metal City, which sees Raven deliver ten songs with no holds barred.
Metal City will be available on Steamhammer/SPV from September 18th, 2020 on CD, vinyl LP and as digital stream/download.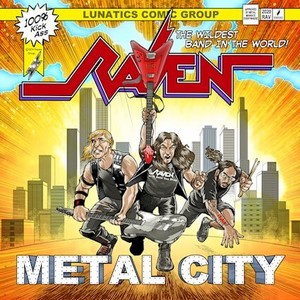 Tracklist:
The Power
Top of the Montain
Human Race
Metal City
Battlescarred
Cybertron
Motorheadin'
Not So Easy
Break
When Worlds Collide

As on its predecessors, the band has again accomplished a perfect combination of their classic strengths and contemporary influences. Gallagher: "We definitely have a couple of traditional Raven rock & roll tunes on the album. 'Top Of The Mountain' definitely has lineage to the past. Also 'Not So Easy' has a bit of that early vibe. Besides that there's so much aggression in songs like 'Human Race', 'Cybertron' and 'Break'." In addition, Metal City also holds a number of surprises in store, as Gallagher reveals: "'Human Race' is just blistering, then we change gears radically in the middle. You also have our little epic 'When Worlds Collide' and a few with an anthemic feel like 'Battlescarred' and 'Metal City'. But there's serious left turns in all the songs." 
The Gallagher brothers have devoted the title track to their British home city: "Newcastle upon Tyne has been referred to as Metal City for good reason. We come from there for a start. But it's about a mindset, the people there have a tenacity and an ability to go beyond the limits to get to where they are going." Alongside this homage, Raven have included a whole range of interesting themes: "'The Power' is our Game Of Thrones song," Gallagher says with a chuckle, "all very cut-throat! 'Break' is a kind of anarchistic rallying cry, and 'Cybertron' is all about the surveillance state and the AI singularity, disaster porn."
Metal City with its humorous cover artwork ("it's a comic book inspired theme, we are all lunatics and we figured we all wanna be superheroes, so we went for it") was recorded at production legend Michael Wagener's studio in Nashville. "The album was produced by us, Mike Heller engineered his drums and Michael Wagner engineered everything else. We then turned the tracks over to a guy called Zeuss who did a great job mixing and mastering it. So it's been a departure for us process-wise. We kinda got dragged into the 21st century kicking and screaming…but the new tools are great as long as you use them, and they aren't using you." 
So the only question that remains is: when and how will Raven's worldwide fan community get to see their idols live on stage again? Raven's 2019 live recording Screaming Murder Death From Above: Live In Aalborg is a lasting document of their live power, so their fans are really looking forward to their upcoming "Metal City On Tour". Gallagher: "There definitely will be lots of touring. We have an opening slot on a good tour here in the States in 2021 and are planning dates and festivals in Europe and to visit our fans again in the Far East, Australia, South America… basically everywhere we can!"
Links:
http://www.ravenlunatics.com/
https://www.facebook.com/ravenbandofficial
https://www.youtube.com/channel/UC78Zw5bE687en31ajXzWY6g
Source of Information: Steamhammer/SPV