Talianski heavy/rockeri Arcadia vydali minulý rok debutový album Hands Of Time. Na ďalší rok ho majú v pláne prísť predstaviť aj slovenským fanúšikom. Ak máte radi kvalitný melodický rock/metal, určite neváhajte navštíviť ich koncert. Čakanie si môžete skrátiť prečítaním rozhovoru s gitaristom Simonem:
Zdravím Simone. S kapelou Aracadia čoskoro vystúpiš na Slovensku. Ste všetci pripravení?
Simone Martinelli: Čauko. Ešte len nedávno som sa dozvedel, že u vás zahráme, ale som vždy pripravený. 😉
Budú vaše koncerty niečím špeciálne (svetelná show, efekty..)?
Simone Martinelli: Bude to tak trochu ako na koncerte v 80-tych rokoch. Nechcem prezrádzať veľa spoilerov, ale bude to zábava.
Poznáš nejaké naše slovenské kapely?
Simone Martinelli: Ak mám pravdu povedať, tak nie. Ale je to moja chyba. Vždy rád objavujem nové kapely, takže si ich určite pozriem.
Váš debutový album Hands Of Time vyšiel minulý rok. Ako sa naň pozeráš s odstupom času?
Simone Martinelli: Album Hands Of Time je cesta hard rock a metalovou muzikou. Môžete počúvať mnoho rock-metalových žánrov. Obsahuje aj trojminútové, aj deväťminútové songy. Jeden z nich je istý druh metalovej opery.
A čo jeho nástupca?
Simone Martinelli: Áno, máme nachystaných 5 songov. Ich skladanie ide rýchlo.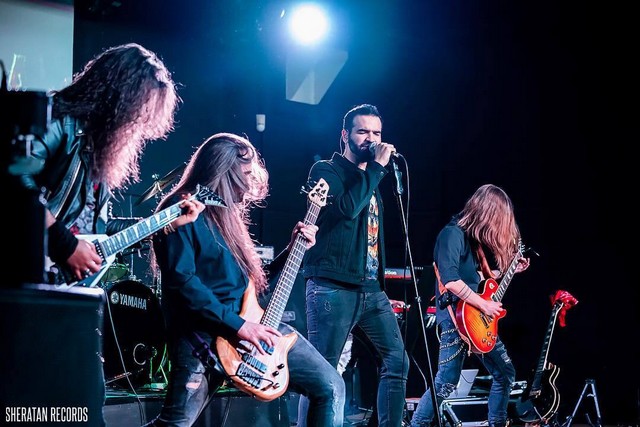 Ako vyzerali tvoje hudobné začiatky?
Simone Martinelli: Na dráhu hudobníka som sa vydal úplnou náhodou. V 12-tich rokoch som objavil AC/DC, a tak sa zrodila moja vášeň pre gitaru… Okolo 15 som založil prvý amatérsky cover band a neskôr prišli ďalšie. Keď som mal 18, chcel som vytvoriť niečo vlastné, a tak sa zrodila Arcadia!
Poznám veľa výborných kapiel z Talianska – Rhapsody of Fire, Domine, Saints Trade… Čo si myslíš, prečo je u vás tak populárny heavy/power/hard rock?
Simone Martinelli: Vlastne tu v Taliansku, tu nie je tento žáner veľmi populárny, ale potreboval by byť. Bohužiaľ, v tejto dobe zažívame ,,hudobnú ignoráciu". 🙁 Tie kapely, ktoré si spomenul sú skvelé a veľmi si ich vážim. Dúfam, že sa jedeného dňa dostaneme na ich úroveň.
Ok, ďakujem za rozhovor a poprosím ťa o nejaký ten odkaz pre čitateľov.
Simone Martinelli: Ja ďakujem tebe. Odkázať by som vám chcel nasledovné – nezáleží na tom, čo robíte, ale ako to robíte. A ak v to skutočne veríš, skôr či neskôr uspeješ. Splňte si svoj najväčší sen.
Youtube ukážka:
Linky:
https://www.facebook.com/ArcadiaOfficialIT/
https://www.youtube.com/channel/UCBdyfFVf7oSlhJ2JKKGLQDA
https://open.spotify.com/album/7eEMR05EudTBbVH9cqhq1O?nd=1&nd=1
Foto kapela: Annalisa Russo Photography