Phil Campbell announce new album "We're The Bastards" for November, 13th
4. September 2020
PHIL CAMPBELL AND THE BASTARD SONS are back in town! The Hard Rock powerhouse from Wales announce their new album "We're The Bastards" today, to be released on November, 13th via Nuclear Blast!
Singer Neil Starr on the new album:
"It's definitely great to know that we have an audience now. We know there are people that want to hear it, but the truth is that we just had fun with it. Once again, we made the record we wanted to make and it's been really exciting. It was awesome to take our minds off everything and just concentrate on recording a kick ass album for the fans to enjoy"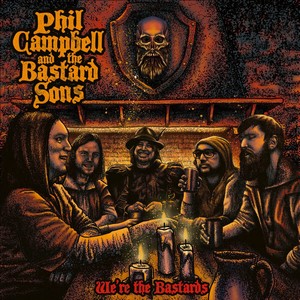 Tracklist:
We're The Bastards
Son Of A Gun
Promises Are Poison
Born To Roam
Animals
Bite My Tongue
Desert Song
Keep Your Jacket On
Lie To Me
Riding Straight To Hell
Hate Machine
Destroyed
Waves
Bonus tracks [limited digipak]:
Big Mouth (Live)
Freak Show (Live)
Dark Days (Live)
Rock 'n' Roll (Live)
In celebration of the announcement, PHIL CAMPBELL AND THE BASTARD SONS release the first single 'Son Of A Gun' today, together with an amazing music video. Check it out here:
The album is available as CD, limited digipack including 4 bonus tracks, 2LP Gold, 2LP Sparkle [UK exclusive], digital album, 2 LP Orange/Black Splatter [Mailorder + Wholesale exclusive] and 2LP Black.
Formed in the aftermath of MOTÖRHEAD's dissolution, following the death of Lemmy Kilmister in 2016, PHIL CAMPBELL AND THE BASTARD SONS were always going to draw a crowd at any discerning rock or metal festival. Led by one of the genre's most respected guitarists and completed by his sons Todd (guitar), Tyla (bass) and Dane (drums) and powerhouse frontman Neil Starr, the band emerged onto the 2017 touring circuit powered by a huge amount of good will, a smattering of MOTÖRHEAD covers and a handful of new songs that crackled with passion and swagger. Landing themselves a prestigious support slot on GUNS N' ROSES 2017 summer stadium run, the BASTARD SONS hit the ground running.
Fast forward to 2020 and, just like everyone else, PHIL CAMPBELL AND THE BASTARD SONS had to cancel a lot of carefully-laid plans when the global pandemic descended on us all. But as if to confirm their absolute dedication to blowing people's heads off with thunderous rock'n'roll, the band refused to cancel plans to record a follow-up to their widely lauded debut. Recorded and engineered during lockdown by guitarist Todd Campbell, the second BASTARD SONS album may be just the tonic people need right now. It's called "We're The Bastards" and it's bigger, better and even more raucously uplifting than its predecessor. In fact, it's the sound of a great band hitting their stride and buzzing with confidence.
PHIL CAMPBELL AND THE BASTARD SONS are:
Phil Campbell – Guitar
Todd Campbell – Guitar
Tyla Campbell – Bass
Dane Campbell – Drums
Neil Starr – Vocals
Links:
http://www.philcampbell.net/
https://www.facebook.com/PhilCampbellATBS/
Source of Information: NUCLEAR BLAST Leoni Dowidat
Killer be Killed – return with "Reluctant Hero" on November 20th via Nuclear Blast Records
4. September 2020
KILLER BE KILLED, Max Cavalera (Soulfly/ex-Sepultura), Ben Koller (Converge/Mutoid Man), Greg Puciato (The Dillinger Escape Plan/The Black Queen) and Troy Sanders (Mastodon/Gone Is Gone), announce one of the year's most anticipated heavy releases, confirming the Nov. 20 arrival of the all-star band's sophomore album, "Reluctant Hero" (Nuclear Blast Records).
The news comes as the foursome shares the first single from the 11-song album, debuting 'Deconstructing Self-Destruction', a song that highlights the outfit's unique approach to vocals with Cavalera, Puciato and Sanders all lending their voices to not only the single but all of the tracks on "Reluctant Hero".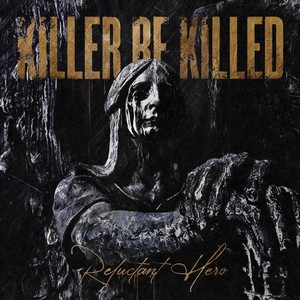 Deconstructing Self-Destruction
Dream Gone Bad
Left Of Center
Inner Calm From Outer Storms
Filthy Vagabond
From A Crowded Wound
The Great Purge
Comfort From Nothing
Animus
Dead Limbs
Reluctant Hero
Follow this link to hear 'Deconstructing Self-Destruction':

"This has been a long time coming. It feels great to be getting this out," said Puciato of the Josh Wilbur (Lamb of God/Gojira) produced album as well as the bombastic single. "Also can I say that Troy's verse vocals are fucking insane? What an entrance. Go for a drive and roll the windows down and crank this thing up."
KILLER BE KILLED is singer/guitar player Max Cavalera (Soulfly/ex-Sepultura), drummer Ben Koller (Converge/Mutoid Man), singer/guitar player Greg Puciato (The Dillinger Escape Plan/The Black Queen) and singer/bass player Troy Sanders (Mastodon/Gone is Gone). The first whispers of the metal supergroup came in 2011, with the band dubbing themselves KILLER BE KILLED in late 2013 and shortly thereafter announcing the 2014 release of their self-titled debut. The band made their live debut the following year as part of Australia's Soundwave Festival. Revolver described Killer Be Killed as "free-wheeling" and "unabashedly experimental," Metal Injection deemed the album "controlled chaos," and Loudwire said the band "has its own identity while still sounding enough like Soulfly, The Dillinger Escape Plan and Mastodon to appeal to the fan bases of each of those bands."
Links:
Killerbekilled.com
Facebook.com/KillerBeKilled
Twitter.com/killerbekilled
Instagram.com/killerbekilled
Youtube.com/user/killerbekilled
Source of Information: NUCLEAR BLAST Leoni Dowidat, Photo: Glen La Ferman
Bay Area thrash legends HEXX stream new song, new album out in September
2. September 2020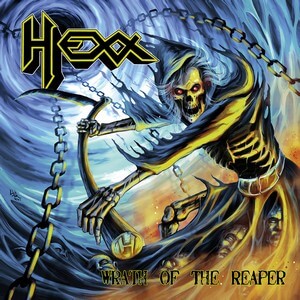 The Bay Area thrash legends HEXX released video for "Vultures Gather Round" – new song taken from the forthcoming studio album, "Entangled In Sin". The video can be seen here
"The new album was recorded at the Sonic Room Studios in Livermore California and was engineered by Tim Narducci and produced by Bart Gabriel" says HEXX guitarist and founder, Dan Watson. "We put a lot more time and thought into pre-production with this album than we did for the "Wrath Of The Reaper" record. Bart Gabriel was key in helping us during the pre-production process. I would send him demos of potential new songs and he would check them over and advise us on everything from tempo to lyrical content and everything in between. He was a valuable asset to this recording and I will always be grateful to him and the folks at High Roller Records for their support." he adds.
Stylistically the new album is closer to HEXX's power metal roots than to the band's brutal thrash/death metal period. "Yes, that was our intent from the beginning", confirms Watson. "We love that classic '80s US Power Metal sound. It is the nearest to our hearts (…) There are some frantic thrashy elements to the new album but I would call this a classic US Power Metal record. I would say the opening track 'Watching Me Burn' is a fair cross-cut example of the material on this new album. Although each song is different and has its special place on the record contributing to the overall body of work".
The San Francisco Bay Area based Power/Thrash Metal band HEXX was formed in 1983, and released its debut album, "No Escape" in 1984 on Shrapnel Records. Since then the group went through several lineup changes and musical style variations. The group's second effort, "Under The Spell", was released in 1986 once again on the Shrapnel label, and with European distribution support from Roadrunner Records. England's Music For Nations label signed the band and released the "Quest For Sanity" EP in Europe in 1988. In 1990 HEXX released a single on Wild Rags Records called "Watery Graves", which included two Speed/Thrash bonus track versions of "Under The Spell" and "Edge Of Death" from their 1986 "Under The Spell" album. In 2016 first two HEXX albums were reissued by Metal Blade Records and two years later Vic Records reissued "Quest For Sanity" and "Watery Graves". The last HEXX studio album entitled "Wrath of The Reaper" came out in 2017 on High Roller Records.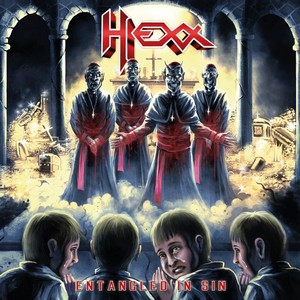 Links:
https://www.hrrecords.de/
https://www.facebook.com/officialhexx/
Source of Information: Bart Gabriel
ROYAL HUNT POSTED A NEW VIDEO UPDATE ON VOCAL RECORDING FOR THE UPCOMING CONCEPT ALBUM
31. August 2020
ROYAL HUNT POSTED A NEW VIDEO UPDATE ON VOCAL RECORDING FOR THE UPCOMING CONCEPT ALBUM FEAT. the NEW MATERIAL
The band members say on their Facebook page: "Enjoy some new vocal recordings for our brand new studio album and good luck with keeping your mental stability under control in 2020 \m/". 
Links:
https://royalhunt.com
https://www.facebook.com/royalhunt
Source of Information: NorthPoint Productions, Photo: www.metal-archives.com