Ill Niño pripravujú debutový album novej zostavy
28.11.2020
Alternative metalisti Ill Niño dokončujú novú platňu, ktorá by mala vyjsť na budúci rok. Momentálne prebieha jej mixáž. Bude to prvý album od odchodu speváka Cristiana Machada a gitaristov Ahruea "Luster" Ilustrea a Diega Verduzca. Podľa bubeníka Davea Chavarriho dôvodom ich odchodu bola strata vášne pre muziku.
Okrem nový členov s na albume podieľali aj hostia Sonny Sandoval ( P.O.D. ), Benji Webbe (Skindred ), Max Georgiev ( Falling in Reverse) a AJ Channer (Fire from the Gods).
Ill Niño sú na scéne od roku 1998. Pochádzajú z New Jersey. Súčasná zostava je nasledovná:
Marcos Leal – spev
Jes De Hoyos – gitary
Salvadore Dominguez – gitary
Lazaro Pina – basa
Daniel Couto – perkusie
Dave Chavarri – bicie, perkusie
Linky:
https://www.facebook.com/Officialillnino
https://www.instagram.com/illninoofficial/
https://www.youtube.com/user/IllNinoVEVO
Zdroj: Blabbermouth
The Sweet – nový singel
24.11.2020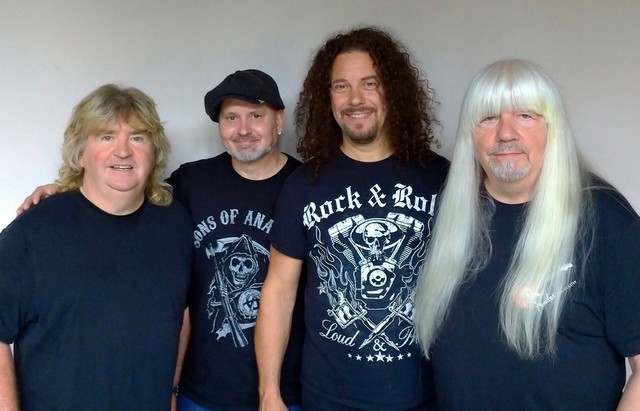 Znie to neuveriteľne, ale partia okolo gitaristu a speváka Andyho Scotta čoskoro príde s novou muzikou. Zatiaľ len v podobe singla Still got the Rock, ktorý vyjde 8. decembra.
Posledný album pod hlavičkou The Sweet – Identity Crisis vyšiel v roku 1982.
Linky:
http://thesweet.com/
https://www.facebook.com/TheSweetOfficial/
Zdroj: https://www.facebook.com/TheSweetOfficial/
PORTA INFERI přichází silnější a dravější, než kdy dřív! Svůj postoj vyjádřila novým videoklipem ke skladbě "WARBRINGER" !!!
25.11.2020
Ještě před "lockdownem" stihli natočit videoklip k nové skladbě "WARBRINGER", která se do dnešní doby hodí jak svou energičností, tak i silným a bojovým refrénem, kterým se nebojí tvrdě říct, co si opravdu myslí!
"Celá pointa textu pochází z dob dávno minulých, a to až z dob vikingských válečníků. Je to takový bojový chorál s účelem povzbudit masu lidí po dlouhých a těžkých chvílích k razantnímu kroku, díky kterému přežije celá generace. Parafrází může však být pochopen i jako strádání pod nějakým útlakem (hrozba války, politický útlak, coronavirový lockdown atp.)" říká zpěvák Radim Korbel.
Přesto je smysl skladby mnohem hlubší a rozhodně neberte tuto skladbu jako buřičskou, jde spíše o vyjádření aktuální situace jinou formou – formou hudby a umění.
Ostrá partička ostřílených a již dobře známých muzikantů z Moravy ukazuje, že se do toho umí pořádně opřít a metal jim koluje v žilách. Tvorbu PORTA INFERI nelze specifikovat jediným žánrem, a proto sama kapela novou tvorbu žánrově prohlašuje za power-core. Posouzení již necháme na posluchačích.
Linky:
https://www.casrock.cz/
https://www.portainferi.com/
https://www.facebook.com/portainfericz/
Zdroj: Ema Moravcová
MetalGate v prosinci obohatí knižní trh o další hudební publikaci. Těšit se mohou fanoušci Forgotten Silence!
23.11.2020
Na scéně jsou více než pětadvacet let, během kterých se stali uznávanou veličinou tuzemské rock/metalové alternativy. Nyní se dočkají knihy, která je důkladnou sondou do kapelního nitra. Autoři Alexandr "Krusty" Nováček a Lukáš Hořínek vás již v prosinci pozvou na cestu do historie Forgotten Silence. Publikace dostane název Diagnóza 19932020: Syndrom zapomenutého ticha. Bude mít více než 300 stran, které kromě textu nabídnou i archivní fotografie.
"K nápadu na sepsání biografie Forgotten Silence mne vedl prostý a jednoduchý fakt – moc jsem si ji chtěl přečíst a obohatit si o ni sbírku," usmívá se Lukáš Hořínek, který je sám velkým fanouškem hudebních knih. Kořeny spolupráce s Krustym sahají do jara roku 2019, kdy si spolu psali o oblíbené muzice. Samozřejmě padlo slovo i na Forgotten Silence, což nakonec vedlo k seriálu rozhovorů, které byly zveřejněny na webu Fobia zine. "Následoval nesmělý dotaz na MetalGate, zda by měli zájem o vydání knihy, a pak už jen jízda až do tohoto bodu," dodává Lukáš Hořínek, pro kterého je Diagnóza 19932020: Syndrom zapomenutého ticha knižním debutem.
Dokončení knihy paradoxně pomohla letošní koronavirová krize. "Jenom díky několika týdnům pobytu na home office se podařilo dohledat mraky faktů, informací, fotografií," říká Krusty. "Ono se to možná nezdá, ale je za tím tuna mravenčí práce, kdy bylo třeba ověřit a dohledat spoustu věcí, obeslat s dotazy všechny současné i bývalé členy kapely, čekat na jejich odpovědi, upomínat je, upravovat stylistiku, shánět fotografie a jejich autory a tak dále. A to nemluvím o grafickém martyriu, které jsme po večerech absolvovali s naším dvorním designerem Onehalphem. Nechal na knize stovky hodin práce. Jsem opravdu a neskromně hrdý na to, co se nám s Lukášem a Onehalphem podařilo. Stvořili jsme knihu, kterou bychom sami rádi četli – a přesně tak jsme to chtěli."
"Spolupráce s ostatními mě nesmírně bavila. Moc si považuji, že do toho se mnou šli. Děkuji a těším se, až se kniha dostane k fanouškům. Mají se na co těšit!" uzavírá Lukáš Hořínek.
Bližší informace k samotnému vydání přineseme v další tiskové zprávě. Doporučujeme také sledovat průběžné zpravodajství na www.facebook.com/metalgate.
Autor: Václav Votruba
Tlačová správa