Mercury Circle (feat. members of Children Of Bodom and Swallow The Sun) releases brand new single + video clip! Available now on Noble Demon Label Sampler!
18. December 2020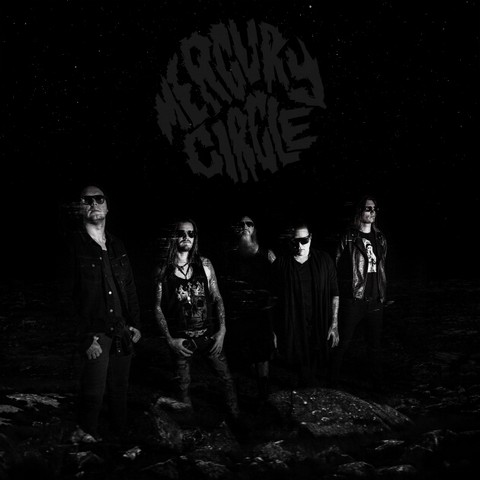 Following their critically acclaimed debut EP "The Dawn Of Vitriol", released on August 14th via Noble Demon, today MERCURY CIRCLE unleashed a brand new video for the track "Our Funeral (Like Xmas)" (get the single HERE), a song exclusively featured on "Noble Demonic Metal – Chapter 1", a brand new label sampler by Noble Demon, celebrating its first anniversary (available HERE)!
Labeled as "a band you need to watch out for in 2021″, by Metal Hammer UK, and featuring members of Swallow The Sun and Children Of Bodom, MERCURY CIRCLE is creating a diverse offering of atmospheric and dark music where the songs differ wildly in expression and sonic aesthetics, establishing their very own kind of "New Doom". While the band is working on their upcoming full length record right now (to be released in early 2021), they felt the need to take a break from the album sessions and to release something different, as Jaani Peuhu explains:
"Although I'm not a fan of Xmas songs, I found myself with the perfect opportunity to write one in the midst of everything going on in the world today. In parts, 2020 felt almost apocalyptic. Sadly, Christmas is the busiest day of the year for police, ambulances and paramedics in Finland and I'm afraid that this year might break all the records of domestic violence and suicide cases because of the pandemic. But since 2020 has already turned so much on its head, there's hoping this year's outlook on the holidays could prove me positively wrong. Compared to the heavy and dark sound of upcoming debut album, "Our Funeral (Like Xmas)" is the most uplifting song we have ever created. We wanted to take a groovier and happier approach to the music while the lyrics stayed on the gloomier side. We hope you enjoy it!
Happy Holidays!
– Jaani, Jussi, Ande, Jaska and Juppe"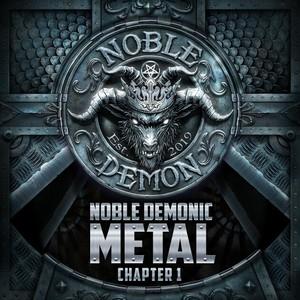 "Noble Demonic Metal – Chapter 1" is showcasing the decent variety of metal styles the label is currently covering uniting the Noble Demon roster family under their black X-mas tree. Cover artwork is contributed by renowned designer Gyula Havancsák (Accept, Sabaton, Ensiferum, Grave Digger, Wintersun, Annihilator and many more) who's also responsible for the Noble Demon label logo and Gomorra's album cover artwork.
Tracklist:
Dawn of Solace – Lead Wings
Night Crowned – Reborn
No Raza – Sail In Rot
Gomorra – Gomorra
The Vice – To Each His Own
Mercury Circle – The Beauty Of Agony
Humavoid – Aluminum Rain
Tulkas – OGC
Red Moon Architect – Rise
Jaded Star – Female Fronted
Kaunis Kuolematon – Kylmä Maa
S.O.R.M – Gypsy Queen (re-recorded)
Plaguestorm – Fire Within
Dawn of Solace – Numb (Live Cabin Version)
No Raza – Reborn
Gomorra – Hope For The Righteous
The Vice – White Teeth Rebellion
Humavoid – Lidless
Tulkas – The Beginning Of The end
Red Moon Architect – Dethrone The Darkness
Jaded Star – A Pain All Mine
Kaunis Kuolematon – Hautajaiset
S.O.R.M – House Of The Rising Sun
Plaguestorm – The Bringers Of Death
Mercury Circle – Our Funeral (Like Xmas)
Watch the video for "Our Funeral (Like Xmas)" here:
"Our Funeral (Like Xmas)" is exclusively featured on "Noble Demonic Metal – Chapter 1", the brand new label sampler by Noble Demon, celebrating its first anniversary!
In probably the most darkest year in the history of music business, the new and dedicated record label for all that is heavy has proven that they came to stay. in its first year of existence. Surprising the metal world with a first sign of life of Finnish melancholic metal band DAWN OF SOLACE (fronted by Wolfheart-phenom Tuomas Saukkonen) after almost 14 years, Noble Demon has released the first single of the following album WAVES in November 2019.
The German label specializing in heavy rock and metal continued to show its variety of taste and an ever growing, eclectic artist roster with constantly new signings in the genres of Death Metal, Thrash Metal, Doom Metal, Heavy Rock, Black Metal, Heavy Metal, Progressive Metal, Sludge, Modern Melodic Metal up to Melancholic Metal and Darkwave. New top notch studio albums saw the light of day by artists from all over the world such as Kaunis Kuolematon, Mercury Circle, Jaded Star, Gomorra, Night Crowned, Humavoid, No Raza, Tulkas, Red Moon Architect, The Vice, S.O.R.M and Plaguestorm.
Critically acclaimed by both fans and the press, the label is convinced that it's heading in the right direction and will surprise the scene with many more upcoming, outstanding releases in 2021 which will also include several brand new signings to the already exquisite roster!
To celebrate its first birthday together with their growing and loyal fanbase, Noble Demon has just released an exciting label compilation on December 18th to end the year in sinister style.
Noble Demon would like to thank all their artists, partners, fans and friends for their support and trust and is wishing everyone a healthy and relaxed year's end and a successful and more joyful 2021!
Mercury Circle:
Jaani Peuhu – Vocals, Guitars, Synths (Iconcrash, Swallow the Sun, Hallatar)
Jussi Hämäläinen – Guitars, Synths, Backing vocals (Hanging Garden, The Chant)
Juppe Sutela – Guitars (To/Die/For)
Ande Kiiski – Bass (Sleep of Monsters, Rytmihäiriö)
Jaska Raatikainen – Drums (Children of Bodom)
Links:
https://www.facebook.com/Mercurcy Circleofficial
https://www.instagram.com/mercurycircleband
http://nobledemon.com
https://fb.me/nobledemonrecords
https://www.instagram.com/nobledemonrecords/
https://nobledemon.bandcamp.com/
http://facebook.com/TheVinylDivision/
Source of Information: Dominik Goncalves dos Reis/ALL NOIR, Photo: Raisa Krogerus & Digital retouch: Danna
The Dead Daisies – upcoming album
17. December 2020

Rock'n'Roll is a trip, not a destination…we all know how the saying goes!   The Dead Daisies continue their journey towards 2021 with new music, virtual performances and adventures.
The Dead Daisies have gone from strength to strength since the release of their selftitled album in 2013. They have released four studio, one live and one covers album to a growing army of fans worldwide and are praised by the global media in an era where Rock has been declared dead time and time again.
The band's DNA includes an amazing collective of players that includes John Corabi, Marco Mendoza, Richard Fortus, Dizzy Reed, Frank Ferrer, Darryl Jones, Tommy Clufetos, Charley Drayton and Jon Stevens amongst others. They've also shared the stage with some of the biggest names in Rock including Kiss, Guns N' Roses, Scorpions, Aerosmith, Bad Company, Whitesnake, ZZ Top and the Hollywood Vampires. The Daisies have started the next chapter welcoming new band member Glenn Hughes. Also known as "The Voice Of Rock", Glenn has taken over lead vocals and bass guitar, joining guitarists Doug Aldrich, David Lowy and drummer Deen Castronovo.
With the addition of Glenn Hughes, The Daisies supercharge their front line through his rock solid bass grooves and unmatched vocal intensity. As all fans know, the man is a true original, inducted into the Rock And Roll Hall of Fame, with a rich history of music that features heavy weights like Deep Purple and Black Country Communion as well as a successful solo career. One might say: "They don't build rockers like him anymore".
Followers can expect more High-Voltage Rock songs, indomitable grooves and spellbinding lyrics, all the ingredients that have made this music so timeless, out-living trends of the modern day. The sound of The Dead Daisies is entrenched in the Hard Rock way of life we all love but as a living, breathing rock band, they are constantly evolving & bringing new dynamics to a classic style.
They've conducted multiple headline tours throughout Europe, Japan, South & North America and conquered some of the worlds most prestigious festivals such as Download, Wacken, Graspop, Sweden Rock as well as Woodstock Poland, where they played the notable Concert for Peace with a 60-piece orchestra in front of over 300,000 people in 2017. Significantly, they were the first American Rock band welcomed back to Cuba after the embargo was lifted in 2015.
It's the uplifting experience of a live show that makes Rock music so encompassing and where The Dead Daisies always deliver. Their concerts are known for creating a special connection between the players and their audience, giving life to each other, singing, screaming and relishing in the moment!!!
The upcoming album 'Holy Ground', was recorded by Producer Ben Grosse at La Fabrique Studio in the South of France and due for release early in 2021. The first single 'Unspoken' was released in April 2020 with the song continuing to receive global media praise, accolades and has definitely broken the silence!
In July, The Lockdown Sessions EP was released with four stripped back semi-acoustic tracks, 'Unspoken', 'Fortunate Son' with Deen on lead vocals, 'Righteous Days' and an amazing version of the Humble Pie classic, '30 Days In The Hole' with Glenn and Doug.
The Daisies will kick off 2021 with a series of shows throughout Europe on the "Get Out Of The House Tour" followed by dates yet to be announced in the UK, Japan, US and Australia. June/July will see the band playing with Foreigner, Judas Priest and at numerous summer Festivals.  
The Dead Daisies are pushing forward, giving energy and taking chances to ensure that every person who experiences them has no doubt that Rock is Indeed Alive & Well and here to stay.

Tracklist:
Holy Ground (Shake The Memory)
Like No Other (Bassline)
Come Alive
Bustle And Flow
My Fate
Chosen And Justified
Saving Grace
Unspoken
30 Days In The Hole
Righteous Days
Far Away
Links:
http://thedeaddaisies.com/
https://www.facebook.com/TheDeadDaisies
https://www.youtube.com/user/TheDeadDaisies
Source of Information: Steamhammer / SPV, Photo: Fiaz Farelly
HAMMER KING Signs Worldwide Record Deal with Napalm Records
15. December 2020
The all-powerful HAMMER KING will set forth on a heroic journey in 2021 and have chosen their mighty allies for the trek – none other than Napalm Records! The band has signed a worldwide record deal with the premier rock and metal label and are set to release new music soon.
Ever since HAMMER KING burst onto the scene in 2015 with their first album, Kingdom Of The Hammer King, swiftly followed up with King Is Rising in 2016 and Poseidon Will Carry Us Home in 2018, they have proven themselves as an unstoppable force! Celebrating the truest of heavy metal in the tradition of IRON MAIDEN, JUDAS PRIEST and PFALZGRAF LUITPOLD, the band keeps it heavy with speedy riffs, energic grooves and fist-pumping choruses, devoting their existence to the one and only myth of the godly HAMMER KING himself!
Hand-picked by thy majesty himself, the band consists of former ROSS THE BOSS vocalist Titan Fox and former SALTATIO MORTIS drummer Dolph A. Macallan, alongside Gladius Thundersword on bass and Kleveland's most timeless lead guitarist: Gino Wilde. Now proudly joining the Napalm Records roster, this powerful heavy metal unit is even more of a serious force to be reckoned with in 2021.
HAMMER KING on signing to Napalm Records:
"It has been done! Ever since thy Majesty, the Hammer King, founded the band, it was our strongest desire to move onward and upward. Now, signing with Napalm Records, we are joyous, proud and confident to have taken at least one giant step upward. Napalm Records has always been our dream partner for Hammer King as they very obviously are doing an outstanding job promoting and pushing their classy roster of bands.
We are blessed to now be a part of that roster and we are equally sworn to work as hard and consistently as possible to deliver whatever it takes to fulfill Napalm's expectations in us – as well as our own and those of the Hammer King. We kneel in gratitude – and we stand with the Kingly Hammer raised to take the world!
God bless the King, may the King bless you!"
Links:
http://www.hammer-king.com/
https://www.facebook.com/thehammerking/
Source of Information: Napalm Records, Photo: Tommy S. Mardo
SIGNUM REGIS releasing "Flag Of Hope" EP & video
16. December 2020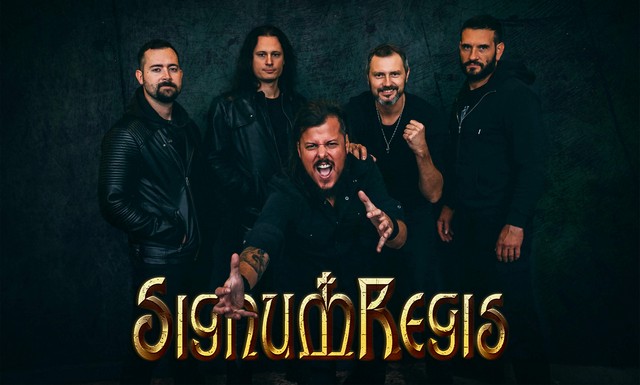 SIGNUM REGIS are releasing a new 5-track EP called "Flag Of Hope", together with a video for the title song.
"For this song, we invited our good friends, singers, who are all somehow connected to SIGNUM REGIS. Göran Edman was the lead singer of the band in the early days and recorded with us the 1st and the 2nd album. Mayo Petranin (Castaway, Symphonity) was our lead singer in 2014-2018, Matt Smith (Theocracy) and Samuel Nyman (Manimal) were our special guests on the Exodus album (2013), David Åkesson has been working with us externally since our 2019 release "The Seal Of A New World". Of course, our current lead singer, Jota Fortinho, is there too!
We are very happy that this little reunion took place and that we were able to make together some music again. It brought back a lot of good memories. On top of that all, we have André Hernandes  (Andre Matos band) playing tasty additional lead guitar.
It's quite clear already, that the year 2020 has not been a great one, we all know that. That's why we believe a song about hope and not giving up is exactly what we all need to hear."
Tracklist:
Given Up for Lost
Stand Away (Angra cover)
Voyage to the Distant Shores
Flag of Hope
Ave Maria
Links:
https://www.signum-regis.com/
https://www.facebook.com/SignumRegis/?fref=ts
Source of Information: Signum Regis, Cover: Ján Tupý