Superband The Dead Daisies vydá koncom januára nový album
17.12.2020
Americko-austrálsky superband The Dead Dasies, kde pôsobia ľudia ako Glenn Hughes (ex Deep Purple) – spev/basa, Doug Aldrich (ex Whitesnake, ex Dio) – gitary, David Lowy (Red Phoenix, Mink) – gitary, Deen Castronovo (Bad English, Journey) – bicie, vydá 22. januára nový album Holy Ground.
Tracklist:
Holy Ground (Shake The Memory)
Like No Other (Bassline)
Come Alive
Bustle And Flow
My Fate
Chosen And Justified
Saving Grace
Unspoken
30 Days In The Hole
Righteous Days
Far Away
Pre predstavu si môžete pozrieť videoklip k piesni Bustle And Flow:
Zoskupenie The Dead Dasies bolo sformované v roku 2013 v austrálskom Sydney hudobníkom Davidom Lowym. Na ich albumoch spolupracovalo mnoho slávnych muzikantov, napr. Richard Fortus (Guns N' Roses), Jon Stevens (INXS, Noiseworks), Darryl Jones (The Rolling Stones), Brian Tichy (Whitesnake, Foreigner, Ozzy Osbourne) a ďalší…
Linky:
http://thedeaddaisies.com/
https://www.facebook.com/TheDeadDaisies
https://www.youtube.com/user/TheDeadDaisies
Zdroj: Steamhammer / SPV, Foto: Fiaz Farelly
Jack McBannon – singlová ukážka z chystaného albumu
17.12.2020
Nemecký spevák, ktorý si hovorí Jack McBannon vydá 19. februára 2021 nový album True Stories.
Tracklist:
Right Here
Set Me Free
The Snowflake
Together
Here's A Winner
Dancing In The Rain
An Outlaw`s Inner Fight
Motel 81
Walking In The Dark
The Long Road Ahead
Runaway Me
Dnešný deň zverejni videoklip k singlu Dancing in the Rain:

Linky:
https://www.jackmcbannon.com/
https://www.facebook.com/jackmcbannon
https://instagram.com/jackmcbannon/
https://youtube.com/jackmcbannon/
Zdroj: Napalm Records, Foto: Frank Metzemacher
Hammer King – zmluva s Napalm Records
15.12.2020
Heavy metaloví Hammer King sú ďalšou kapelou, ktorá sa rozhodla spojiť svoje sily s rakúskym gigantom Napalm Records.
Hammer King vznikli v roku 2015 v nemeckom meste Kaiserslautern. Zatiaľ vydali tri albumy, posledný Poseidon Will Carry Us Home v roku 2018. Hudobne pokračujú v tradícii Iron Maiden, Judas Priest.
Podrobnosti o pripravovanom debute pod Napalm Records sa dozviete čoskoro.
Linky:
http://www.hammer-king.com/
https://www.facebook.com/thehammerking/
Zdroj: Napalm Records, Foto: Tommy S. Mardo
Signum Regis – nový videoklip a EP
16.12.2020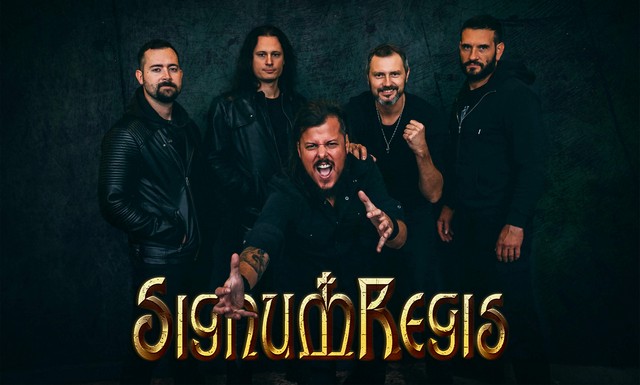 Senecká kapela Signum Regis s brazílskym spevákom Jotom Fortinhom vydala 5 skladbové EP Flag Of Hope.
Tracklist:
Given Up for Lost
Stand Away (Angra cover)
Voyage to the Distant Shores
Flag of Hope
Ave Maria
Linky:
https://www.signum-regis.com/
https://www.facebook.com/SignumRegis/?fref=ts
Zdroj: Signum Regis, Cover: Ján Tupý