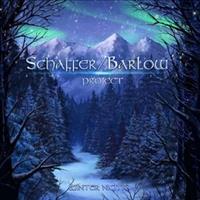 Jon Schaffer, ktorý šíri desivé príbehy s Iced Earth, sa zdá skoro nevhodný k vianočnému pohodliu. A ešte špeciálnym spôsobom. Opäť sa spojil s bývalým kolegom a rozbehli spoluprácu pod značkou Schaffer/Barlow Project. Ako niekto, kto sleduje aj Demons and Wizards, som ochotná pripustiť, že ten človek dokáže všetko, do čoho sa pustí. Takže po vydaní EP Winter Nights (2.12.2020) som po ňom so zvedavosťou siahla.
To obsahuje päť vianočných skladieb a dve nové verzie piesní Iced Earth.
Schaffer premieňa klasické vianočné piesne ako napríklad We Three Kings na temné výjavy použitím tvrdých tónov gitary a perfektného hlbokého Mattovho hlasu. Ale zároveň tu nájdete aj o niečo jemnejšie spracované kúsky, Little Drummer Boy, či krásnu Silent Night. Všetky plné slávnostného čara, kde skvele vyniká Mattov emotívny spev, ktorý každej jednej piesni dodáva ten správny, takmer romantický, náboj. To spolu s krásnymi gitarovými pasážami a klavírom, robí z albumu predsa len viac ako len "ďaľšiu prerábku kolied".
Minimálne zaujímavo pôsobia aj nové verzie piesní I Died For You a Watching Over Me. Fanúšikovia Iced Earth nech sa rozhodnú, či sú lepšie ako orginál, mne sa páčili.
Ak vám po rokoch idú vianočné piesne v rádiách na nervy, myslím, že toto je dobrá zmena. A vlastne ani nevadí, že už je po Vianociach.
Lineup:
Matthew Barlow – spev
Jon Schaffer – gitary, doprovodné vokály
Jim Morris – gitary, klávesy, doprovodné vokály
Ruben Drake – basa
Howard Helm – piano
Casey Grillo – bicie
Tracklist:
We Three Kings
Silent Night
Do You Hear What I Hear?
Little Drummer Boy
I Died For You (Winter 2020)
Watching Over Me (Winter 2020)
Silent Night (Traditional)
Rok vydania: 2020
Vydavateľstvo: Ravencraft Productions
Youtube ukážka:
Linky:
http://www.icedearth.com/
https://www.facebook.com/OfficialIcedEarth/?fref=ts
https://www.youtube.com/channel/UCnIiJoYUYnKVjb-CclSlYXA
Hodnotenie: 4/6
Páčil sa ti tento článok?