Rage predstavili prvý singel z chystaného albumu
16.7.2021

Novinka Rage – Resurrection Day (zároveň debut novej zostavy) bude vydaná 17. septembra. Celé to bude zastrešené vydavateľstvom Steamhammer.
,,Som prekvapený, ako rýchlo sa táto nová zostava stala homogénnym tímom a ako pozitívne sa prejavil talent jednotlivých členov kapely. Cítim, že naša muzika je stále Rage, na druhej strane znie veľmi moderne." – Hovorí Peavy.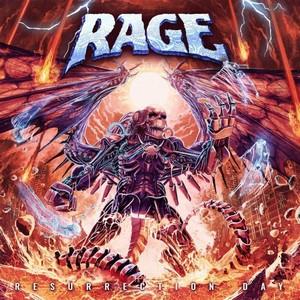 Tracklist:
Memento Vitae (Overture)
Resurrection Day
Virginity
A New Land
Arrogance and Ignorance
Man in Chains
The Age of Reason
Monetary Gods
Mind Control
Traveling Through Time
Black Room
Extinction Overkill
Autorom coveru je Stan Decker, ktorý s kapelou spolupracoval už na albume Wings of Rage.
Dnešný deň zverejnili videoklip k prvému singlu – skladbe Virginity
Linky:
http://www.rage-official.com/
https://www.facebook.com/RageOfficialBand
https://www.youtube.com/channel/UC_ETohsfT1X0H1pbWdFxq3w
Zdroj: https://www.facebook.com/RageOfficialBand
Iron Maiden – nový singel
15.7.2021
Približne po 6-tich rokoch uzrela svetlo sveta nová muzika od britskej legendy Iron Maiden. Zatiaľ je to len singel – The Writing on the Wall.
Linky:
http://www.ironmaiden.com/
https://www.facebook.com/ironmaiden
https://www.instagram.com/ironmaiden/
Zdroj: www.youtube.com, Foto: http://www.metal-archives.com/
Zomrel gitarista Cinderelly
14.7.2021
Člen legendárnej zostavy hair metalistov Cinderella – gitarista Jeff LaBar zomrel vo veku 58 rokov. Príčina jeho smrti doposiaľ nebola zverejnená.
Metal Sludge informovali, že jeho úmrtie potvrdil syn Sebastian.
Posledný album Cinderelly – Still Climbing vyšiel v roku 1994, no od 2010-tého začala Cinderella opäť koncertovať. V posledných rokoch ich aktivita utíchla, keďže spevák Tom Keifer sa sústredil na sólovú činnosť.
R.I.P.
Zdroj: https://skr.sk/K0H22, Foto: MrPanyGoff, CC BY-SA 3.0, Wikimedia
Crippled Fingers – nový videoklip
16.7.2021
Českí thrash/hardcore metalisti Crippled Fingers zverejnili nový videoklip k skladbe Break the Line.
Kapela hovorí: ,,Zvuk a studio zařídil Martin 'Holly' Hollandr a klip točilo Tripleblackshash studio a Patrik Splork, za pomoci našeho sponzora Rockster music.Brzo budou následovat další a souběžně děláme i na novém albu, takže je na co se těšit."
Linky:
https://www.facebook.com/CrippledFingers/
https://crippledfingers1.bandcamp.com/
https://www.youtube.com/channel/UCq7tnWfJ7xzLoRZqMaXMxMg
Zdroj: Crippled Fingers