Organizátorom sobotňajšej akcie bolo v Košiciach známe bikepunx zoskupenie Slayerized Freeride, ktorí sa jazdeniu venujú už skoro 20 rokov. Sami si vybudovali novú dráhu – Konský Pumptrack, ktorý takto slávnostne otvorili. Ten bol prístupný verejnosti už od 10.00h.
Vstupné bolo dobrovoľné, alebo ,keľo dáš, teľo dosc', ktoré bolo použité na ďalší rozvoj miesta. O vegánsku žranicu sa postarali ďalší známy spolok Food Not Bombs a ľudia v dave si ju pochvaľovali.
Asi 150 smädných hrdiel zavlažovali dva výčapy, kde okrem známych značiek pív bolo možné ochutnať aj remeselný zlatý mok. Priateľskú atmosféru doplnil skvelý výhľad na sídliskové ghettá Furča a Ťahanovce.
Slávnostný otvárací ceremoniál o 17.00 sme nestihli, ale videli sme druhú polovicu setu prekopnutého a energického bass'n'drums dua Fukoty. Bol to ich debutový koncert, na ktorom predviedli punk/fuzz/garage šialenstvo s príchuťou noise.
Ako druhí sa na pódium dostavili Bug Spencer. Sľubná kapela, ktorá pobavila publikum neotesaným mixom blues/country/emo/punkom s ústnou harmonikou. Miestami mi pripomínali manchesterskú indie legendu Happy Mondays. V jednom z gitaristov majú svoje pokračovanie košickí pionieri punku Nonconformist.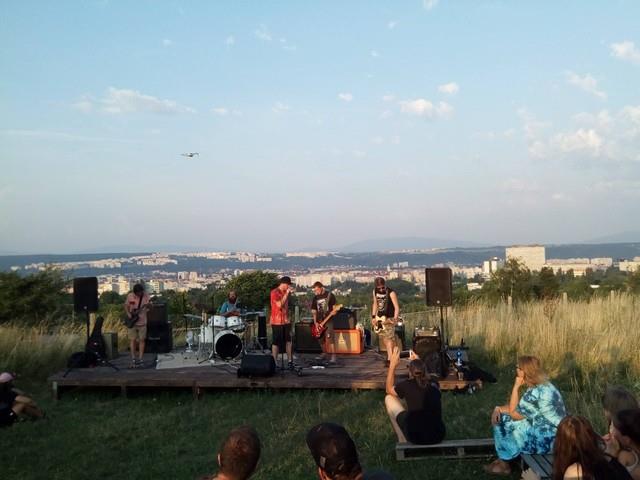 S príchodom kvarteta Nerva sa opäť o čosi zlepšil zvuk. Nečudo, veď ho mal celý večer na starosti ich basgitarista, ktorý využil svoje bohaté skúsenosti z klubu Collosseum. Sebavedomý frontman (ex The Pelikanos) a jeho svorka ponúkli nasraný hardcore punk, ktorý mal slušný ohlas aj u divákov.
Repertoár pravdepodobne tvorili skladby z ich tohtoročného debutového albumu ,Obetiam predurčenia'.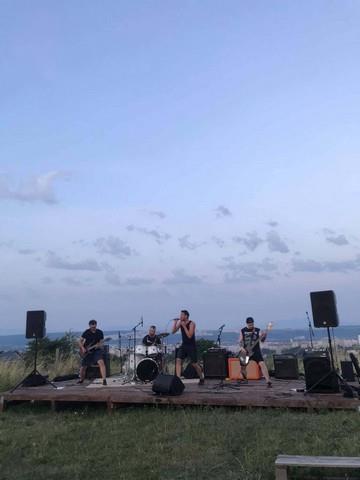 Na záver dostali slovo aj hostia. Kapela Prach privliekla na pódium spolu so súmrakom aj melancholický punk spod fatranských kopcov. Išlo o druhú tvár večne vysmiateho kamoša Dášu fon Fľašu, pôsobiaceho na žilinskej scéne a ktorý stojí aj za rovnomenným folkovým one man projektom.
Trio sa regrutovalo zo spolkov HT, Coexist a The Kľemones.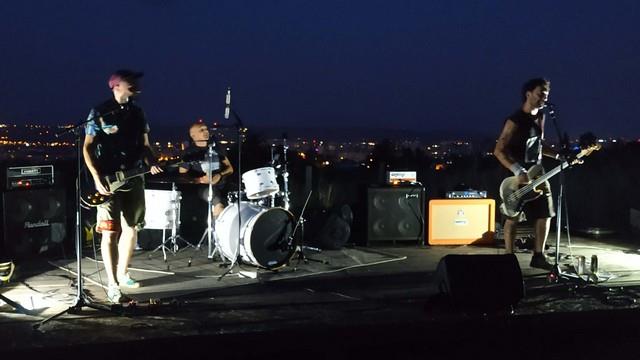 Majú na konte nahrávku Demo z roku 2018 a ich debutový album by mal vyjsť toto leto. Ja by som ich tvorbu definoval ako melodický hardcore punkrock, mierne ochutený britskou indie gitarovou muzikou 90. rokov.
Ako poslední sa predstavili prešovčania DF, ktorí sú nástupníckou kapelou po bande Deformácia. Zahrali pravdepodobne songy zo svojho prvého albumu ,Žiť v mieri' z roku 2020. Hrali rýchly melodický HC punk a hlásali paradox neznámeho autora, že táto skurvená doba sa bude za pár rokov volať ,staré dobré časy'.
Na záver použijem ich citát – ,,Večer bol parádny, so všetkým, čo k undergroundu patrí." Teda aj s príchodom polície, ktorá prišla v mieri upozorniť, že je už po 22hej hodine.
Vyššie uvedené informácie sú opísané z netu, naživo videné a odpočuté v dave.