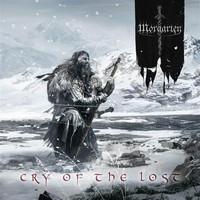 Švajčiarska metalová scéna je mi skoro neznáma a k Morgarten som sa dostala zo zvedavosti. Kapela pomenovaná po slávnej bitke pri Morgartene v roku 1315, kde Švajčiari porazili rakúsku armádu, funguje od roku 2005.
Svojim drsným, ale melodickým folkom strihnutým black metalom Morgarten vracajú zabudnutú slávu doby rytierov. Ich najnovší album Cry of the Lost vyšiel 18. júna 2021.
Dvanásť piesní obsahuje vtipné aranžmány a hudbu, ktorá od počiatočnej stredovekej spomienky vyústi až do death metalového šialenstva. Neverila by som, že sa niečo také dá skĺbiť. Je to ako posoliť si kávu.
Rázny Pierricov vrčiak a slušné gitarové vyhrávky spôsobia, že skladby majú v sebe silu kavalérie a prevalcujú vás dôkladne, ostane za nimi len prach. Je v tom dobrý nápad a svojrázny humor. Môžete sa čudovať, ako to môže fungovať, ale ono to jednoducho funguje.
Každý z nás má v sebe aspoň kúsok romantika, ktorý sa rád vracia do starých čias slávnych bitiek a vznešených rytierov. Aspoň na pár okamihov nechať všedný svet za sebou a spolu s priateľmi vysadnúť na kone, bojovať za vlasť a slávne zvíťaziť, alebo čestne zahynúť.
Neviem, či sa mi táto šialenosť páčila kvôli deathmetalovým prvkom alebo pre tú snivosť príbehov v piesňach. A je mi to jedno, Mogarten si hrá to svoje a má to rozhodne niečo do seba.
Lineup:
Pierric – spev, gitary
Ilann – gitary, doprovodné vokály
Maël – klávesy
Cédric – basa, doprovodné vokály
Joël – bicie
Tracklist:
Frères d'Armes
To Victory
Tales of My Lands
First Blood
Sons of Darkness
Oath of Allegiance
Peaceful Soul of the Dying
Die or Fight
Backed to a Flayed Tree
Dawning of the Reborn
The Last Breath
Meeting the Almighty
Rok vydania: 2021
Vydavateľstvo: Inner Wound Recordings
Youtube ukážka:
Linky:
http://www.morgarten.net/en/home
https://www.facebook.com/MorgartenSwissMetal/
https://www.instagram.com/morgarten_band/
https://www.youtube.com/channel/UCTa-6xZCNeNZpQPGRFXwjRQ/
https://morgarten.bandcamp.com/
Hodnotenie: 4/6