NorthTale release new version of 'Follow Me' with Guilherme Hirose!
13. August 2021
In August 2019, power metal newcomers NORTHTALE released their successful debut album "Welcome To Paradise".
After a recent line up change, the band announced their new vocalist, Guilherme Hirose from Sao Paolo, Brazil. Now, with a new album and a big tour on the horizon, the band are happy to present a special single to shorten the wait:
Today, NORTHTALE release a music video for their re-recorded version of the 2019 track 'Follow Me' with Guilherme Hirose on vocals.
Guitarist Bill Hudson comments:
"As most of you know, we have recently welcomed our new singer, Guilherme Hirose, to the band. While the world was hiding inside their homes, a lot of musicians just went into the studio to create new music, and we were no different. Guilherme has blown our minds in the studio, and I am  pretty sure we've created a much better record than our debut.

This also made me want to listen to him sing some of our old songs, so we recorded a few of those in the studio and we get to show them to you now!

Sadly, it'll be a few months before our new album is out, but rest assured, it'll come out in time for our European tour with UNLEASH THE ARCHERS and STRIKER this winter!
We will start it off with my favorite song in the entire album, 'Follow Me'!"
New singer Guilherme Hirose adds: "I'm very happy and thankful that I was able put my interpretation and soul on some of the songs from Northtale's debut album! I can't wait for everyone to save those songs on their favorite playlists!"
Links:
https://northtale.net/site/
https://www.facebook.com/NorthtaleOfficial/
https://www.instagram.com/northtaleofficial/
https://www.youtube.com/channel/UCU44-9mcogZgj5UGrf5bOKw
Source of Information: NUCLEAR BLAST Fabienne Zwicker
Finnish melodic death/doom metal band Shadecrown released Slivers single from their upcoming third album!
13. August 2021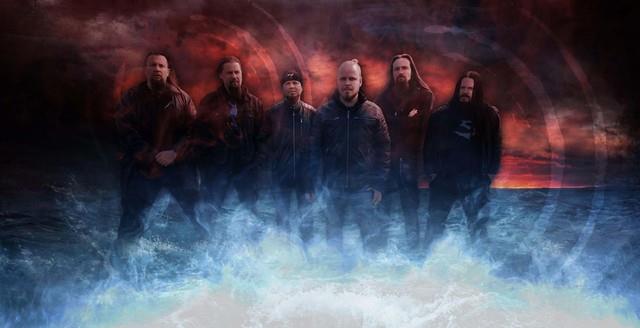 Finnish Viitasaari based melodic death/doom band Shadecrown released their third single 'Slivers" from their upcoming third studio album Solitarian which is set to be released on September 17th  via Inverse Records.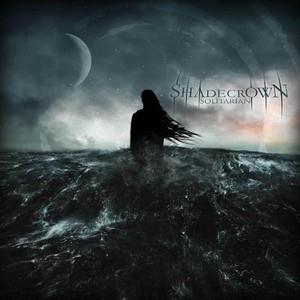 Tracklist:
The Awakening
Dark Heart Replica
Momentary Trails
Slivers
The Loss
Aeon's Still
Crestfallen
Solitarian
Songwriter Saku Tammelin comments:
" "Slivers" is straightforward and one of the fastest songs on the album. It's a story about emotionally and physically abusive person whose victims survived and moved on in their lives."
Shadecrown (founded in 2012) is a melodic death metal band from the heart of Finland. The band consists of Jari Hokka on vocals, Tomi Tikka & Joonas Vesamäki on guitars, Saku Tammelin on keyboards, Janne Salmelin on bass & backing vocals and Kalle Varonen on drums. So far the band has released 1 demo (ST), 1 EP (Chained) and 2 full-lenght albums "Agonia" (2016) and "Riven" (2019). Third full-lenght album "Solitarian" will be released on September 17th 2021 via Inverse Records..
The first single:
The Awakening: https://youtu.be/FpR3vmJjRuk
Links:
http://www.facebook.com/shadecrownband
http://www.twitter.com/Shadecrownband
https://spoti.fi/2Uoahu1
https://www.instagram.com/shadecrownband
https://shadecrown.bandcamp.com
Source of Information: Inverse Records, Photo: Susanna Ossi, Cover: Saku Tammelin
Kissin' Dynamite – new music video
11. August 2021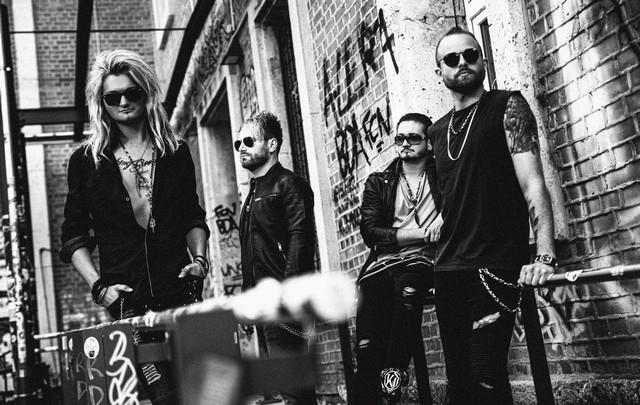 Founded in 2007, German heavy metal formation KISSIN' DYNAMITE have made more than just a name for themselves in the scene: With six studio albums and various chart entries (#7 on the GER album charts with their full-length Ecstasy in 2018), the band established their trademark style – characterized by modern sound, massive anthems and catchy hooks paired with an 80s stadium rock attitude and eccentric look. Now, the five piece is ready to release their Napalm Records debut, Not The End Of The Road, and usher in heavy metal in 2022!
To shorten the time until the upcoming album, KISSIN' DYNAMITE have already released a first track and harbinger of the new record, entitled "Not The End Of The Road", along with an official music video. Their guitar driven sound meets crushing, catchy vocals that easily compete with genre greats and already offers a first glimpse of the band's intoxicating character!
The music video for "Not The End Of The Road" was shot on the airfield in Mendig, Germany and hereby sets a sign of hope in relation to the flood catastrophes.
The new studio album was produced, recorded and mixed by vocalist Hannes Braun (Südland Music) himself, who has also worked with bands like Santiano, The Kelly Family and Beyond The Black. Mastering was completed by Grammy Award winning producer Jacob Hansen at Hansen Studios, known for his work with bands like Volbeat and many more.
Tracklist:
Not the End of the Road
What Goes Up
Only the Dead
Good Life
Yoko Ono
Coming Home
All for a Halleluja
No One Dies a Virgin
Gone for Good
Defeat It
Voodoo Spell
Scars
KISSIN' DYNAMITE states:
"The song is bursting with positive energy, joie de vivre and good vibes. Thematically, it's about never giving up and instead always moving on. Thus, the song hits the current zeitgeist like no other. We had to deal with the separation from our long-time founding member, drummer and friend Andi Schnitzer, as well as the drastic time of the lockdown and want to make unmistakably clear that we want to continue against all odds, and that we are stronger than ever.
The decision for the new band member on drums, Sebastian Berg, was anything but easy for the group. From over 100 international applications received, seven aspirants were put through their paces in the course of a live audition."
Ande Braun on the new album:
"Not The End Of The Road is an album, which accurately describes our experiences as a band since Ecstasy 2018. First and foremost, we highlight with songs like "Not The End Of The Road", "What Goes Up", "Yoko Ono" and "Only The Dead": We're up for it, we're pulling together and we want to reach the rock Olympus! Titles like "Coming Home", "Gone For Good" and "Scars", on the other hand, deal with real feelings like loneliness, homesickness and sadness, which are also part of life."
Hannes Braun adds:
"With Ecstasy we already didn't make any compromises and just wanted to compose music that speaks from us. Not The End Of The Road seamlessly picks up exactly here."
With Not The End Of The Road, KISSIN' DYNAMITE set another milestone in their successful discography: In guitar-driven power metal fashion, the tune of the intro and title track "Not The End Of The Road" prepares the listener for a thrilling road trip and new anthems straight from the heart of the KISSIN' DYNAMITE universe.
Crusher "What Goes Up" takes its listener into the truly spectacular soundscapes that make stadiums shake and convinces with Aerosmith-like guitar attacks and an anthemic hook. But KISSIN' DYNAMITE are also not afraid to show their mellower side, as heard on delightfully tranquil tracks like "Good Life" and "Gone For Good" – not only showcasing the almost calm touches pervading the melodies, but also presenting the softer side of Braun's vocal repertoire.
While tracks like "No One Dies A Virgin" and "Yoko Ono" symbolize catchy party hymns, standouts "Coming Home" and "Defeat It" underline their origins of stadium rock without being pigeonholed. "Voodoo Spell" manifests the variety of the band and their different influences – starting with strong dark rock elements, the song becomes an opus that easily competes with the biggest stadium giants.
The album's closer, "Scars", proves once again that KISSIN' DYNAMITE can reach the depths and showcase lyrical vulnerability – an impressive ending that screams to be played live.
Links:
https://www.kissin-dynamite.de/
https://www.facebook.com/Kissindynamiterocks/
https://www.instagram.com/kissin_dynamite/
Source of Information: Napalm Records, Photo: Holger Fichtner & Patrick Schneiderwind
Daemonicus – the first single from their upcoming album 
10. August 2021
August 20, 2021, will see Swedish old school death metal force, DAEMONICUS, return with their third studio album through Black Lion Records. Eschaton is the band's first album in nine long years!
When DAEMONICUS burst into the extreme and death metal scene in 2006, followed by several demo EPs and two critically acclaimed full length records under their belt, the four- piece also took the stages by storm and toured with acts such as Christ Agony and Groteskh.
Several line- up changes may have hit the band hard, but never stopped founding members PO Wester and Jörgen Persson to continously writing new song material. Now backed by bassist Martin Pudas and David Ekevärn on drums, in just a couple of days DAEMONICUS will strike back with their most confident and brutal work to date: Eschaton features nine razor- sharp and blistering tracks, showcasing a crushing blend of modern and old school death metal sound, yet it remains true to DAEMONICUS' core at the same time as progressing both as musicians and as a band.
While the record and its new line- up marks the beginning of a new era for them, DAEMONICUS have recorded a masterpiece of Swedish death metal, and one that will proove to stand the test of time.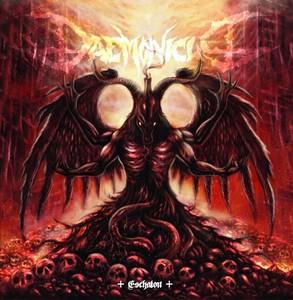 Tracklist:
To Poison Everything
Reform or Die
The Double Edged Sword
Heretic Trials
The Grand Inquisitor
Sacred and Secular
You Know My Name
Fate Sealed by Faith
Termination
After the previously- release single alongside a video for 'To Poison Everything', DAEMONICUS have just unleashed a brand new track! Watch the blistering lyric video for "Reform Or Die" here:
"Reform Or Die is the second song in order on the album "Eschaton" and conviniently enough also the second single from said album. It picks up where the previous single (To Poison Everything) left off and continues to carry the story forward," the band comments.
"The main theme on this one is about religions reluctance and absolute unacceptence of other peoples cultures and way of life. The unavoidable outcome being a mandatory conversion in order to whorship the "right" God. The choice given is simply reform or die! Musically this gem is a true mid-tempo, old school death metal tune with a lot of melodies to top it off."
Links:
https://www.facebook.com/Daemonicus.nu/
https://www.youtube.com/user/Daemonicusofficial/
https://www.instagram.com/daemonicus_official/
https://www.blacklion.nu/
Source of Information: Mona Miluski – All Noir