Po niekoľkých interpretoch tvrdšieho razenia dostala v košickom Collosseu priestor muzika inšieho typu. Posledný augustový deň roka 2021 dorazila do klubu miestna kapela BLACKBEAT.
Ako sa sluší a patrí v dnešných ťažkých časoch, koncertu sa mohli zúčastniť iba ,,poctivo zaočkovaní".
So spomínanou formáciou ste doposiaľ mohli prísť do styku na podujatiach na východe – napr. séria Pivných festivalov, zrazy. Poprípade na internete – na svojom Youtube kanály majú zopár songov alebo Východoslovenská televízia s nimi natočila tzv. predstavovacie video.
Hudobne ide o ten najpoctivejší rock and roll so všetkým, čo k tomu patrí. Teda chrapľavými vokálmi, energiou a sem-tam aj bluesovou príchuťou.
Pre kapelu ako takú to bolo špeciálne podujatie
Oslavujú piate výročie fungovania a rozhodli sa skladby, ktoré odzneli na koncerte zaznamenať.
Čiže pripravovaný debutový album bude ,,živák" alebo live.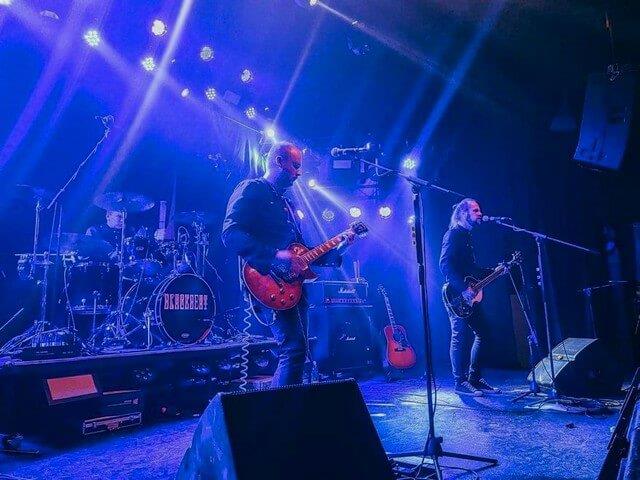 Trochu som sa bál, ako sa ľudia chytia, ale už po dvoch piesňach (Poď so mnou, Odkaz) sa publikum naplno bavilo. Pravdepodobne k tomu dopomohlo aj to, že okrem kvalitných hudobných výkonov jednotliví muzikanti dávali dôraz aj na pódiovú show. Spevák a basák v jednej osobe Milan Štrbík nezabúdal ani na nejaký ten vtip a do spevu zapájal aj publikum (,,blekbííííít").
Podarilo sa nám vykričať aj dve prídavky – Fantasmagória (s vtipnou vložkou v podobne ,,robotníckeho saxofónu") a totálne neplánovaný prídavok – reprízu skladby Robotnícka trieda.
Zhrnutie: Skvelá atmosféra, skvelá muzika, dobre pivo. Čo viac si môže človek priať? Pevne verím, že mnohí z vás siahnete po avizovanom debutovom albume BLACKBEAT a keď niekedy v budúcnosti dorazia aj do vášho mesta (poprípade obce), tak ich podporíte svojou účasťou.