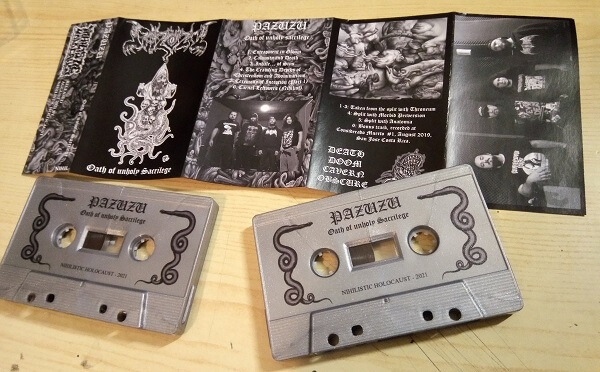 Štvorčlenná death/doom banda z ďalekej Kostariky si hovorí Pazuzu. Prisahajú na bezbožnú krádež, takže vydali debutové EP s týmto názvom – ,Oath Of Unholy Sacrilege'.
Pazuzu je v starovekej mytológii zlý démon. Má príšernú tvár a šupinaté telo, z ktorého vyrastajú štyri krídla. Jeho ,pôvod' je nejasný. Najstaršie civilizácie sa striedali medzi jeho uctievaním a obávaním.
Kvarteto z Kostariky, zeleného klenotu strednej Ameriky funguje naozaj undergroundovým spôsobom. Vzniklo v roku 2005 v hlavnom meste San José a jeho diskografia obsahuje iba jedno demo a päť skladieb na rôznych vydaniach.
Debutové EP je vlastne limitovaná kazeta (201 ručne číslovaných kusov s 12-stránkovým bookletom), ktorá tie songy obsahuje. Polovicu tvoria kompozície zo splitka s poľskými Throneum – In The Crypt Of Hakeldamach Feld. Ako bonus je živý cover z roku 2019 od starej klasiky Nihilist – Carnal Leftovers.
Myslím, že táto svorka si zaslúži objavenie. Je to death/doomová pitva žánru, inšpirovaná samotnou pitvou, ale aj black metalom.
Pod ruinami a nánosmi starej európskej a americkej školy vyhĺbili Pazuzu nové temné chodby plné nejasností a mŕtvolných mien, ktorými vás prevedú.
Inovácie tu nenájdete. Iba surový zvuk a decimujúci metal, ktorý sa drží hlavne stredných a pomalých, miestami melodických temp na hranici s pravekou primitívnosťou tohto štýlu.
Lineup:
Tommil – spev
Giovanni – gitary
Steven – basa
Keyrotten – bicie
Tracklist:
Entrapment in Gloom
Calamity and Death
Inhale… of Sins
The Crawling Depths of Christendom and Abominations
Ceremony of Inception (Part 1)
Carnal Leftovers (Nihilist cover)
Rok vydania: 2021
Vydavateľstvo: Nihilistic Holocaust
Youtube ukážka:
Linky:
https://pazuzucr.bandcamp.com/
Hodnotenie: 4,5/6