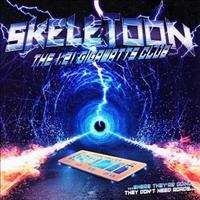 Další album pro milovníky rychlých, někdy i velmi rychlých kytar, kopáků a vysoko zpívaných melodií. To je SkeleToon a The 1.21 Gigawatts Club album. Tentokrát s heslem "Zpátky do budoucnosti."
Tady by tedy mohlo být vše jasné. Ale jen tak v celkové rovině. Neběží každá skladba s větrem o závod a nezpívá se vše jen vysoko. A to je moc dobře!
Tento rychlý styl už není mým nějak extra oblíbeným a některá podobná alba z poslední doby mě dost nudila, ale toto album je díky tomu, že není vše na jedno brdo zajímavější i pro mě.
Na rovinu řeknu, že některé skladby mě celkem míjí. To ale neznamená, že vám by se nemohly líbit. The Pinheads nebo Enchant me jsou tuctové skladby, které u nás hrála kde která hardrocková kapela na zábavách.
Nic proti těm písničkám, ale pro mě trochu nuda. I když SkeleToon si zakládají na tom, že jsou veselá partička a tak taky chtějí tvořit.
Naopak skladby 2204, We don´t need roads nebo Eastwood Ravine mě baví víc. V posledně jmenované se sice zpívá až zbytečně vysoko, tedy pro moje uši, ale na druhou stranu je třeba říct, že na rozdíl od některých jiných skupin, které hrají podobně, tady má zpěvák svůj hlas a projev v pohodě pod kontrolou, ať už zpívá kteroukoliv skladbu.
To že ostatní spoluhráči vše zahrají levou zadní asi není třeba zdůrazňovat. Poslední písnička je cover Johny Be Good a pro mě celkem zbytečnost na albu. Jinak ale z desky sálá víc jakési uvěřitelné energie a víc života, než u některých jiných alb.
Tak to projeďte. Já si vybral zmíněné tři, vy třeba vyberete jiné.
Lineup:
Tomi Fooler – spev
Andrea Cappellari – gitary
Davide "Lord Dave" Piletto – gitary
Jack Stiaccini – basa
Henry "Sydoz" Sidoti – bicie
Hostia:
Simone Mularoni – gitary
Simone Bertozzi – gitary
Alessio Lucatti – klávesy
Tracklist:
Intro: Unveiling Secrets
Holding On
Outatime
The Pinheads
2204
Enchant Me
We Don't Need Roads (The Great Scott Madness)
Pleasure Paradise (Oh La-La)
The 4th Dimensional Legacy
The Eastwood Ravine
Johnny B. Goode (Chuck Berry cover)
Rok vydania: 2021
Vydavateľstvo: Scarlet Records
Youtube ukážka:
Linky:
http://skeletoon.wix.com/main
https://www.facebook.com/skeletoonband
https://www.youtube.com/channel/UCg3eV4EdoNl8YUMvXunl3iQ
https://open.spotify.com/artist/7a0baRHhl8Vt2sm7LapvHC
Hodnotenie: 4/6