Aj keď to tak občas nevyzerá, Slovensko disponuje bohatou metalovou scénou. Dôkazom toho je nová, piešťanská kapela Origin Lost. Začiatkom augusta vydali trochu neplánovane debutový album Thirtyseven, ktorý osloví hlavne vyznávačov zoskupení ako Parkway Drive, Periphery…  Na otázky odpovedal frontman Tomáš:
Zdravím, Tomáš. V auguste ste prekvapili slovenskú metalovú scénu. Ako blesk sa na nej zjavil váš debutový album Thirtyseven. Predstav si, že som človek, ktorý o vás alebo o ňom nič nepočul. Ako by si ho popísal?
Tomáš: Ahoj. Thirtyseven je žánrovo pomerne rozmanitý album. Sú v ňom prvky djentu, progresívneho metalu a metalcoru. Nájdete si tam tvrdé riffáže, breakdowny, no i melodické časti, ktoré ho príjemne osviežia. Celkovo má veľmi moderný zvuk a vie prekvapiť mladšie, aj staršie ročníky poslucháčov.
Skús porozprávať niečo o jeho vzniku. Ako začali vznikať piesne, kto je ich autorom a kde ste ho nahrávali.
Tomáš: Piesne vznikali viac menej za chodu ako single. Album spočiatku ani nebol naplánovaný a pravdu povediac sme ani nerátali s full releasom. Až nakoniec padlo konečné rozhodnutie, že sa zo zložených songov urobí album a budeme sa následne sústrediť na novú tvorbu.
Do albumu každý člen dal niečo zo seba, takže by som povedal, že je to výsledok úsilia každého jedného z nás.
Snažili ste sa ho prezentovať aj v zahraničí?
Tomáš: Určite áno. V podstate to bol taký náš main goal, aby sme prerazili hlavne v zahraničí vzhľadom na to, že tento štýl hudby tam má aj viac úspechu.
Všetky skladby sú v angličtine, ale osobne som sa stretol aj so slovenčinou a češtinou v extrémnych žánroch. Nemôže sa aj u vás stať, že niekedy do budúcnosti spravíte skladby v slovenčine?
Tomáš: Zatiaľ nemáme v pláne písať v slovenčine. Je to taká naša komfort zóna, ktorej sa držíme.
Album je zatiaľ dostupný v elektronickej podobe. Je v pláne aj fyzické vydanie?
Tomáš: Chceli by sme vydať physicals, ale zatiaľ nevieme či to bude práve album Thirtyseven alebo až ďalší album.
Bohužiaľ COVID situácia sa opäť zhoršuje. No môžeš povedať, či nemáte v pláne nejaké live akcie?
Tomáš: Budúci rok by sme určite chceli hrať live. Uvidíme aká bude situácia a či to vôbec bude možné. Opatrenia chápeme a rozhodne ich budeme rešpektovať a nebudeme riskovať životy fanúšikov a ich blízkych.
Ak sa nebodaj zhorší fakt poriadne, nemôžme od vás čakať niečo ako online koncert?
Tomáš: Pravdupovediac nad online koncertom sme ešte nepremýšľali.
Prispeli aj členovia Origin Lost k boju proti tomuto svinstvu formou vlastného očkovania?
Tomáš: Áno. Každý člen kapely je po druhej dávke očkovania. Korona tu nemá žiadnu moc.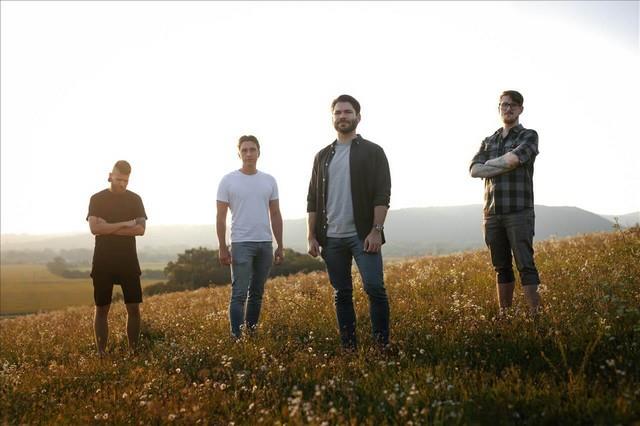 A čo bežný civilný život. Aké sú záľuby a zamestnania osadenstva Origin Lost?
Tomáš: Všetci sa viac menej venujeme IT, či už v práci alebo mimo nej a potom u nás asi najviac prevláda fitness.
Porozprávaj svoj hudobný príbeh – čo ťa motivovalo k muzikantstvu a ako vznikli O. L.
Tomáš: Ja osobne som sa začal zaoberať spevom až keď som sa dostal do skupiny Act on Disputes, kde pôsobil aj Fredo. Najprv to bola len moja zvedavosť, no potom už to akosi prerástlo do hobby.
Origin vznikol krátko po rozpade Archea Drowning, kde pôsobili traja zakladajúci členovia. Chalani mali stále chuť hrať a rozhodli sa vytvoriť nový projekt a hneď si zariadili aj DIY štúdio, aby mohli sami nahrávať a produkovať hudbu.
Vy ste Piešťanská kapela. Skús trochu popísať miestnu scénu. Sú v Piešťanoch a okolí kapely hrajúce pod. muziku? Máte blízko nejaké kluby.
Tomáš: Miestna scéna je na bode "nula celých nula celých nula nula''.
Asi jediná kapela, ktorá stále pôsobí a je v blízkom okolí, je spomínaná kapela Act on Disputes z NMnV a potom je tu kapela You Disgust Me z Trenčína.
Ok, to bola záverečná otázka. Veľmi pekne ďakujem za rozhovor a poprosím ťa o nejaký ten odkaz pre čitateľov.
Tomáš: V prvom rade teraz tvrdo pracujeme na novom EP, ktoré bude zase o level vyššie takže rozhodne sa je na čo tešiť. Kľudne nás sledujte na sociálnych sieťach, Spotify alebo Bandcampe, aby ste zostali up to date a nič nezmeškali. Taktiež chcem poďakovať za super rozhovor a prajem príjemný zvyšok dňa.
Youtube ukážka:
Linky:
https://www.facebook.com/originlost/
https://www.instagram.com/origin_lost/
https://originlost.bandcamp.com/
https://www.youtube.com/channel/UCI8pqykoohYKsfbfYwxJHOg/
https://open.spotify.com/artist/70YpXQCG1fus5RYnHyPgTa/