Theocracy present 'Return To Dust' music video for now pre-orderable album »Mosaic«; first digital single streaming
11. August 2023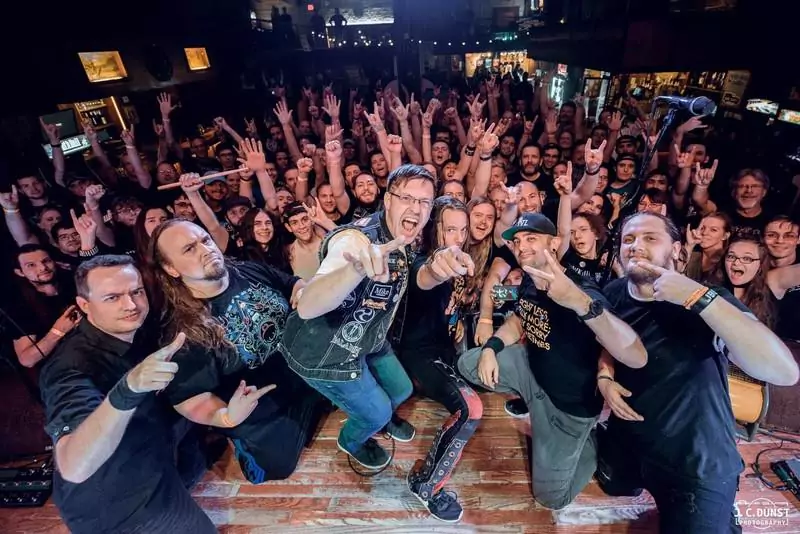 Last week, US progressive power metal quintet THEOCRACY announced their signing to Atomic Fire Records, and the new partners aren't wasting any time in revealing details of the group's highly-anticipated forthcoming studio album right away. As brilliantly showcased by its stain-glass-window-like artwork by Steven Howard, the offering has been given the name »Mosaic.«
The ten new hymns were recorded, produced, and mixed by THEOCRACY's own Matt Smith at Theocracized Studios and Full Moon Studios in Athens, GA and rounded off by skillful mastering engineers Emily Lazar and Chris Allgood at The Lodge, NY. »Mosaic« will be supplied in various formats (see below!) to their loyal followers worldwide on October 13, 2023 via Atomic Fire Records, and can be pre-ordered now.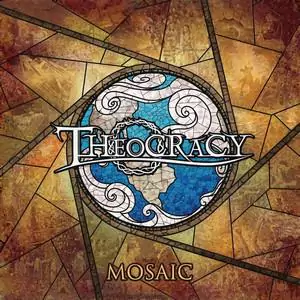 Tracklist:
Flicker
Anonymous
Mosaic
Sinsidious (The Dogs Of War)
Return To Dust
The Sixth Great Extinction
Deified
The Greatest Hope
Liar, Fool, Or Messiah
Red Sea
Seven years after the release of their previous album, 2016's »Ghost Ship,« THEOCRACY are also excited to unveil their first new song today. Clocking in around 4:30 minutes, infectiously melodic track 'Return To Dust' is a more than worthy musical ambassador of the band's return. A supporting performance music video which was produced by Industrialism Films can be viewed over on YouTube.
Frontman Matt Smith explains:
"'Return To Dust' is a prototypical mid-tempo anthem with a classic, massive THEOCRACY chorus. Not really progressive or anything, but infectious with a great riff and energy. The lyrics deal with the inevitability of death, and the choice of who or what we're living for in the short time we get on this earth. The whole album runs the stylistic gamut you've come to expect from THEOCRACY, from the progressive to the thrashy to the pensive to the majestic. So while 'Return To Dust' doesn't represent the entire experience of »Mosaic,« consider it a nice appetizer for the full meal. Enjoy."

Links:
www.theocracymusic.com
www.facebook.com/theocracyband
www.instagram.com/theocracymusic
www.twitter.com/theocracyband
www.youtube.com/@theocracyofficial
https://label.atomicfire-records.com/project/theocracy/
Source of Information: Barbara Francone – Atomic Fire Records
IRON SAVIOR Returns "In the Realm of Heavy Metal " In New Single & Video Off Upcoming Album "Firestar"!
11. August 2023
German power metal frontrunners, IRON SAVIOR, have announced the release of their new studio album, titled Firestar, for October 6, 2023 via AFM Records.
Tracklist:
The Titan
Curse of the Machinery
In the Realm of Heavy Metal
Demise of the Tyrant
Firestar
Through the Fires of Hell
Mask, Cloak and Sword
Across the Wastelands
Rising from Ashes
Nothing Is Forever
Together as One
Following previously-released songs, "Through the Fires of Hell" and the blistering, fast-paced album title track, today, IRON SAVIOR are premiering a music video for their new single "In the Realm of Heavy Metal"! The new clip is now streaming here:
IRON SAVIOR's upcoming album will feature a wide range of influences from hard rock to pop, all calibrated to heavy metal trademark the band is known and loved for. But sometimes pure coincidence or seemingly inconspicuous little details can turn a very good album into an outstanding release.
In the case of Firestar, it has come as a real surprise even for Sielck that the new songs surpass the material of the impressive 2020-album Skycrest. In fact, the cornerstones of the current offering were already set and pointed to a successful production within the tried and tested framework, when all of a sudden everything turned out rather differently: "Just before the recordings were finalised, I was inspired by the muse, totally of the blue. I wrote two more songs out of nowhere and changed a third one on the spur of the moment. And suddenly, 'Firestar' turned into an even better record," says Sielck happily, admitting that this unexpected creative surge "triggered great emotions" in him. "In the Realm of Heavy Metal" was one of these tracks.
IRON SAVIOR have again come up with an exceptional studio album in Firestar, enhanced by Felipe Machado Franco's impressive cover artwork presenting the band's mighty spaceship that has been around since 2011. The cherry on the cake is the powerful production courtesy of Hamburg's Powerhouse Studio, including intelligently positioned keyboard parts and the anthemic background choirs, supported by Sielck's 17-year-old daughter Frida and her boyfriend. Without any doubt, Firestar promises to be a bonfire in many respects!
The first single:
Firestar: https://youtu.be/Jyfb0iONIXA
Links:
https://www.iron-savior.com/
https://www.facebook.com/ironsavior1996
https://open.spotify.com/artist/6COmyouHXwCeIGS1IFd1PA
Source of Information: Mona Miluski/All Noir, Foto: Thomas Sprenger
Extreme Power Metal Legends DRAGONFORCE Sign Worldwide Contract with Napalm Records!
9. August 2023
Napalm Records is proud to announce the signing of the world's fastest band – GRAMMY nominated power metal legends DRAGONFORCE! Formed in 1999, the London, UK based unit has captivated audiences worldwide with their highly successful records and iconic singles, including the platinum-selling anthem "Through the Fire and Flames."
Renowned for their epic compositions, DRAGONFORCE's signature lies in their masterful and lightning-fast guitar solos, brilliantly crafted by the virtuosic duo of Herman Li and Sam Totman. Comprising vocalist Marc Hudson, bassist Alicia Vigil, and drummer Gee Anzalone, the five-piece ensemble draws inspiration from a myriad of heavy metal styles, fantasy realms, and video games, blending 80's rock influences with infectious sing-along choruses and uplifting melodies.
Together with today's signing announcement, and with their most ambitious album on the horizon, DRAGONFORCE is excited to announce the North American headline leg of a colossal world tour that promises to be their most exhilarating to date!
Featuring special guests Amaranthe with additional support from Napalm Records labelmates NanowaR of Steel, as well as Edge of Paradise, the tour will begin on October 20, 2023 in Mesa, AZ. After visiting many major cities across the US and Canada, the tour will culminate in a grand finale in Los Angeles, CA on November 19. DRAGONFORCE promises to take their unique stage production to new heights, presenting a fresh setlist that includes new tracks, songs not played for a long time and beloved classics.
DRAGONFORCE frontman Herman Li on the signing:
"We are absolutely thrilled to join forces with Napalm Records, a true powerhouse in the metal music universe! This marks the beginning of an epic new chapter for DragonForce, and we're eager to see what our collaboration will bring to our fans around the world!"
Napalm Records Managing Director Thomas Caser adds:
"It's an absolute honor to team up with the mighty DRAGONFORCE and announce this signing today. Their speed, sound and hooks are undeniably legendary along with their captivating and unique concepts! We look forward to getting their new music out to the world!"

Links:
https://dragonforce.com/
https://www.facebook.com/dragonforce/
https://www.instagram.com/dragonforcehq
Source of Information: Napalm Records Promotion Team, Foto: Travis Shinn
MOONSPELL Celebrate 20th Anniversary Of "The Antidote" Reissued via Napalm Records on September 29, 2023!
9. August 2023
"The beauty of horror, the horror of beauty."
Originally released by Century Media back in 2003, The Antidote is yet another Moonspell album that drifted off the paths of the trendy symphonic metal that dominated the scene at the time. It's a record that laughed at the softening powers in power metal that began poisoning the scene 20 years ago. Thus… it has been, again, misunderstood by the fans and the press alike.
That didn't stop The Antidote from becoming a long ago out of print, sold-out record and an unnamed classic in its own right. To properly celebrate its two decades of life, The Antidote will be re-released via Napalm Records on September 29, 2023, under exclusive licensing from Century Media! Exactly 20 years after its original release, Moonspell will once again bring you the fear and the intimidation of an album inspired by what we dread: our darkest dreams and bleak crossroads. It's a tribal, ritualistic album, devoid of the plastic, business-like beauty of what became gothic metal along the way.
An album that scares the hell out of you and wraps you in the truth of darkness.
An album that is also a book by Jose Luis Peixoto, one of Portugal's most celebrated authors, and that opens traps beneath your feet and holes within your mind – a work that is not for the faint of heart.
Here's your second chance to own it and to claim the consternation inside of you. The Antidote, in its cup, is yours to take – if only you could dare…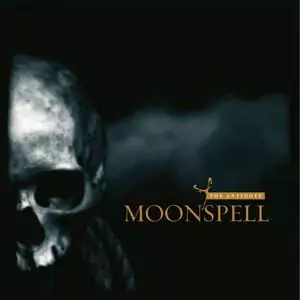 Tracklist:
In and Above Men
From Lowering Skies
Everything Invaded
The Southern Deathstyle
Antidote
Capricorn at Her Feet
Lunar Still
A Walk on the Darkside
Crystal Gazing
As We Eternally Sleep on It
Links:
https://www.moonspell.rastilho.com/
https://www.facebook.com/moonspellband/
https://www.youtube.com/user/MoonspellYT
Source of Information: Napalm Records Promotion Team
Austrian Crossover Legends KONTRUST Announce New Album, madworld, out November 3, 2023 via Napalm Records
8. August 2023
Austrian crossover legends KONTRUST are finally back after nine long years with their highly awaited new studio album, entitled madworld. The massively energetic full-length will be released on November 3, 2023 via Napalm Records! Today, the chart-storming unit kick the riot right off with the first single and rousing album opener "i physically like you", presenting new vocalist Julia Ivanova and drummer Joey Sebald for the first time on record.
In 2022, both new members first showcased their eruptive live potential on the main stages of some of the biggest European festivals, such as Graspop Metal Meeting, Hellfest Open Air, Barcelona Rockfest and Resurrection Fest. In addition, vocalist Julia is already known for her frenetically-celebrated performance on the Ukrainian TV edition of X-Factor, and now presents her matchless talent on the new 11-track offering. Check out the entertaining music video for "i physically like you" below for a first taste of what's to come!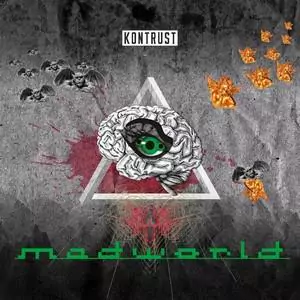 Tracklist:
i physically like you
madhouse
rock to outer space
black soul
criminal
the end
pulling
lederhosen overkill
masterpiece of a monster
u.f.i.u.
i can't control it
Watch the official music video for "i physically like you"
KONTRUST on "i physically like you":
"Riggiding – uncontrollable energy! 
The first single taken from the new album madworld embodies the perfect fusion of KONTRUST trademarks and crazy fresh vibes. As the sparks ignite from liking to loving to coming together as one, beware, it goes both ways and might take a wrong turn towards hate and fighting. One thing is for certain though – the tenacity of the physical attraction that creates that tension and all that energy – I physically like you!"
Links:
https://www.kontrust.info/
https://www.facebook.com/kontrust/
https://www.instagram.com/kontrust.official/
Source of Information: Napalm Records