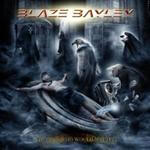 Po tom čo Blaze vydal prvé tri v celku úspešné dosky s kapelou Blaze, sa mu viac krát rozpadla kapela, vydavateľstvo z ním ukončilo zmluvu, manželka Debie dostala ťažkú chorobu,  po ktorej umrela. V roku 2008 prišlo znovuzrodenie Blaza. Vydal v novom vydavateľstve nový album s kapelou Blaze Bayley (názov sa zmenil kvôli právnym ťahaniciam), tvrdší, progresívnejší, melancholickejší a zvukovo inej kvality. Na albume však cítiť množstvo štúdiovej práce s Blazovym hlasom.
Titulná The Man Who Would Not Die sa začína brutálnym tempom na bicích, kde si môžete všimnúť podobnosť s druhým sólom v skladbe Mother Russia v tempe.Pri skladbe Blackmailer máte pocit, že Blaze je muž ktorý nikdy nezomrie. Heavy metal najtvrdšieho kalibru. Blaze pri skladbe Smile Back At Death v jednom českom rádiu povedal, že je to jeho najobľúbenejšia skladba pretože sa týka jeho osobného života. Je zároveň najdlhšou skladbou,  od eposu nemá ďaleko. Skladba sa vysmieva smrti ako takej. While You Were Gone je moja najobľúbenejšia skladba. Po intre príde spevavý text, ľahko zapamätateľný. A potom jedinečné zrýchlenie . Skvelá práca. Po krátkom basovom intre, prichádza ozajstný Samurai.  Táto skladba je považovaná za najlepšiu, čo kedy Blaze vydal. Fanúšikov zrejme priťahuje ta maidenovska inšpirácia. Aj ja som ten prípad. A Crack In The System je tzv. typická Blazovina. Počujem trocha zbytočné predlženie skladby. Robot – textovo jednoduchá, najrýchlejšia  skladba v kariére Blaze Bayley a Blaze. Inšpiráciou po hudobnej stránke by mohla byť Banda In Flames. Skladby 1-7 majú rýchle tempo a v podstate sa nezastavia . Tu však prichádza zmena. At The End Of The Day. Pomalá skladba, až balada, na uvoľnenie atmosféry na albume.  Skladba nie je natoľko chytľavá, že by som ju zaradil medzi najobľúbenejšie na albume. Waiting For My Life To Begin… Opäť typická Blazovina . Tu sa začína, resp. pokračuje album, v nastavenom tempe po skladbe Robot. Dobrý úvodný riff. Sóla veľmi vydarené, ale je tu podobnosť zo skladbou Samurai v dvojsóle. Voices From The Past … Takt toto je nádielka! Začiatok skladby proste skvelý, honosný.  Skvelý text  a perfektné zrýchlenie v strede skladby! Patrí medzi najobľúbenejšie na albume. The Truth Is One konečne krátke sólo na bicie na úvod . Blaze ohlásil, že keďže túto skladbu nehrali na  Tour that will not die, tak ju zahrajú na Promise And Terror Tour 2010/2011 . Tešíme sa. Seprent Hearted Man nepatrí medzí moje obľúbené skladby. Melanchonické intro vystriedá riff a potom hoci dobrý refrén (ako na celom albume) ale potom sóla zvláštne.
K albumu bol vydaní živák, The Night That Will Not Die,  ktorý však zvukovo nie je taký kvalitný,  ako predchodca As Live As It Gets. O tom však nabudúce.
Zostava:
Blaze Bayley – vocals
Nico Bermudez – lead guitar
Jay Walsh – rhythm guitar
David Bermudez – bass
Lawrence Paterson – drums
Zoznam skladieb:
"The Man Who Would Not Die" – 4:35
"Blackmailer" – 4:43
"Smile Back at Death" – 7:38
"While You Were Gone" – 5:27
"Samurai" – 5:39
"Crack in the System" – 5:53
"Robot" – 3:10
"At the End of the Day" – 3:39
"Waiting for My Life to Begin" – 5:10
"Voices from the Past" – 5:55
"The Truth Is One" – 4:22
"Serpent Hearted Man" – 6:15
Hodnotenie: 5,5
Odkazy youtube:
http://www.youtube.com/watch?v=TWtzLpYZ0QM
http://www.youtube.com/watch?v=TWtzLpYZ0QM
http://www.youtube.com/watch?v=TWtzLpYZ0QM