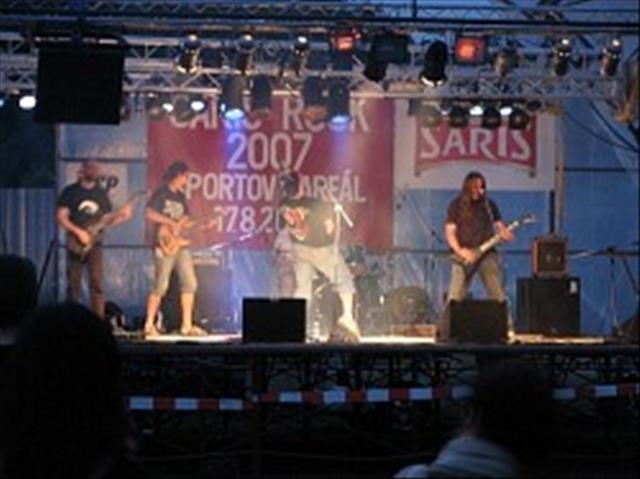 Zdravím, ako sa máme?
Hejvi: Máme sa!
Na úvod tradičná otázka, predstav svoju kapelu Tubul.
Hejvi: Sme rock-metalová kapela, ktorá hrá hlavne pre radosť. Nevyhýbame sa žiadnemu žánru ani žiadnej akcii.
Hneď pri názve ma napadlo, nenechali ste sa pri názve inšpirovať Tublatankou?
Hejvi: S Tublatankou máme spoločné prvé tri písmena názvu :-), plus to, že spievame po slovensky a že sa hlásime k slovenským koreňom. Tubul je podľa niektorých zdrojov historický názov Šarišského hradu, ktorý je symbolom nášho rodiska.
Pozerám, že kapela Tubul začala vznikať v rokoch 1985-1986, to obdobie je uvedené ako Chaos, neskôr je obdobie Plum-Bum, ale to sa počíta od roku 2004. Čo znamenajú tie názvy a prečo ste mali takú dlhú odmlku?
Hejvi: Názov Chaos najviac vystihoval naše vtedajšie myslenie, tvorbu i hudobné výkony, Plum-Bum – odvodené od jedného ťažkého kovu. Mal naznačiť naše smerovanie, ale vyšlo to nejako inak. Prišlo obdobie častých zmien názvu, kde po ťažkých pokoncertných stavoch vždy niekoho napadol lepší názov kapely a tak sme boli ešte S.R.O., Prull, Hlava a nakoniec sme ostali pri Tubule. Kapelu sme založili niekedy v lete 1985 a zhruba po roku nám basgitarista Ďoďo Šotík odišiel na vysokú školu do Žiliny a tiež ďalší členovia sa rozišli po internátoch.
Aké to bolo hrať v osemdesiatych rokoch? Zažali ste nejaké nepríjemnosti, ktoré boli v tej dobe typické (prehrávky, vystúpenia na politickej piesni a pod.) Ak hej tak popíš, ako to vtedy prebiehalo (dnešným mladým rockerom už tieto pojmy veľa nehovoria).
Hejvi: Naša kapela si naozaj na tú dobu sťažovať nemôže. Podarilo sa nám vybaviť cez závodný klub š.p. Imuna skúšobňu v kinosále. Tiež sme dostali k dispozícii kompletné pódiové vybavenie (bicie, gitary, basgitaru, nástrojové aparáty, mikrofóny, saxofón) a to všetko zadarmo. Neboli to najnovšie veci, ale pre začínajúcu kapelu na nezaplatenie. Prehrávky sme už absolvovať nestihli…
S čijej iniciatívy došlo k oživeniu kapely Tubul a ako to oživenie prebiehalo?
Hejvi: Po rokoch sme sa stretli, zašli na pivo, dohodli si nejaké stretnutie s nástrojmi na chate a už sme boli opäť v tom. Chýbal nám však bubeník a basgitarista. Cez rôznych známych sme začali hľadať ľudí s ktorými by sme si rozumeli hlavne po ľudskej a pivnej stránke a po nejakej dobe k nám prišli Roman Čirč a Ďuro Kurimský. Všetko bolo v poriadku, ale po čase sa zopakoval starý scenár: vojna a odchod do zahraničia za prácou. Na odporúčanie Romana k nám prišiel búchať Ondrej Ragač, ktorý zasa priviedol basáka Matúša Bačinského. S nimi začali pribúdať pivné akcie a koncerty. V rámci východného Slovenska sme odohrali desiatky koncertov. Raz sme hrali  dokonca v Siedlciach v Poľsku, kde bola super atmosféra na koncerte a vraj aj po ňom.
Na bandzone máte ako poslednú novinku uvedenú odchod bubeníka Ondreja, prečo Ondro odišiel?
Hejvi: No Ondrej sa musel začať viac venovať škole, ktorá mu zobrala veľa času, nestíhal sa venovať aj kapele, a keďže je perfekcionista, rozhodol sa odísť. Našiel však za seba náhradu – Miša Lašovského.
Ako ste spokojní z jeho náhradou Mišom?
Hejvi: Mišo sa javí ako dobrý bubeník, má chuť hrať,  cvičiť a požívať zlatý mok. Teraz s ním nacvičujeme skladby na ďalšie koncerty. Dúfam, že aj Mišo je spokojný…
Keďže ste na scéne už nejaký ten rok, sú už plány na nejaký ten of. album?
Hejvi: Plány sú, už sme aj začali nahrávať, ale vždy sa to nejako skomplikuje. Momentálne sa nám v dvoch štúdiách dokončuje dokopy šesť skladieb. Určite vás budeme informovať…
Pozerám, že vaša kapela je koncertne aktívna, koľko koncertov mávate do mesiaca?
Hejvi: Keďže nám už koncom minulého roka Ondrej avizoval svoj odchod a nevedeli sme, ako rýchlo nový bubeník zvládne repertoár, koncerty sme neplánovali. Len nedávno sme začali  v tomto smere podnikať nejaké kroky, ale ešte nie sú isté termíny. Akonáhle budeme mať presné informácie, budeme informovať našich fanúšikov prostredníctvom našich profilov na internete i na našej webovej stránke, ktorá sa práve prerába…
V ktorom meste sa vám najlepšie koncertuje?
Hejvi: Najlepšie zážitky máme z dedín a menších miest. Ľudia si tam viac vážia akýkoľvek druh kultúry a sú aj spontánnejší. Ľudia z miest sú až priveľmi pasívni – česť výnimkám.
S ktorými známymi kapelami ste sa už objavili na pódiu?
Hejvi: Kiss Forever Band, Fermáta, Robo Šimko a Massriot, Robo Mikla, Ravenclaw, Heľenine oči, Sexit, René Lacko& Dawn Town Band…
Čomu sa venujú členovia kapely Tubul v súkromí (práca, záľuby)?
Hejvi: Okrem hudby sa venujeme obchodu, riadeniu, outsoursingu, štúdiu, výchove detí, pivu, vodke, ginu, fotografovaniu, programovaniu, hokeju, architektúre, manželkám, priateľkám, turistike, bicyklu, ničnerobeniu… Skúsiš uhádnuť, čo z toho sú záľuby?
Aké ciele kapely Tubul budú v najbližších rokoch splnené?
Hejvi: Ciele sa nám nikdy nedarilo plniť a tak sa snažíme ustáť to a mať z hudby radosť. Všetko navyše nás poteší…
Dobre,tak ďakujem za rozhovor a chcel by som ťa poprosiť o odkaz pre čitateľov môjho webu.
Hejvi: Rockeri, rockerky a všetci kultúrichtiví spoluobčania, prekonajte svoje pohodlie, odpojte sa od Facebooku, zdvihnite riť a vyjdite von. Hrajte, maľujte, píšte básne, ale nezabudnite, že ak nebudete počúvať ostatných, oni nebudú počúvať vás.
Odkazy:
Bandzone: http://bandzone.cz/tubul
Youtube: http://www.youtube.com/watch?v=ZFLq2OmBaaI