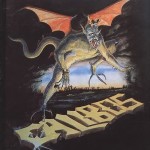 Po istom čase, ktorý uplynul od skvelého koncertu v Humenom som sa rozhodol priniesť vám recenziu debutového albumu zoskupenia Calibos.
Najprv pár základných údajov. Dokopy sa dali v roku 1989 v Olomouci a hneď v 1990 absolvovali svoje prvé vystúpenie v sále Dělnického domu (Olomouc – Černovír) a taktiež natočili prvé demo.  Po menších zmenách zostavy v 1992 natáčajú prvé CD. Klip vznikol  k skladbe Za krále a vysielala ho aj vtedajšia Československá televízia.
Na samotnom diele dostaneme naservírovanú tradičnú heavy/speed metalovú muziku jemne okorenenú thrash metalom. Bohužiaľ zvuk je poplatný svojej dobe. Ak budete chcieť trochu lepšie spoznať texty kapely, zrejme budete musieť využiť služby internetu. No napriek tomu, ma album svoje čaro –  hlavne kvôli svojej atmosfére.
Od prvej Calibos skladby vidieť, že kapela ma záľubu v textoch s bojovou tematikou. To isté je aj v dvojke – doslova speed metalovej hymne – Za Krále. Je to klasicky typ chytľavého songu, keď vám refrén (Zástavy a královský erb – znaky svýho krále – každý bojovník dobře zná, nutí ho jít dále.) znie v ušiach aj na druhý deň po jeho vypočutí. Som rád, že doteraz ju hrajú na ich koncertoch. Po tak trochu "metalchurchovskom" Velkoměste príde doslova vrchol CD – Mac Leod. Opäť kvalitná porcia speed metalu a tentokrát je to tematika príbehu Highlandera. Podobne ako v dvojke v nej nájdete výborný text a korunku krásy tomu nasadzuje vtedajší spevák Miroslav Spilka, svojím dramatickým podaním. Nasledujúca balada Terasy, tiež patrí medzi kvalitnejšie veci na CD (Mirekovi sa to podarilo zaspievať tak, že ako hovorievajú bratia z Čiech – bude pri tom "mrazit v zádech"), ale po prvé ten zvuk ju dosť zabíja a aj jej text obsahuje tak trochu pre mňa nezrozumiteľne pasáže. Notorikuv sen je tak trochu zvláštny. Nemám rád podobne texty, ale je to neskutočne chytľavá pieseň a rád by som ju niekedy zažil aj na živo (neviem, či ju ešte zvyknú hrávať). Nasledovať bude tak trochu priemerná Au, ale hneď potom príde na rad Ikaros. Je to Calibos "se všim všudy". Jemne mi pripomína ich slávnejších kolegov Arakain. TV Smrt by som ocenil hlavne jej text. Inač si myslím, že na tomto CD mali aj zaujímavejšie veci. Nakoniec sa dostaneme k poslednému plnohodnotnému songu Achilles. Oproti Ikarovi ma oslovila o trochu viac. Neviem, zrejme je to tým, že obsahuje o trochu viac melódie. CD zakončí úlet Teplejch Bar (o nejakom podniku, kde hrajú Penka 🙂  ).
Táto kapela, je dôkazom – že kvalita sa dá nájsť aj mimo tzv. zavedených mien. Hodnotím stupňom 5.
Lineup:
Miroslav Spilka – spev
Marek Andrejší – gitary, vokály
Viktor Löffler – gitary
Josef Vláčil – basa, vokály
Vlastik Vláčil – bicie
Tracklist:
Calibos
Za Krále
Velkoměsto
Mac Leod
Terasy
Notorikův sen
Au
Ikaros
TV – smrt
Achilles
Teplejch Bar
Rok vydania: 1992
Vydavateľstvo: Glóbus
Hodnotenie: 5