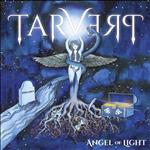 Na slovenskej power/speed/melody metalovej scéne bol tento rok z hľadiska nových albumov dosť chudobný. Výnimkou bolo iba nové EP Presage košických Ravenclaw a debut Angel of Light Rožňavčanov, s tak trochu zvláštnym názvom TarverP (vznikol obratením pôvodného názvu – Prevrat).
Kto čítal septembrový rozhovor s frontmanom Markom (známym aj z Renaissense), resp. kto ich bližšie sleduje dlhší čas vie, že fungujú od roku 2008. Debut však po ,,veľmi ťažkom pôrode" uzrel svetlo sveta až tento rok.
V úvode treba pochváliť jeho fyzický vzhľad. Vydaný bol ako digipack ozdobený veľmi pekným grafickým motívom, autorka Alexandra Power si dala fakt záležať. Taktiež chválim hudobný obsah a aj zvukový kabát (možno by sa dalo aj lepšie, ale na slovenské pomery je to ok).
,,Tarverpom" sa podarilo zhromaždiť zaujímavý  hudobný materiál, ktorý Vás nebude nudiť, aj keď celé CD trvá viac než hodinu. Piesne síce pochádzajú z rôznych časových období kapely, no pekne do seba zapadajú.
Nesú sa väčšinou v stredne rýchlych tempách a po Markovom speve (spieva väčšinou v stredných polohách, no nebojí sa ani výšok) sú asi najvýraznejším prvkom klávesy (doplnené nápaditými gitarami a kvalitnou rytmikou).  Vďaka ním má celé CD zaujímavú atmosféru.
Drobná pripomienka by bola hádam len k Markovej flaute. Mohla dostať viac priestoru, v záplave ostatných nástrojov sa trochu stráca. Ale, to je len detail.
Záverečný verdikt: Angel of Light jednoznačne patrí do pomyselnej topky slovenského power metalu. Určite poteší každého priaznivca tohto žánru (ale nie len tých 🙂 ). Moje hodnotenie bude pomerne vysoké.
Lineup
Marko Hundža, spev, gitary, flauta
Jakub Ferenc – gitary, vokály
Dávid Šmihula – basa, vokály
Jakub Potempa – klávesy, vokály
Jerry Ulbrik – bicie, vokály
Hostia:
Andrea Kirschová – vokál (7,15)
Tracklist:
From Behind the Olden Mirror
Heart & Sword
Truth & Lie
Twins
First Time
Ride Thru Hell
Pagan Ritual
Epitaph
Long Way Home
Learning to Fly
Bring Me Back My Innocence
Lead Me to Nowhere
Sunwind
Desperate Flight of Freedom
Angels of Light
Rok vydania: 2016
Vydavateľstvo: Samovydanie
Youtube ukážka:

Linky:
https://www.facebook.com/tarverp/?fref=ts
http://bandzone.cz/tarverp
Hodnotenie: 5,5/6