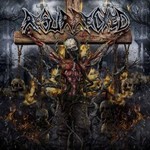 Dostal sa mi do rúk ďalší titul zo stajne martinských Metal Age Productions. Po nedávnej recenzii našincov Perversity sú na rade nemeckí Resurrected. S tvorbou kapely sa na aktuálnom CD stretávam po prvýkrát.
Zo sprievodného listu sa dozvedám, že kapela existuje od roku 1993 a po sérii demo nahrávok sa začína ich bohatá diskografia prvým oficiálnym zásekom z roku 1997. Ako som vyššie spomenul, predchádzajúcu tvorbu kapely nepoznám, takže žiadne porovnávanie ich vývoja a smerovania.
Aktuálne CD obsahuje 10 skladieb o celkovej dĺžke vyše 38 minút. Hudobne sa pohybujeme vo vodách valivého brutal death metalu s čitateľnou stavbou skladieb. Základ tvoria svižné tempá s drvivými riffmi, popri nich nám kapela servíruje aj razantné spomalenia, kopírovačka kopáku s gitarovým riffom (koniec prvej skladby), občasný thrashový prvok, a potom opäť brutálny tlak.
Veľmi sa mi páči čitateľnosť a stavba jednotlivých riffov, k čomu prispieva aj pomerne surový, ale veľmi zrozumiteľný zvuk gitary. Ďalšia pre mňa veľmi pozitívna vec je, že kapela sa nesnaží za každú cenu hrať komplikovane. Toto ja vítam, po vypočutí albumu si z neho aj dosť pamätám
.
Zaujímavým faktom nahrávky je to, že v muzike Resurrected sa nenachádzajú gitarové sóla. Miestami môžeme počuť v rámci riffov vyhrávku, či náznak melódie, výbeh do vyšších tónov, ale klasické sólo nie. To nie je výčitka, len konštatovanie. Do muziky mi veľmi dobre zapadol aj dosť brutálny growl, čiastočne zrozumiteľný.
K zvuku nahrávky nemám výhrady, vedel by so si síce predstaviť trošku výraznejšiu basgitaru, ale tento detail nepovažujem za nedostatok. Album ako taký hrá výborne, veľmi zrozumiteľne, pritom brutálne a valivo.
CD má jednoduchý trojlistový buklet s textami, fotom kapely, ďakovačkou. Ústredný motív ukrižovaného človeka bez kože, v plynovej maske je zaujímavý a vyzerá skvelo. Škoda veľmi tmavej a ťažko identifikovateľnej potlače disku.
Na záver gratulujem aj kapele, aj Metal Age k tomuto vydaniu. Resurrected nám predvádzajú poctivé death metalové remeslo. V dnešnom nahrávkami presýtenom undergrounde to býva s kvalitou rôzne. V prípade tohto vydania je to stávka na istotu. Skvelý zabijácky album.
Lineup:
Christoph Mieves – spev
Thomas Granzow – gitary
Ben Bays – basa
Dennis Thiele – bicie
Tracklist:
Hellcome
The Overkill to Dwell
Human Killing Spree
Bewareness of Truth
Mutated Generation
Necronymphomanic
The Forecast of Horrors
Fathomless Creation
Interlude (instrumental)
Denial
Rok vydania: 2017
Vydavateľstvo: Metal Age Productions
Youtube ukážka:

Linky:
https://www.facebook.com/resurrected.brutaldeath/
https://resurrectedbrutality.bandcamp.com/
Hodnotenie: 5/6