Venom Inc. – upcoming debut + videoclip
9. July 2017
Ex members of Venom – Venom Inc. – Jeff "Mantas" Dunn – vocal/bass Tony "Demolition Man" Dolan – guitar and Anthony "Abaddon" Bray – drums – anounced debut album. Its title is Avé and release date is 11. August.
Tracklist:
Ave Satanas
Forged In Hell
Metal We Bleed
Dein Fleisch
Blood Stained
Time To Die
The Evil Dead
Preacher Man
War
I Kneel To No God
Black N Roll
Videoclip for song Dein Fleisch: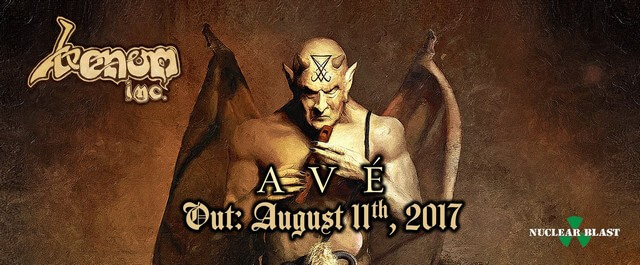 Links:
http://www.venom-inc.com/
https://www.facebook.com/VenomIncOfficial/
Source of Information: https://www.facebook.com/nuclearblasteurope/?fref=ts
Alice Cooper – song from his upcoming album
9. July 2017
Label earMusic published on their youtube channel song Paranoiac Personality, from upcoming album of legendary Alice Cooper – Paranormal. Release date is: 28. July.
www.youtube.com/watch?v=nF_w79N418Y&feature=youtu.be

Links:
http://www.alicecooper.com/
https://www.facebook.com/AliceCooper/?fref=ts
Source of Information: https://www.youtube.com/channel/UCzKNn1SxrLobzWemQ9HItNA
JACK STARR'S BURNING STARR To Release New Studio Album This Summer
8. July 2017
"Stand Your Ground", the long awaited new studio album of the legendary US Power Metal act JACK STARR'S BURNING STARR, will be released on August 25, 2017, on High Roller Records. The effort, which is almost 80 minutes long, has been produced by Bart Gabriel (with whom the band already worked on the previous album, "Land Of The Dead"), recorded and mixed by Kevin Burnes (DOKKEN, RAVEN), and mastered by Patrick W. Engel at Temple Of Disharmony Studio. The release will be available as CD, double LP, and digital download. Like in case of previous two BURNING STARR albums, its cover artwork was painted by Ken Kelly – legendary artist known from his iconic works for bands such as RAINBOW, KISS or MANOWAR.
JACK STARR'S BURNING STARR was formed in 1985, by the guitarist and founding member of VIRGIN STEELE, Jack Starr. After doing 4 classic albums in the '80s: "Rock The American Way" (1985) "No Turning Back!" (1986), "Blaze Of Glory" (1987) and same titled one (so called "orange album" from 1989), the band returned with a new line up featuring: Jack Starr (guitar), Ned Meloni (bass guitar, ex JOE LYNN TURNER band, ex DEVIL CHILDE and PHANTOM LORD), Kenny Rhino Earl (drums, ex MANOWAR, now also in ROSS THE BOSS band) and Todd Michael Hall (vocals, also in RIOT V), and released the well received comeback album titled "Defiance" in 2009. Two years later the band released their next studio album, entitled "Land Of The Dead", which received wide critical acclaim by fans and critics alike, but now 2017 finds BURNING STARR ready to unleash what they feel is their strongest album yet in a 30 plus year career.
More information: www.facebook.com/jackstarrsburningstarr
High Roller Records web: www.hrrecords.de
Source of Information: Bart Gabriel
Zarthas (Finland) sign with Wormholedeath!
7. July 2017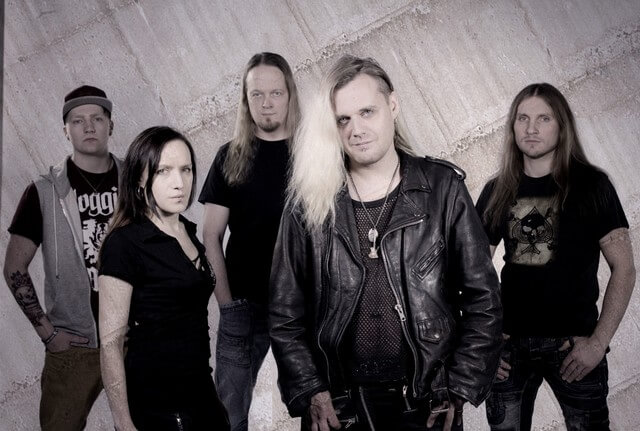 We are pleased to inform that finnish rock metallers Zarthas has signed a worldwide deal with WormHoleDeath for the release of their third album "Reflections".
The band stated:
"Scouting for labels started already before the recordings, and WormHoleDeath was one of the first labels we sent our promotion to. In time, WormHoleDeath was also recommended by european promotion agencies, and we got convinced that we are now dealing with a label that is not only independent, down to earth, and artist-friendly, but has also grown to be quite a big player in the fields of international music business. As negotiations went on, pieces started to fall in place pretty quickly. We honestly believe that this is the beginning of solid co-operation, that suites the interests of both parties. Zarthas has received lot of feedback that we need to get our music to european markets, so clearly WormHoleDeath became our number one target as a label to co-operate with. "Reflections" was not an easy album to record. Our studio gear started to fall apart piece by piece right from the beginning. All and all recording and mixing process went on one step forward and two steps back because of that. So after bunch of misfortune, we were extremely happy to hear that WormHoleDeath liked the stuff, and wanted to release it. It feels like all the hard work and countless hours are finally paying off, and that feelsreally good. Whole band is very excited and happy for this opportunity."
Zarthas – "Outside" Official Lyric Video:
www.youtube.com/watch?v=plGyhqRjKx0&feature=youtu.be
"Reflections" release dates::
DIGITAL : 21st July 2017 (Wormholedeath/The Orchard)
CD : 22nd September 2017 (Aural Music Group)
Links:
https://www.zarthas.com
https://www.youtube.com/zarthasmusic
https://www.facebook.com/Zarthas
https://www.twitter.com/zarthasofficial
https://www.instagram.com/zarthasofficial
Source of Information Wormholedeath Press