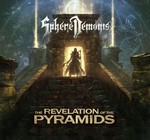 Dejiny ľudstva sú plné zaujímavých a historicky významných ríš. Mnohé z nich sa stali témou metalových skladieb. Presne to je osud Akkadskej a Sumerskej ríše, keď si ich mladá ruská kapela hrajúca death metal SphereDemonis vybrala na spracovanie pre svoj debutový album The Revelation Of The Pyramids. Ako to teda celé nakoniec dopadlo?
Ako to už býva zvykom, všetko začne dramatické a symfonické intro The Path Of The Righteous. A potom sa z hĺbky na nás vyvalí From The Depths. Death metal nesúci sa v strednom tempe doplnený o nejaké tie technickejšie a symfonické pasáže.
Dokonca dôjde aj na čistý vokál (aj keď dominuje growl). Určite veľmi originálny, zároveň aj kvalitný počin. Nasledujúca Behold The Hypnotic už o niečo viacej zrýchli, taktiež v nej možno počuť čisté vokály a mnoho skvelej gitarovej práce. A takto by som mohol pokračovať o celom albume The Revelation Of The Pyramids.
V praxi to znamená striedanie piesní v strednom tempe s tými trošku rýchlejšími, pričom máme možnosť počuť growl z hlbín samotných hrobiek sumerských bohov doplnený o melodický spev, veľký počet technických pasáži, kde sa predviedli páni gitaristi, plus niekoľko symfonických častí, ktoré slúžia ako akási opozícia oproti tvrdým pasážam.
Taktiež striedanie vokálov – growlu a čistého spevu, ktorého je však o poznanie menej ako toho klasického death prejavu. Jedinou výnimkou je čisto inštrumentálna skladba Eternal Rest Gray Pyramids s prvkami elektronickej hudby. Niekto by možno mohol namietať, že tam vôbec nepasuje, avšak ja mu budem oponovať. Táto krátka pasáž vôbec nepôsobila rušivým dojmom, tak nevidím dôvod na jej kritizovanie.
Čo ma však osobne trochu prekvapilo je absencia nejakých tradičných hudobných nástrojov, ktoré by mohli slúžiť na vytvorenie atmosféry doby, keď ríše medzi riekami Eufrat a Tigris boli na vrchole ľudskej civilizácie. Nejaký ten feeling histórie tam síce je, ale predsa len, ak by The Revelation Of The Pyramids doslova dýchali touto dobou, výsledok mohol byť ešte o niečo lepší.
Ale inak nemám inštrumentálnej stránke absolútne čo vytknúť, poctivý death metal, z ktorého cítiť závan 90. rokov minulého storočia na vysokej kvalitatívnej úrovni. Najmä vďaka skvelým technickým pasážam. Jeho spojenie so symfonikou celú tvorbu len obohacuje, rovnako ako aj čistý vokál v kombinácii s growlom. Suma sumárum, hudba ma bavila, páčila sa mi, tak prečo nedať 5/6.
Lineup:
Alexander Spartanskiy – spev
Vadik Morwran – gitary
Damir Gaisin – gitary
Evgeniy Konakov – basa
Maks Lvov – bicie
Tracklisting:
The Path Of The Righteous
From The Depths
Behold The Hypnotic
I Choose You
Rage Array
Transeptum
Eternal Rest Gray Pyramids
Three Secrets Of Ishtar
Risen In The Sanctuary
Rok vydania: 2017
Vydavateľstvo: More Hate Productions
Youtube ukážka:

Linky:
https://spheredemonis.bandcamp.com/
https://www.facebook.com/SphereDemonis/
https://www.instagram.com/spheredemon/
https://www.youtube.com/channel/UCkXYR0caIVZAOiDVBUQ8bFA
https://vk.com/spheredemonis
Hodnotenie: 5/6