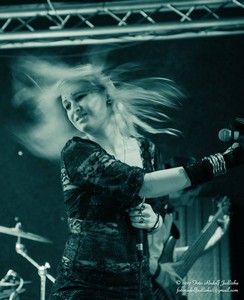 Máte radi dobrý hardcore spojený s metalom? Tak určite by ste mali siahnuť po nedávno vydanom a pokrstenom debute The Calling třebíčskej kapely so zaujímavým názvom ONA. Okrem výbornej muziky na ňom nechýbajú ani veľmi kvalitné texty. Viac informácii ako tradične v rozhovore, tentokrát s frontwomankou s dlhým menom Silviou Mariou Ceciliou Chrudinovou.
Ahoj! Ako sa ti darí?
Silvie Marie Cecilie Chrudinová: Ahoj! To je dost komplikovaná otázka! U mě to jde tak nahoru/dolů. Teď nás čeká hodně práce, tak jsem z toho trochu nervózní, abych to všechno zvládla, drž palce!
Mohla by si pár slovami predstaviť kapelu Ona?
Silvie Marie Cecilie Chrudinová: Jsme česká hardcore/metalová kapela pocházející z Třebíče. Spojujeme tvrdé základy s výraznou basou, energickými bicími, ženským growlem a zpěvem.
 Ona je taký zaujímavý názov… Môžeš povedať o ňom viac?
Silvie Marie Cecilie Chrudinová: Slovo ona má spoustu významů a to se nám líbí. Každý si v tom může najít, co chce – my v tom máme svůj skrytý význam, ale ten si zatím necháváme pro sebe 😉
Tento rok vám vyšiel váš debutový album nesúci názov The Calling. Ako prebiehal proces jeho vzniku?
Silvie Marie Cecilie Chrudinová: Kluci měli všechny písně v podstatě hotové, když mě oslovili ke spolupráci. Dodala jsem texty a vše jsme společně tak dlouho upravovali, dokud jsme nebyli spokojení s každou písní. Nahrávali jsme v brněnském studiu Sonidos. Hodně času jsme strávili mícháním, laděním detailů a masteringem, aby vše znělo tak, jak jsme si přáli.
Ak by ste dostali možnosť, zmenili by ste na ňom niečo takto s odstupom času?
Silvie Marie Cecilie Chrudinová: Určitě jsou tam věci, které bychom dnes udělali lépe, protože díky celému procesu máme více zkušeností a nových úhlů pohledu. Ale osobně bych neměnila nic. Myslím, že nás to vyjadřuje. Dali jsme do toho vše a to je hlavní. Z chyb se poučíme pro příště, je to proces 🙂
Čo môžu fanúšikovia od neho očakávať?
Silvie Marie Cecilie Chrudinová: Doufám, že příjemný hudební zážitek:) Je to docela rozmanitá věc. Snažíme se střídat polohy, nálady, rytmy, aby sme nebyli monotóní. Z alba jsme se snažili udělat smysluplný celek, který něco vyjadřuje.
Osobne ma veľmi zaujal obal vášho albumu. Čo má táto grafická práca predstavovať a kto je jej autorom?
Silvie Marie Cecilie Chrudinová: Cover zpracoval brněnský umělec Ladislav Tristan Nekuda. Probírali jsme společně hlavně významy textů, které pojednávají především o hledání sebe sama a boji s vnitřním démonem.
Postupně jsme ho ladili, než jsme byli spokojení. Vytvořil nádherný booklet, který to podle mě úžasně vyjadřuje!
Skladanie piesní 
Ako to v kapele Ona vyzerá s vytváraním piesní? Komponujete všetci súčasne, každý príde s nejakým nápadom zvlášť alebo máte nejakého výhradného skladateľa?
Silvie Marie Cecilie Chrudinová: Já to vidím tak, že každý do toho dává sebe. Kluci jamují, nosí riffi…  já to neumím, tak poslouchám, vnímám atmosféru a pracuji na textech. Dejme tomu, že si nejdřív děláme hrubý nákres, pak tam přidáváme nějaké prvky a dokreslujeme písně do té podoby, než se tam začne rýsovat náš společný obraz, jeho vyzvění a smysl.
A čo texty? Kto je ich autorom?
Silvie Marie Cecilie Chrudinová: Texty píšu já. Kluci mi to trošku korigují. Jak už jsem zmínila, hodně se v nich vypisuji ze svých stavů, popisují můj vnitřní vývoj od prvního setkání s klukama (The Calling), přes mé začínající problémy (Dangerous Mind), pobyt v psychiatrické léčebně (Parasite), hledání sebe sama (Let Me Fly With You) a motivaci k životnímu boji (Push The Finger Aganist The Wall).
Koncerty
Približne pred dvoma týždňami sa uskutočnil krst vášho debutového albumu v brnenskej Melodke. Môžeš povedať o tom viac? Kto sa ho zúčastnil, ako to tam vyzeralo, kto bol krsný otec?
Silvie Marie Cecilie Chrudinová: Byl to pro mě splněný sen! Byla jsem na Infected Rain rok zpátky, kde jsem se potkala s Lenou a říkala jí o tom, jak mi jejich hudba pomohla v nejtěžších chvílích a o svém velkém hudebním snu.
A ona se na mě podívala a říkala: "Yes, you will make it, I can see it in your eyes". No a když se pak neuvěřitelně stalo to, že jsme s nimi měli hrát v Brně, tak jsem jí napsala a ona se stala naší kmotrou. Nedokážu vypovědět, co to pro mě znamená… ? Byl to úžasný večer, narvaná Melodka, úžasní lidé, atmosféra, všechno… Určitě jeden z nejlepších dnů v mém životě!
A nejaké ďalšie koncerty kde vás bude možne najbližšie vidieť a počuť?
Silvie Marie Cecilie Chrudinová: Za chvíli nás čeká Třebíč (9.12) a po novém roce toho bude víc, například jedeme část tour s Illumenium a Atme, které se kvůli nemoci přesunulo na únor. O všem pravidelně informujeme na našem FB a YT!
Minulosť 
Aké boli vaše hudobné začiatky?
Silvie Marie Cecilie Chrudinová: Každý z nás má svoji osobní hudební minulost a vývoj. Kluci za sebou mají spousty kapel. Luboš hrál třeba v SULIN, Mára v DIE BLAUE TROTTLE PARADE, Caďa v PROCZ a já v LateXjesuS.
Původně jsem třeba zpívala ve sboru, pak studovala operu a nakonec se našla v growlu 🙂 Současná sestava ONA vznikla v roce 2015 od kdy si vytváříme nějaký náš společný styl a směr.
Ako vypadá váš život pomimo kapely Ona?
Silvie Marie Cecilie Chrudinová: Caďa lítá mezi střechami, kanclem a zkušebnou, a vaří si zdravá jídla, Mára dělá do osvětlení, lítá mezi městy a zkušebnou a má tři kočky, Luboš lítá úplně všude, dělá hlavně marketing a videa a já lítám v oblacích a ve své práci v neziskovce se snažím skrze svou osobní zkušenost bořit mýty ohledně duševních onemocnění. Rádi zajdeme na koncerty našich oblíbenců nebo třeba na škopek 🙂
Youtube ukážka:

Linky:
http://www.ona-band.com/
https://www.facebook.com/ona.czech.metal/
http://bandzone.cz/ona
https://www.youtube.com/channel/UC8tEQK08b-nAI9evflKzM4Q