MYLES KENNEDY – reveals track list and cover artwork of his first solo album Year Of The Tiger
1.12.2017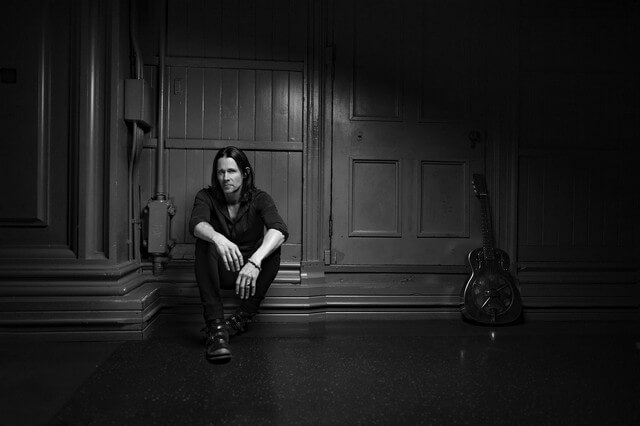 Myles Kennedy, one of rock music's most distinct voices, is set to release his debut solo album, Year Of The Tiger on March 9, 2018. The album will be released worldwide via Napalm Records.
The acclaimed singer/songwriter known for his work with Alter Bridge as well as with Slash and the Conspirators recently completed the highly anticipated record.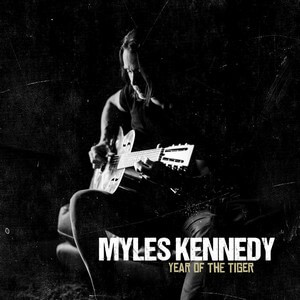 The album is available for pre-order in various bundle configurations at: https://shop.napalmrecords.com/myleskennedy
On Year Of The Tiger, Kennedy embarks on his first venture as a solo artist by embracing musical elements and influences he hasn't explored until this point in his career. His appreciation for the blues and acoustic based music can be heard throughout the 12-song concept record inspired by the loss of his father when he was a child.
The multi instrumentalist played lap steel, mandolin, banjo and bass in addition to the guitar on the record. This shift in instrumentation helped create a new sonic canvas that some might consider a departure from the high gain wall of sound Kennedy has been associated with. Examples of this can be heard throughout the record, from the hypnotic drone of the title track, to the intricate finger style approach of "Haunted By Design" and "Ghost Of Shangri La".
Year of the Tiger is a personal story framed in a new context from an artist willing to take chances. It's also a story that took decades to summon up the courage to tell.
Tracklist:
Year Of The Tiger
The Great Beyond
Blind Faith
Devil On The Wall
Ghost of Shangri La
Turning Stones
Haunted By Design
Mother
Nothing But A Name
Love Can Only Heal
Songbird
One Fine Day
Links:
http://www.MylesKennedy.com
http://www.facebook.com/OfficialMylesKennedy
http://www.twitter.com/MylesKennedy
http://www.instagram.com/OfficialMyleskennedy
http://www.napalmrecords.com
Source of Information: Napalm Records Promotion Team
TENGGER CAVALRY UNVEIL FIRST ALBUM DETAILS! 'Cian Bi' Coming In February 2018 On Napalm Records!
30. November 2017
Nothing is impossible! TENGGER CAVALRY teach the greatness of every sound symbiosis: With a mighty mix out of Mongolian overtone singing and violin empowered folk metal these New York mind blasters create something special and unique. And here it is: TENGGER CAVALRY's sixth record and Napalm Records' debut titled 'Cian Bi', set to be released on February 23rd 2018!
'Cian Bi' stands for the name of an ancient nomadic tribe that immigrated into Northern China to merge cultural differences. The band's nomadic fighting spirit helps to fuse unworldly cultures in harmony – and that's the spirit! With their music as a deputy: Distorted guitars and doublebass-blast beats hit this very own singing style out of Central Asia. With the Mongolian horsehead fiddle aka Morin khuur these extremes got stick together to a thrilling sound you have never heard before. This is innovation surpremely!
Now TENGGER CAVALRY unveiled their stunning album artwork and the track list of 'Cian Bi'.
Nature G, mastermind and creative spirit behind TENGGER CAVALRY, comments:
"In this album, we used the concept of the Cian Bi tribe, to express the idea of multi-culture development, acceptance of diversity and individual freedom. We believe that through individual choice and identity freedom, each of us can decide who we want to become and embrace every culture around the world as one nomadic tribe – human tribe."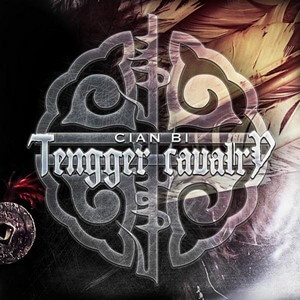 Tracklist:
And Darkness Continues
Cian-Bi (Fight Your Darkness)
Our Ancestors
Strength
Chasing My Horse
Electric Shaman
Ride into Grave and Glory (War Horse II)
Redefine
A Drop of the Blood, A Leap of the Faith
The Old War
One Tribe, Beyond Any Nation
Just Forgive
One-Track Mind
You and I, Under the Same Sky
Sitting In Circle
Coming as CD and Digital Download, 'Cian Bi' is now available for pre-order https://shop.napalmrecords.com/tenggercavalry
Just recently, TENGGER CAVALRY released a first lyric video for the track 'Ritual And Redemption'. Dive into the unique nomadic folks sounds of TENGGER CAVALRY and check it out right.
TENGGER CAVALRY, or "the army of sky god", is not just a Billboard-featured metal band, but also the symbol of nomadic warrior spirit that connects fans from all over the world. Since the band formed in 2010, TENGGER CAVALRY successfully completed two headlining tours across over 40 cities of North America, performed at legendary venues such as The Marlin Room at Webster Hall or the Whisky a Go Go, a sold out show at Carnegie Hall and have been featured on CNN, the New York Times and The Wall Street Journal. To this date, TENGGER CAVALRY have released five full-length albums, two EPs and numerous singles, including unique cover interpretations of classics such as Motorhead's 'Fight'.
In support of their brand new album 'Cian Bi', coming out February 23rd 2018 on Napalm Records, the nomads TENGGER CAVALRY will be heavily hitting the road next year again, stay tuned for more news and upcoming tour dates soon!
Links:
https://www.facebook.com/tengger0cavalry
https://www.tengger-cavalry.com
https://www.napalmrecords.com
Source of Information: Napalm Records Promotion Team
BRVMAK – "IN NOMINE PATRIS" SECOND STUDIO TRAILER (BASS)
28. November 2017
Italian Progressive Death Metal outfit Brvmak reveals the second studio trailer for their upcoming new album "In Nomine Patris".
Watch the video here :
This time the band focus is on bass studio recordings, which took place at Time Collapse Studio in Rome with producers Riccardo Studer and Alessio Cattaneo.
Brvmak's bassist Emanuele Lombardi commented "In Nomine Patris" features a rich bass texture, whose main target is to give a proper sustain and support to the songs.
I challanged myself by using both standard and fretless bass depending on which sound was needed, and I can tell It felt very good. I feel like this new approach served the tracks at its best. I'm very satisfied with the final outcome, and can't wait you guys to listen to the album in full very soon.".
Links:
http://www.facebook.com/Brvmak
http://www.brvmakofficialstore.bigcartel.com
http://brvmakofficial.bandcamp.com
http://goo.gl/VKyLUz
Source of Information Giulian Scuorn
Rosa Nocturna – the second single
27. November 2017
Czech power metal band Rosa Nocturna will release new album Za hradbami času on 8. December 2017. They published second single like lyric video for song Vím, co jsi zač. In this video you can also see 19 guests, who collaborated on album.
Guests:
Viktorie Surmová (SURMATA)
Lenka Šíková alias Ereis Rayann (ERTHA)
David Janík (APRIL THE FIRST)
Mathias Novak
Johnny Vavruška (ELEMENTARIA)
Martin Klekner (FLOWERWHILE)
Pavel "Spars" Vrabec (DERIAS & SPARS)
Pavel Stejskal (KRAKATICE)
Lucka Kuchtíčková
Lukáš Palacka (CKB a FINAL CRISIS)
Ivoš Mazourek (SAGITTARI)
Jan Mikuška alias Mike Jr. (TEMPER)
Jan Koriťák (ex-ROSA NOCTURNA)
Jakub Janků (WOLFARIAN)
Petr Sezima (ex-ROSA NOCTURNA)
Erika Biskupová (SYLVÁN, Slovácký krúžek Brno a FS Púčik)
Erik Netušil (SUPEREGO KID)
Stanislav Žoldak (EMBRACE THE DARKNESS)
Diana Pazdírková (WOLFARIAN)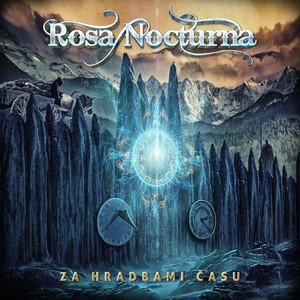 Tracklist:
Vím, co jsi zač
Krkavci
Síla vítězství
O lásce, o válce a o krvi
Alegorie smrti
Možná teď naposled
Bratříčku
Intermissum
Prach králů
Hlas uvnitř
Dimitto tibi
More Info www.rosanocturna.cz
Grafphics of album – studio Darkgrove.
Source of Information: Antonín Buček