Warrel Dane was died
13. December 2017
Known metal singer Warrel Dane (Sanctuary, Nevermore) was died on 13. December in Sao Paolo in Brazil. He worked on his second solo album, unfortunately died by heart attack.
R.I.P.
Source of Information: http://www.blabbermouth.net/, Photo: Karen Mason Blair/www.metal-archives.com
THY ANTICHRIST – Unveils Initial Album Details Of "Wrath Of The Beast"
13. December 2017
Thy Antichrist is an existentialist black metal band showcasing extreme elements that's been making tidal waves in the underground metal community since 1998 and has been building an important fan base around the world.
In 2016, these US based Black Metallers found a home with the reputable Extreme Management Group, as well as joined the roster of well-known booking agency, Continental Concerts. With a stout history and commanding presence, Thy Antichrist has tremendous potential for further growth going with the recent worldwide signing with Napalm Records! Napalm Records is more than proud to welcome such a hardworking, ambitious and promising band to the roster and to unveil first album details of the bands Napalm Records debut "Wrath Of The Beast"!
The band comments on the new album:
"We read Aleister Crowley's wicked spell to awake an ancient evil pharaoh from the ashes of time, to condemn this modern world of chaos by the cursed hands of man. We invoke the Wrath of the Beast, the eclipsing star that rises from the east!"

Just when you thought you had seen and heard everything, Thy Antichrist has arisen. Find album artwork, full track listing and available formats below:
Teaser: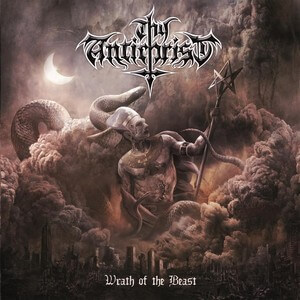 Tracklist:
Desolation
Metal to the Bone
The Great Beast
A World Burnt to Ashes
No Place Like Hell
Nightmares
Crown of Lies
Skeletons of Disgrace
Walking Through the Soul
The Last Breath – Instrumental Outro
"Wrath Of The Beast" will be available as:
1 CD Jewel Case
1LP Gatefold
Digital Album
Get your hands on the "Wrath Of The Beast" HERE!

Thy Antichrist has handcrafted a sui generis style into their live performance and music respecting the old traditional metal influence of different metal genres such as thrash metal, heavy metal, death metal and of course the Black Metal touch. The band has taken to the masses with notable festival appearances with some of metals biggest names. Thy Antichrist has without a doubt connected with fans and created a loyal fan base eager to see what's coming next. Keep your eyes & ears open!
Links:
https://www.facebook.com/pg/THYANTICHRIST
https://www.artistecard.com/thyantichrist
https://www.youtube.com/tragicthyantichrist
Source of Information: Napalm Records Promotion Team
LAMORI – Official Video For "To Die Once Again" Out Today!
13. December 2017
Melo-gothic metal act LAMORI are proud to present the official video for the song "To Die Once Again" , out today on VEVO / YouTube. "To Die Once Again" is the title track taken from their latest album released early this year via Wormholedeath worldwide.
The band stated
"We always thought that the title track of our latest album deserved a music video. It is with great excitement that we now finally get to release it. We wanted a very pure and innocent look for the video, but like the song, the ending comes with a bittersweet surprise."
Links:
http://www.lamorimusic.com/
https://www.facebook.com/lamorimusic
https://www.youtube.com/user/lamorimusic
Source of Information: WormHoledeath Press
Magnum – Upcoming album
11. December 2017
English rockers Magnum will release on 19. January new album Lost On The Road To Eternity.
Links:
https://www.magnumonline.co.uk
https://www.facebook.com/magnumbandpage/
Source of Information: SPV GmbH