Arkona – ukážka z chystaného albumu formou lyric videa
16.12.2017
 Najslávnejšia ruská pagan/folk metalová kapela Arkona vydá už 19. januára nový album Khram.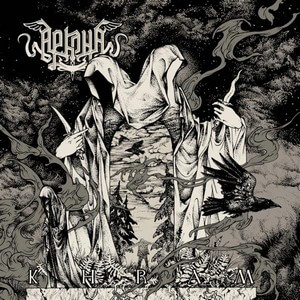 Dnes zverejnili ďalšiu ochutnávku z neho – lyric video k skladbe Shtorm.

Linky:
https://www.arkona-russia.com
https://www.facebook.com/pg/arkonarussia
https://www.napalmrecords.com
https://www.facebook.com/napalmrecords
Zdroj: Napalm Records Promotion Team
Therion – chystaný album
15.12.2017
2. februára vydajú švédski symfonici Therion nový album Beloved Antichrist. Pôjde o monumentálnu rockovú operu, voľne inšpirovanú dielom Vladimíra Soloviova – A Short Tale Of The Antichrist. Na 3 CD nájdete dokopy 3 hodiny muziky.
Tracklist:
CD1:
Turn for Heaven
Where Will You Go?
Through Dust Through Rain
Sign Are Here
Never Again
Bring Her Home
The Solid Black Beyond
The Crowning of Splendour
Morning Has Broken
Garden of Peace
Our Destiny
Anthem
The Palace Ball
Jewels from Afar
Hail Caesar
Wat Is Wrong?
Nothing But My Name
CD2:
The Arrival of Apollonius
Pledging Loyalty
Night Reborn
Dagger of God
Temple of New Jerusalem
The Lions Roar
Bringing the Gospel
Laudate Dominum
Remaning Silent
Behold Antichrist
Cursed by the Fallen
Réssurection
To Where I Weep
Astral Sophia
Thy Will Be Done
CD3:
Shoot Them Down
Beneath the Starry Skies
Forgive Me
The Wasterland of My Heart
Burning the Palace
Prelude to War
Day of Wrath
Rise to War
Time Has Come / Final Battle
My Voyage Carries On
Striking Darkness
Seeds of Time
To Shine Forever
Thème of Antichrist
Linky:
http://therion.se/
https://www.facebook.com/therion/
Zdroj: https://www.facebook.com/nuclearblasteurope/, Foto: Mina Karadzic photography
Audrey Horne – videoklip k singlu z chystaného albumu
15.12.2017
Nemeckí rockeri Audrey Horne prichystali na 12. januára nový album Blackout. Pre predstavu o ňom si pozrite nasledujúci videoklipu k singlu Audrevolution.
Linky:
https://www.facebook.com/AudreyHorneOfficial/
https://www.audreyhornemusic.com
Zdroj: Napalm Records Promotion Team
Night Demon –  Darkness Remains – Expanded Edition
11.12.2017
Americkí heavy metalisti Night Demon potešia 12. januára svojich európskych fanúšikov špeciálnou edíciou tohtoročného albumu Darkness Remains. Bude obsahovať pôvodný master, alternatívny mix a master, b-side cover verzie, demá, alternatívne štúdiové verzie a track-by-track komentár kapely.
Tracklist:
CD1
Original Master:
WELCOME TO THE NIGHT 3:51
HALLOWED GROUND 3:53
MAIDEN HELL 2:43
STRANGER IN THE ROOM 4:09
LIFE ON THE RUN 3:34
DAWN RIDER 3:22
BLACK WIDOW 3:26
ON YOUR OWN 3:27
FLIGHT OF THE MANTICORE (instrumental)4:06
DARKNESS REMAINS 5:31
Bonus:
TURN UP THE NIGHT (Black Sabbath cover version) 3:25
WE WILL ROCK YOU (Queen cover version) 2:58
LIFE ON THE RUN (instrumental/alternate studio take)  3:28
FLIGHT OF THE MANTICORE (instrumental/demo version)4:06
CD2:
Bright Lights Mix
WELCOME TO THE NIGHT 2:42
HALLOWED GROUND 3:24
MAIDEN HELL 2:45
STRANGER IN THE ROOM 4:10
LIFE ON THE RUN 3:36
DAWN RIDER 3:23
BLACK WIDOW 3:27
ON YOUR OWN 3:29
FLIGHT OF THE MANTICORE (instrumental)4:09
DARKNESS REMAINS 5:21
Track by Track Audio Commentary
WELCOME TO THE NIGHT 4:23
HALLOWED GROUND 3:27
MAIDEN HELL 2:48
STRANGER IN THE ROOM 3:47
LIFE ON THE RUN 3:39
DAWN RIDER 2:45
BLACK WIDOW 3:13
ON YOUR OWN 2:13
FLIGHT OF THE MANTICORE 3:33
DARKNESS REMAINS 5:34
Digitálna verzia:
Bright Lights Mix
WELCOME TO THE NIGHT 2:42
HALLOWED GROUND 3:24
MAIDEN HELL 2:45
STRANGER IN THE ROOM 4:10
LIFE ON THE RUN 3:36
DAWN RIDER 3:23
BLACK WIDOW 3:27
ON YOUR OWN 3:29
FLIGHT OF THE MANTICORE (instrumental)4:09
DARKNESS REMAINS 5:21
Bonus Material
LIFE ON THE RUN (instrumental/alternate studio take)  3:28
FLIGHT OF THE MANTICORE (instrumental/demo version)4:06
Linky:
https://www.nightdemon.net/
https://www.facebook.com/nightdemonband/
Zdroj: Steamhammer, Foto: https://www.metal-archives.com