ARKONA – RELEASE BRAND NEW TRACK FROM UPCOMING ALBUM!
16. December 2017
Russia's finest and leading pagan metal band ARKONA are set to release their brand new and hotly anticipated album 'Khram' on January 19th 2018 with Napalm Records. King-sized songs effortlessly shift from blackened pagan metal masterpieces to epic tracks with crystal-clear melodies and piano infusions. ARKONA may have used sound samples in their early days, but nowadays cellos, brass parts, wind instruments and throat singing are recorded live meticulously and flow naturally into the band's harsh metal tunes: Get ready for a new evolution in the band's career and like you have never heard ARKONA before, as Khram is an exuberant and demanding affair that defies genre boundaries with untamable spirit!
Just recently the band fronted by scream queen Masha unveiled a first album preview, today they premiere the stunning track 'Shtorm'! Listen to it right HERE!
Coming as CD Digi Pack, Digital Download and LP Gatefold editions, 'Khram' is available to pre-order here: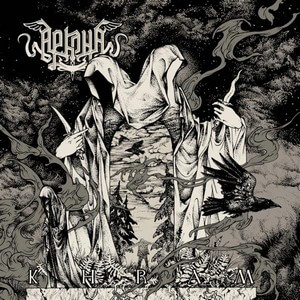 Links:
https://www.arkona-russia.com
https://www.facebook.com/pg/arkonarussia
https://www.napalmrecords.com
https://www.facebook.com/napalmrecords
Source of Information: Napalm Records Promotion Team
Therion – upcoming album
15. December 2017
New album by Sweden symphonics Therion – Beloved Antichrist will be relased on 2. Februarry 2018. Beloved Antichrist will be a sweeping rock opera loosely inspired by Vladímir Soloviov's "A Short Tale Of The Antichrist".
Tracklist:
CD1:
Turn for Heaven
Where Will You Go?
Through Dust Through Rain
Sign Are Here
Never Again
Bring Her Home
The Solid Black Beyond
The Crowning of Splendour
Morning Has Broken
Garden of Peace
Our Destiny
Anthem
The Palace Ball
Jewels from Afar
Hail Caesar
Wat Is Wrong?
Nothing But My Name
CD2:
The Arrival of Apollonius
Pledging Loyalty
Night Reborn
Dagger of God
Temple of New Jerusalem
The Lions Roar
Bringing the Gospel
Laudate Dominum
Remaning Silent
Behold Antichrist
Cursed by the Fallen
Réssurection
To Where I Weep
Astral Sophia
Thy Will Be Done
CD3:
Shoot Them Down
Beneath the Starry Skies
Forgive Me
The Wasterland of My Heart
Burning the Palace
Prelude to War
Day of Wrath
Rise to War
Time Has Come / Final Battle
My Voyage Carries On
Striking Darkness
Seeds of Time
To Shine Forever
Thème of Antichrist
Links:
http://therion.se/
https://www.facebook.com/therion/
Source of Information: https://www.facebook.com/nuclearblasteurope/, Foto: Mina Karadzic photography
AUDREY HORNE – Release Second Single "Audrevolution"!
New Album "Blackout" Out On January 12th!
15. December 2017
It's time for AUDREVOLUTION!
AUDREY HORNE have already fully enthralled the music industry and worldwide press with their highly anticipated new album "Blackout" – set to be released on January 12th 2018 via Napalm Records!
Fans already got a first tasty appetizer in form of the music video for "This Is War"
Links:
https://www.facebook.com/AudreyHorneOfficial/
https://www.audreyhornemusic.com
Source of Information: Napalm Records Promotion Team
NIGHT DEMON Darkness Remains – Expanded Edition
11. December 2017
California Metal outfit NIGHT DEMON are pleased to unveil a special treat for their European fans: a massive expanded edition of their latest highly acclaimed album "Darkness Remains".
Jarvis Leatherby says: "Night Demon is proud to present the expanded edition of our current album Darkness Remains! We have been blown away by the positive responseof the record so far, that we thought it a great idea to release these assets to the fans right smack in the middle of the album's cycle. Why wait twenty or thirty years to unearth the forensic building blocks of Darkness Remains? We are all alive now, and living this thing day to day, so let's celebrate it! This expanded edition of Darkness Remains will be released on January 12, 2018 via SPV/Steamhammer, to coincide with the kickoff of our European tour with teutonic metal legends ACCEPT. It will feature the original master, alternate mix and master, the b-side cover songs, a couple demos and alternate studio versions, and a full track by track commentary from the band. Thanks for all the support. This one is for all of you who have supported us from the start!"
Tracklist:
CD1
Original Master:
WELCOME TO THE NIGHT 3:51
HALLOWED GROUND 3:53
MAIDEN HELL 2:43
STRANGER IN THE ROOM 4:09
LIFE ON THE RUN 3:34
DAWN RIDER 3:22
BLACK WIDOW 3:26
ON YOUR OWN 3:27
FLIGHT OF THE MANTICORE (instrumental)4:06
DARKNESS REMAINS 5:31
Bonus:
TURN UP THE NIGHT (Black Sabbath cover version) 3:25
WE WILL ROCK YOU (Queen cover version) 2:58
LIFE ON THE RUN (instrumental/alternate studio take) 3:28
FLIGHT OF THE MANTICORE (instrumental/demo version)4:06
CD2:
Bright Lights Mix
WELCOME TO THE NIGHT 2:42
HALLOWED GROUND 3:24
MAIDEN HELL 2:45
STRANGER IN THE ROOM 4:10
LIFE ON THE RUN 3:36
DAWN RIDER 3:23
BLACK WIDOW 3:27
ON YOUR OWN 3:29
FLIGHT OF THE MANTICORE (instrumental)4:09
DARKNESS REMAINS 5:21
Track by Track Audio Commentary
WELCOME TO THE NIGHT 4:23
HALLOWED GROUND 3:27
MAIDEN HELL 2:48
STRANGER IN THE ROOM 3:47
LIFE ON THE RUN 3:39
DAWN RIDER 2:45
BLACK WIDOW 3:13
ON YOUR OWN 2:13
FLIGHT OF THE MANTICORE 3:33
DARKNESS REMAINS 5:34
Digitálna version:
Bright Lights Mix
WELCOME TO THE NIGHT 2:42
HALLOWED GROUND 3:24
MAIDEN HELL 2:45
STRANGER IN THE ROOM 4:10
LIFE ON THE RUN 3:36
DAWN RIDER 3:23
BLACK WIDOW 3:27
ON YOUR OWN 3:29
FLIGHT OF THE MANTICORE (instrumental)4:09
DARKNESS REMAINS 5:21
Bonus Material
LIFE ON THE RUN (instrumental/alternate studio take) 3:28
FLIGHT OF THE MANTICORE (instrumental/demo version)4:06
Links:
https://www.nightdemon.net/
https://www.facebook.com/nightdemonband/
Source of Information: Steamhammer, Photo: https://www.metal-archives.com